Are you a person who loves the big screen? It is possible to connect your WIFI with your smart TV and use the internet on a large display. Your mobile or iPad has a minimum display for temporary usage. Meanwhile, your smart TV is waiting for you with a larger view. However, by using the guide below you can learn how to connect WIFI to tv via Internet connection on your Samsung Smart TV.
Now, if you are a Samsung user and wondering how to connect Samsung Smart TV to your WIFI network, you are in the right place. In this article, we are going to help you with a complete guide on how to connect WIFI on Samsung TV.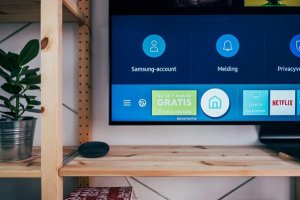 Samsung Smart TV WIFI Internet Connection Settings
Things to Know Before Connecting WIFI to Your Samsung Smart TV
Before you dig into the main process, we would like to inform you about some basic fundamental acknowledgments. These pieces of information will help you to grasp the proper idea about the Samsung TV internet connection.
If you are in a hurry, you can skip some words and get into the main point. But we emphasize reading the whole thing so that you don't fall for the wrong steps.
The very first thing you need to know about connecting the internet to your smart TV is that you can do it in two ways:
Wireless connection
Wired connection
If you go for a wireless option, most likely it would be through WIFI. On the other hand, you need to depend on Ethernet to connect your WIFI to Samsung TV through the wired option.
That means you have another option except for the WIFI system. Both wireless and wired connection has their perks and weaknesses. You have to judge them comparing with your situation.
You may also love to read: Audio Delay On Samsung Tv
Is it a good idea to rely on a wireless source for connecting Samsung  Smart TV to internet?
It is your personal preference whether you should choose WIFI for your smart tv or not. All we can do is to let you know the perks and difficulties of using WIFI on your Samsung Smart TV.
Perks of connecting WIFI:
You will not face the problems of detangling wires from time to time.
It's the easiest and most convenient way of getting an internet connection. You just have to press some of your remote buttons and you are all set up.
Your room appearance will be cool. It's possible to place your television anywhere in the room with a wireless connection.
Difficulties you may have:
One of the hardest truths is, you may face slow connection issues. Your WIFI connection may be weak due to multiple device usage, range problems, etc.
Not all smart tv models support the latest WIFI versions. Specific device models require different connections.
If you are still looking forward to knowing how to connect smart tv to the internet wirelessly, here is a trip to a proper guide from us.
You may also love to read: Samsung TV Black Screen of Death
How to connect Samsung Smart TV to WIFI?
If you have an active wireless internet connection, you should know your password and SSID (wireless network name), and network security type to start. In case you are unsure about it, contact your service provider (ISP) to get the information.
We are assuming that you have got your SSID and password. Now, grab your remote and get ready to make your television smarter with a wireless network connection.
1st Step: There is a "Home" button in your remote which will lead you to the smart hub.
2nd Step: After pressing the Home button, go to your settings and find the "General" option.
3rd Step: You will find an option named "Network" after entering "General".
4th Step: Hop on to  "Network settings" and choose the "wireless" method.
5th Step: A list of available WIFI connections will appear in your display. Match your SSID from the list and click on it.
6th Step: Simply enter your password and press "Done".
In short, navigate Home>Settings>General>Network>Network Settings>Wireless and then choose your network and type your password. That's it, you have successfully connected your Samsung tv to WIFI.
There are some cases when recipients are unable to connect tv to WIFI. If you are having trouble with your samsung smart tv connect to wifi, you may have technical or manufacturer issues.
You may also love to read: Samsung TV Won't Connect To WiFi
What if your Samsung TV is not detecting the network?
If you have successfully made it to the list but can not find your desired SSID or have other issues, you need to do a diagnosis first. Either it's your network problem, or there is an internal issue with your device.
There are two possible types of this problem-
Your TV can not detect any available network at all.
Your TV can detect other available networks except yours.
How to Diagnose the Reason For Samsung TV Not Connecting To the Internet?
You need to go through a Network Status Test to diagnose why you can not connect Samsung TV to WIFI. Repeat the earlier process till the "Network" option arrives (Settings>General>Network). You will then find an option named " Network Status".
Press "Network Status" and run the whole test. You need to be looking forward to any error messages and if there is any X sign between the router and the TV or the globe and the router.
You may also love to read: Samsung Washer Ur Code
Basic Solutions to Fix Samsung TV wireless connection
Once you have gone through the "Network Status Test", you will know what's going on among your TV, router, and the globe.
You might be wondering how to fix this Samsung tv wireless connection issue. Here are some primary initiatives that can help you without any professional help in this case –
Passwords Can Be a Hassle
Check if you have any password issues. WIFI passwords are case insensitive and a single mistake can cause trouble while connecting to the network.
Try to change the password and connect again. Try this on other devices as well so that you can ensure if your WIFI card is active or not.
If there is a mac address failure, do a factory reset. Go to settings, then find the support option. Go to self-diagnosis next and press reset.
Plug and unplug all of your power cycle apparatus. Simply connect your internet to
TV using the earlier procedure.
Update your firmware using the manual way through a USB drive. There are some cases when your firmware is not up to date and that is the reason why you are facing problems with your network.
Strong connection and Compatibility are the keys!
Have a sneak on your wifi network as well. Without compatibility between the TV and wifi version, you will be unable to experience a wireless internet facility on your tv.
Also, multiple connected devices can make your WIFI signal strength poor. Avoid this
to get a strong internet connection to your Samsung TV.
Make a move to the service providers
The last thing you can do to get a fruitful result is contacting professionals. Getting help from the ISP, or the manufacturer can save you a lot of time.  
What to Do If the Network Status Test Displays An X Sign Between the Globe and The Router?
Except for taking the basic initial steps, you can try setting a manual DNS server to solve the issue between the globe and the router.
Go to the network status test and cancel it. Then go to IP settings. Enter into the DNS setting and navigate "enter manually". Select DNS Server. Ultimately, type 8.8.8.8 and connect to the internet again.
How to change DNS with a Smart Remote?
Changing DNS may be tough with a smart remote. Select each number with the "select number" from the bottom screen. Select the arrow after doing that.
Press "done" on the number selector. There is a chance that the number selector will disappear. Selecting the DNS server will help to bring it back.
What to Do If your Samsung TU7000 or TU700D UHD TV is Facing a Network Dropping Issue?
TU7000 or TU700D UHD TV can face dropped network connection issues after being turned off overnight. Cold booting is the key to solve this problem.
Press the power button on your remote and wait until the TV turns off and gets on automatically. If you connect your  Samsung TV to WIFI next, it will automatically have a permanent fix through a software update.
You may also love to read: Samsung Q80T vs Q90T
How to Find Your Hidden
WIFI

network On TV?

Hidden SSID is an option created for security issues. But it's not a default setting. Information like SSID, security type, and password is fundamental to connect your hidden network to your Samsung TV.

Go to the home option and follow the mentioned steps below to connect hidden WIFI to your smart tv-

1st Step: Break into the "General" option in settings.

2nd Step: Press "network and internet" and go to "add new network".

3rd Step: Type your WIFI network name.

4th Step: Select your security type and enter your password.
Ideal Rang of Placing your
WIFI

Router

Ranging is one of the crucial problems of using a router as an Internet source for your smart television. You will face a weak performance issue for placing your router far from your TV.

You should place your router within 15.2 meters of your Samsung Tv's position. Make sure there are no obstacles in between the source and the device.

If you are unable to meet the condition, there is an option to solve that as well. Place a wireless booster to build powerful net strength for your smart TV.

You may also love to read: Samsung TV Won't Turn On No Red Light
Conclusion
The supremacy of the internet is increasing in front of our eyes. Television can work as a bigger version of an android phone if you know how to use every facility and option.
If you know how to connect Samsung TV to your WIFI network, that indicates you are one step ahead of making your user experience better. You can easily connect with the world, binge your favorite series or movies and enjoy other apps as well on your smart TV now.
Read More: