Have you ever felt the need for tv remotes with a sim card? They get lost so often that many people wish they could give their remote a ring. It's still not possible in the real world, but it is possible to turn on your tv without a remote. However, you can also learn how to program, operate and turn on or off your TV without using any remote control by following the steps mentioned below.
Televisions carry features that enable us to control them even without a remote. Although, various TV models function differently in this case. In this article, we are going to have an elaborate discussion on the whole process and let you know how to turn on TV without remote.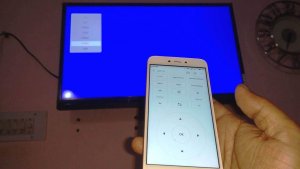 How to turn on or off and operate the TV without Remote Control?
The Most Common Way Of Switching Your TV On Without A Remote
Every TV has a common feature called "Pushed Button". Different TV brands and models place their push buttons on different locations.
You can find the power push button beneath the TV display, on the bottom left or right side as well. Press the push-button for a few seconds after locating. Your TV display will automatically shine and welcome you with its entry theme.
We are going to provide you with some live examples of popular TV brands in this section. We will be featuring-
Samsung Smart Tv
TCL Smart TV
Sharp TV
How to turn on Samsung TV without remote?
Samsung is one of the most famous names in the Smart TV market. There is a 50% probability that you are a Samsung customer as well. Now, we are going to break down the process of powering your Samsung TV without the help of a remote.
Step 1: Searching The Button Panel
Samsung TV hides its button panel under a particular strip. Search that covered area with a keen eye.
There is a chance that you will discover the strip beneath the window or at the backside of the TV. After locating it, gently press the strip and it will appear with a set of buttons in front of you.
Step 2: Detecting the Power Button
The power button comes with a circle having a straight line in most of the TVs. You will find the power button on the strip.
Typical Samsung models have their power button right at the front or at the bottom left side of their Tv channels.
In some cases, a red light will illuminate beneath your TV display. The power button would be just right under the illuminated light.
Step 3: Switching the power button on
Press the power button and wait for a while. The display of the television will automatically illuminate.
How To Switch On Your TCL Smart TV Without Remote?
To TCL users, there is no need to worry if you have lost your remote anyhow. You can turn on your TCL TV without a remote just like anybody else. You can follow any of the mentioned methods below to turn on your TCL smart TV without a remote-
Physical Method
Using Nintendo Switch
Via PS4
Via Mobile Phone
How to turn on your TCL TV through a physical key?
There is a physical power button in most of the TCL Smart TVs. They are located on the backside of the TV window. Press the power button and your TCL TV will turn on automatically.
How to  Turn On Your TCL TV through Nintendo Switch?
Connect your Nintendo Switch through DOCK.
GO to the  "System settings option" from the Home Menu.
In the left pen, there will be an option named "TV settings"
Scroll down below and select Match TV Power  Ste.
Restart your Nintendo  Switch and your TCL TV be switched on.
How to  Turn On Your TCL TV through PS4?
Plugin your PS4 console with your  TCL TV.
Switch on the PS4 console.
Look for the Settings option from the home screen.
Navigate System Settings and choose Enable HDMI Device Link.
Replug your  PS4 and your TV will get turned on with it as well.
Switching your TCL TV through Nintendo Switch or PS4 can only be possible if you have prior settings inside your TV. That means, your TCL TV has to be prepared always in order to get help from PS4 or Nintendo Switch.
How to  Turn On Your TCL TV through Mobile Phone?
Your Mobile must consist IR sensor to run this process.
Connect your TV and smartphone to a similar home WIFI network.
Run the remote app from your TV. You can install the third-party remote apps from Google.
Your smartphone screen has now become your temporary TV remote controller.
How to turn on a Sharp TV without a remote?
Apart from using a physical key, you can turn on your Sharp TV easily without a remote. All you need is a smartphone and home WIFI access to enter your TV.
Connect your Sharp  TV with the router, modem, or home network to access the internet in it.
Once your TV has access to your home network, connect your smartphone with the same network.
Install a suitable universal app for your Smart Tv in your smartphone.
Press the  TV menu, enter or select your TV model. Your TV will build a connection with your mobile phone and now you can turn your TV off or on through your mobile.
Now once you have successfully turned on your Smart TV without a remote, you don't want to seat still there. There is no value in powering The TV Without being able to operate it.
Is It Possible to Operate a TV without using the remote control?
It is actually possible to operate a TV without using the remote. You can operate your Sharp Tv or TCL TV through the universal or remote apps via  Mobile Phone. Also, the navigators of PS4 or Nintendo will help you to operate your smart TV without a remote.
But what if you follow the other methods? For example, you can use standard manual control through physical keys to operate your Smart TV easily. Here is a brief description of how to do that.
Using Standard Manual Control – How to Turn on TV without remote control?
The Power Button: The power buttons are larger in size than the other buttons. You can turn off the TV without a remote and vise versa through this key.
The Volume Buttons: These keys are generally indicated with the "VOL(+)" and "VOL (-)" signs. They came to work while increasing or decreasing the volume of the  TV.
Navigation Buttons: You need navigation buttons to roam around the channels and select various options.
Menu Button: The menu button is generally working as the settings section. You set your TV through this key easily.
Selection Button: You will need the selection button to confirm anything.
These buttons can appear as a manual key and also as built-in options inside your Smart TV. In and out, you will be needing them to operate your smart TV  without a remote controller.
Let's go through a practical example of operating your TV without a controller. We will stick to our popular face "Samsung" this time. We will know how to operate  Samsung  TV without remote.
Operating Samsung TV Without A Remote
There are various types of Samsung TV models available in the market. How you would operate them manually depends on the system they have. Here are some cases of operating a Samsung  TV without a remote.
Case 1: Your power key is right in the front
If your TV model carries its power key in the front bottom part, then it will be easy for you to control your  TV. Simply turn on your tv and press that button again. A screen with manual keys will appear in front of you.
Each time you will press your key, the selection will change. You can easily operate your Samsung TV through this system.
Case 2: Your Samsung TV has a joystick power key on the backside
You have to press in the center of the joystick to turn on your TV. Identify the signs on the joystick and move left-right or u down to operate your Samsung TV.
Case 3: Your Samsung  TV has separate manual keys on its body
This is the easiest case to deal with while operating your  TV without the remote. Simply identify the works of the keys and press them to operate your Tv.
Things You Should Keep In Mind Before Operating TV Without Remote
Detect your TV model version and system first. You can research by looking at the passport of the TV, sticker, or any other document.
Always try to use manual instruction.
Research On the manufacturer's Website before attempting anything.
How To Turn Off TV Without Remote?
You have to turn off your TV without a remote depending on the method you are using. Here are some ways to turn off the TV without a Remote.
Use Physical Key to turn off your TV: You can simply press the power button for a while to turn your TV off.
Disconnect From Mobile: Turn off your phone If you were connected to your television through it. The Tv will lose its connection automatically.
Disconnect Your  PS4: Turn off your PS$  console to switch off your TV.
Disconnected Nintendo: If you were operating through your Nintendo Switch, disconnect that to make your TV fall asleep.
Cut  Down The Power  Source: Plug out the main power cable. But try to avoid this in random cases as it can harm your TV.
You are done learning everything from turning on to switching off your tv without a remote. Enjoy your day without fighting over the remote with your partner or siblings. You can easily rely on the mentioned method until your remote appears.
Last Opinion
The most preferable way to turn on your TV without a remote is through the physical keys on via mobile phone. Even if you have a PS4 or Nintendo Switch in your house, they can create a hassle for you.
Try to choose a relevant and easy method to open your TV. In the last, it is better to rely on TV remotes. You should take these initiatives in urgent cases.
Read More: