Sometimes, you are watching a movie on Netflix, and the audio is not appropriately working. You are unable to listen to the sound. You have to check whether the main issue is present in Netflix or the main concern might also lie in the equipment. If your streaming device is directly connected to the TV, it could be one of the causes of not accessing the sound from Netflix because you want to stream in sound 5.1 Dolby Digital. It could also occur when using PlayStation and Roku to watch Netflix. Moreover, if Netflix is not working on a smart TV, below are the easiest fixes, settings, and solutions to fix Netflix audio and sound related issues and problems.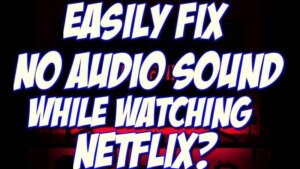 Fix Netflix no sound and audio not working on smart TV (Solution)
Below are steps for fixing no sound while Watching Netflix:
All Netflix streaming devices having a direct connection to TV: Some TV shows and movies streamed from Netflix would not stream the proper audio O/P for the selection of audio that you are making use of, so you cannot hear the sound. You would have to go into the device audio setting to change the surround sound to 5.1 Dolby Digital. Try to make use of non 5.1 audio selection. It would fix the main issue, and you will hear the sound from Netflix.
Resetting all components for getting sound from Netflix:
If it is not still working, do disconnection of router and modem for less than 1 minute and do resetting of device that you use for streaming Netflix and restarting or resetting the TV. This component refreshing would fix the main issue, and you would have the sound from Netflix.
Surround sound is not working with Netflix:
If your TV is connected to the surround sound and you cannot hear sound while Netflix streaming, move into your Surround sound component setting and make changes in the settings but make use of 5.1. By changing the settings of audio to something rather than 5.1, you would obtain sound from Netflix.
Apple TV has no sound with Netflix:
If you have AppleTV:
Firstly, go to the setting of audio and video. You will see Surround sound – Best Quality Available would be present for turning on the surround sound. If the best Quality Available is failed to fix the problem, make a selection of Stereo audio settings. It would fix the issue with Netflix if not getting good sound; you would now hear sound from your Apple device.
Playstation is not having sound with Netflix:
Move to the PlayStation home screen and then choose setting-Sound setting-Audio O/P setting. After it, highlight the cable you are connecting PlayStation to TV. Now, click on X.If you choose Audio Input Connector/SCART/AV MULTI, click on X for saving the settings and again trying Netflix. If you have to select HDMI cable, move to the manual, let it be sure that Ch 48 kHz, Linear PCM 2. CH 44.1 kHz is chosen. You should ensure that Dolby Digital Plus and Dolby Digital are not checked. The PlayStation should play Netflix, and proper sound is to be heard.
Directly from Netflix:
If Netflix sound is not working while watching a TV show or movie and contains 5.1 Dolby, You have to ensure that this option is to choose in the Audio & Subtitles menu during Playback. You have to take into consideration that not every season or episode of 5.1 would support TV shows. It is kept in the app of Netflix for window ten and window 8. For checking whether the device is supporting 5.1 audio, move to Netflix original for watching if there is an option of 5.1 audio. If there is no option, your gadget might not help this feature, or it has to switch on.
Netflix video with no sound: Methods to Fix
If your Netflix audio is not working, but the video is working while playing a movie or show, the main reason could be content or an issue connected to a speaker system. Follow the below steps for your gadget to fix the problem. However, if the sound and audio of Netflix are not working on your smart TV or any other device, follow the below instructions to fix the issue by simple settings quickly.
Have a look at the level of volume.

It should ensure that you have turned up the Media volume on the tablet or phone.

Do; launch the Netflix app and choose a TV show or movie.

While your TV show or movie is playing, use volume controls on your device side to enhance the value to a particular level.
Changing your audio settings of Apple TV 3 or Apple TV 2
Firstly, from the home screen of the Apple TV, choose settings.

Secondly, choose Audio and Video.

Then, choose Dolby.

After it, make a selection of Auto options for enabling surround sound.

Finally, refresh or restart Netflix.
If these steps fail to work:
Do repetition from 1st step to 3rd step.

Select Off for disabling Dolby.

Refresh or restart Netflix.
Apple TV 4Kor Apple TV 4 
Firstly, from the home screen of Apple TV, select the "setting" option.

Then, choose Video and Audio.

Now, choose Audio Format.

Finally, choose Change Format. If asked, make sure that you wish to change the format.

You have to choose New format for turning on Dolby Digital 5.1.

Refresh or restart the Netflix
If these steps fail to work:
Firstly, iterate above steps 1-4.

Then, change the option of New Format option to Stereo from Dolby Digital 5.1.

Finally, again Try Netflix.
Roku: Fix Netflix Audio Problem
Are you making use of an external speaker system?
If disconnecting your speaker system fixed the problem, additional setup may be required to connect your speaker system to your device. However, contact the speaker system's manufacturer for assistance. Moreover, if disconnecting your speaker system didn't fix the problem, or if you don't have an external speaker system, continue below.
However, if you are using an audio receiver, soundbar, external audio device, or surround sound system, disconnect the speaker system and use the default setup. If speaker disconnection fixes the main issue, additional setup is needed for connecting the speaker system to the device. But, in case speaker disconnection is not fixing the issue or if it doesn't possess an external speaker system, you have to follow the below steps: 
Smart TV: Fixing Netflix Sound Problem
Do TV unplugging from the power for less than 1 minute.

Now, click on the power button and hold it for few seconds for discharging it. If you cannot access the Power button or Your TV doesn't possess it, unplug the TV for 3 to 5 minutes.

Now, plug back the TV.

Switch on the TV.

Again, Try Netflix.
Troubleshooting the device connections
If you are making use of an external audio receiver, speakers, or soundbar:
Make sure that receivers have a proper connection to the speakers.

Check the optical connectors or HDMI to ensure their adequate plugin connection.

Try to reverse the Optical/HDMI cable ends or use an alternate cable.
Windows Computer
If 

Netflix audio settings

 are not appropriate, click on the play for watching a movie or TV show by Netflix.com.While the video executes and searches the audio icon in the player's control bar. Hover over the icon until you obtain a slider pop-up and then sliding the control knob towards the top to turn up the volume.

Using the browser while watching ensures that the tab is not muted by seeing the mute icon on the Netflix tab. If the account is on mute, make a right-click on it and select Unmute Site or Unmute Tab.

Make sure that the computer volume is also turn on. However, there might be volume controls on your keyboard.

If you are making use of a tablet or laptop, unplug the headphones or external speakers for testing whether you are getting good quality sound from the built-in speakers.
Closing other browser tabs, programs, or applications
Moreover, the performance of Netflix streaming might enhance if you close browser tabs, programs and applications, and programs that might take up your processing resources & memory of the computer. However, Netflix not working on any device or smart TV can be easily solved using the below methods.
Enabling Loudness Equalization
Do a right-click on the speaker icon of the desktop's taskbar if there is 

no sound on Netflix.

Choose Playback Device.

On the tab of Playback, select the Default Device.

Tap on properties.

Choose the Enhancements tab.

Do box-checking for Loudness Equalization.

Uncheck the "Disable all enhancements."

Click on the Ok for closing the speaker's properties, and again, try Netflix.
Fixing issue of "No Sound on Netflix" on PC?
PC is one of the most used devices among the users of Netflix over the universe after SmartTV. However, due to technical advancement, most individuals are making PCs for daily tasks. Most individuals like to watch Netflix on a laptop or PC. However, if Netflix sound is not working on a PC or laptop while playing videos, use the below fixes. Moreover, if Netflix is not working on your smart TV, you can use the steps below to find the best possible settings to fix Netflix audio related issues.
Fix 1: Changing the Setting of Netflix Audio
On the Netflix player's bottom right, tap on the dialog icon and make sure that the option of non-5.1 is chosen if Netflix audio is not working. If you have selected any other option, switch back to non-5.1.
Fix 2: Updating Audio Driver:
Move to your computer's control panel and check whether there is an updated audio driver. Moreover, you could do it by watching the driver's version number and, with the help of google search, find the latest update. Now do installation of the updated version.
Fix 3: Adjusting Audio Settings of PC:
Click on the Win + R for opening the Run window on PC, and in the search box, put "mmsys. CPL".The setting of native sound hardware would open up. From the tab of Playback, make a selection of speakers and click on the "Set Default button. "Now tap on properties and move to the Advanced tab. Ensure that option of "24 bit, 192000 Hz (Studio Quality)" is chosen. If not, make changes in the Default Format to 24 bit, 192000 Hz (Studio Quality). Click on the "Ok" button. As a result, it would resolve the associated audio issues of Netflix.
Fixing the "No Sound on Netflix" issue on Other Streaming Devices?
Fix 1:Try to Play Something Else
If Netflix is not working on a smart TV or another device, there might be a problem in the content library of Netflix. Moreover, for checking whether the main concern is not in the streaming hardware, play something else on Netflix. If you are obtaining the proper audio on Netflix in this case, it means the main problem lies in the Netflix content library & not with the streaming setup. If playing another video reveals no O/P of sound, move to Fix2.
Fix 2: Connections checking
Now, check the connections of the cables whether they are correctly connected. For doing it, do cable unplugging and reinsertion of cable in respective ports.
Fix 3: Restarting Your Device
However, your streaming device might not execute into some errors of processing. Because of it, the audio O/P might be blocked. For resolving the issue, restart the device, as it would clear the temporary cache and resolve the issue.
Conclusion:
Implement the above steps or procedures if Netflix sound is not working on a particular device such as SmartTV, laptop, PC, and enjoy the audio of Netflix. If still have any issue, then take the manual or helpline number of the manufacturing company. Moreover, the above mentioned settings can be used to fix all internal audio and sound issues for Netflix.
Read More: