Do you know that there are Universal Remote Control Apps for your Android and iPhone, which are programmed for working with video and audio components? There are many options from where you can choose paid and free apps. Rather than purchasing an ios universal remote app or android universal remote app, download one of the free Android or ios apps from the Apple play store or Google play store. If your smartphone contains an IR blaster, then any of the below ios or android apps would work in a better way on your cell phone.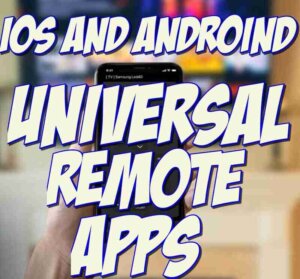 Android and iOS Universal Remote Control Apps
1. Logitech harmony hub
If you are looking for one of the best universal remote iOS apps or universal remote android apps for your smartphone, Harmony Hub would be an appropriate choice. This app establishes the bar high when you are explicitly looking for usability and features from the remote or smartphone.
This app would reveal the capability for you and your household members to use this app regularly while buying any Harmony Hub-based remote. There is a separate hub for the clients who want to control their devices with no need for a physical remote. This app would perform with most Smart TV brands, and you could also make use of this app for controlling Roku, Fire TV, and Apple TV, along with other streaming set-top boxes.
Benefits:
Tapping and Shipping for controlling from over 5,000 brands in a range of 270,000 devices.

Enjoy date night or movie.

With colorful on-screen icons, Programming up to 50 favorite channels.

Controlling smart devices & lights.

Building up multi-device experiences 

Voice control with Google Home & Amazon Alexa 

Behind cabinets, controlling devices [IR, Bluetooth, or wi-fi]
2. Official apple TV remote app
Official Apple TV remote app is one of the best universal remote iOS apps for Apple TV. It reveals the same working to the Siri Remote if you are familiar with the functionality. It functions well with iPad or iPhone and lets you manage Apple TV by tap and swipe. There is also an availability of a keyboard that you can use for entering text while content search.
It works with:
Apple TV (3rd generation), by making use of Apple TV Software 7.2.1

Also, it works with Apple TV (4th generation), by making use of tvOS 9.2.1 or later.

Apple TV (2nd generation), by making use of Apple TV Software 6.2.1
Benefits:
Navigating Apple TV with tap and touch gestures.

Rapidly entering email addresses, text, and passwords by using the keyboard.

You could take help from Siri for searching for something great for listening, watching, or playing.

Controlling TV shows, movies, songs that are currently running.

Changing Music tracks, viewing song lyrics, and selecting movie chapters.

For simplified game controls, availability of Game Mode.

Making use of volume buttons on your iOS device for controlling volume
3. ROBYTE
Robyn is one of the well-designed and colorful universal android or iOS apps. It functions well on both iOS and Android phones. You can make use of this app for navigating Roku, channel up or down, choosing from favorite options such as Disney+ & Netflix. Robyn is easier to utilize Roku remote control, which performs well with Roku TV or Roku player.
It would help if you keep in your mind that this app can only connect when the wi-fi network is the same for the Roku device and your iPhone range. The wi-fi iPad or iPhone is to turn on and correctly connect to a similar network as Roku.
Benefits:
There is no requirement for setup. In auto-scan, it will search out your Roku.

With a single tap, you are Navigating the remote and changing channels.

Make an Adjustment of the volume by making use of the hardware keys.

Rapid text entry for searches on Hulu & Netflix.

RoByte is intended for iPad & iPhone

Efficient navigation without concern about phone

Robyn having pairs with enormous Roku players.

Best email support
4. Android TV remote
Do you want to enjoy the Android universal remote app's benefits, then use the Android TV remote app by which you would use a tablet or android phone as a remote for Android TV. You can easily switch between touchpad and d-pad modes for navigating content and playing games on your Android gadget.
For initiating the voice search, Tap the mic or use the keyboard for having text on the Android TV. For initiating, connect the Android phone to a similar network as the Android TV device or try to search out Android TV with Bluetooth.
Benefits:
Perform well with all Android TV gadgets by making use of Android 4.0 and higher versions

Function well on iOS
5. Yatse
Yasha is a peak recommended and extensively popular regarded universal remote app for Android and iOS.It is top-rated and has strong integration with Plex, Kodi, Jellyfin, Emby, Roku, and other smart gadgets.
Benefits:
Most well-developed & stable remote apps that are tested.

Responsive client support for the developer.

In seven languages, it supports voice control.

Synchronizing the media library over numerous gadgets.

In offline mode, accessing the library.

Easy look variation and better app feeling.
6. Sure universal remote
It is one of the best universal remote apps, making a proper combination of the older device IR features and Smart device wi-fi features. This app provides you the ease of controlling your smart home, Roku, Kodi, SmartTV, Chromecast with voice controlling elements.
Benefits:
It helps you in rearranging buttons

Option for changing icons & colors

The choice for floating the remote while making use of other apps

Amazon Alexa Voice integration

Transfer file with Shared network

Streaming media to a Smart TV in a direct manner.
7. Rookie
Rookie is one of the top-rated universal remote apps for iPod/iPhone for Roku TV and Roku Streaming Player. Intuitive interface, Magnificent design, no pileup for complex settings or buttons. Because of this universal remote ios app, you can easily listen to music, play games, and watch movies most easily. You have to connect Roku and iOS devices to a similar wi-fi network. The rookie has high compatibility with Roku Models such as Roku2, Roku1, Roku3. Express +, Streaming Stick, Premiere, Express, Roku TV, and Ultra.
Benefits:
In the wi-fi network, Automatic Roku detection

A large touchpad for content navigation and convenient menu;

Channels launching directly from the application;

Searching for YouTube streaming & videos to Roku from iPod/iPhone.
8. Tv mote
Tv mote is one of the best ios universal remote and "sophisticated media center remote" apps with various technologically advanced options. It supports Plex and Kodi and Roku devices, Google Chromecast, and below intelligent TV brands.
Mediaroom STBs (for MEO, Vodafone, and other providers)

LG Smart TVs (2013/2014 Models)

Panasonic Viera Smart TV

Philips SPACE Smart TVs (2009/2011 Models) (beta)

LG WebOS TVs models

Samsung Smart TVs (2012/2015 Models) (beta)
Benefits:
Good choice for changing the channels and make a list of favorite ones.

Enormous layouts for enhancing interaction from variant scenarios.

Keyboard Support for LG and Kodi Smart TVs.

Manual device configuration and Auto-discovery.

Gadget's controlling by AppleWatch.

For the remotes' actions, the availability of Siri Shortcuts

TrackPad (iOS)

IOS Widget with remote
9
. 
iRemote for Roku
iRemote for Roku is one of the best universal remote apps for variant versions of Roku such as Roku TV, Roku 2, Roku1, Roku 3 & Roku Streaming Stick. You can easily control Insignia TV, TCL, HiSense, Sharp TV, and variant TVs with Roku built-in. This universal remote app interface is the same as the previous Roku remote, which comes with a player. Most of the clients are highly satisfied with this remote app.
Benefits:
This remote app interface mimics Roku original remote

Free downloading and no need of sign-up

Basic features of navigation make it simple for users.

After launching the app, Auto-detects Roku devices.
10.
Peel smart remote
After launching in 2009, Peel smart remote has become popular universal remote apps. It can control various popular TV brands such as LG, Samsung, Vizio, Panasonic, Sony, Sharp, Toshiba, Emerson. It has compatibility with streaming media players, most satellite and cable TV services.
One of this universal remote app's best features is showing it on your smartphone's lock screen. You don't have to avail of it if the smartphone is in lock mode. The interface is more manageable for usage, and you could receive efficient notifications associated with popular movies, Sports games, Show premiers.
Benefits:
Do proper controlling of various Set-top boxes (Sonos, Apple TV, Roku) and TV.

In your wi-fi network, Setting-up the gadgets in an automatic manner that IR could control.

Watch Favorite show trailer revealed in "videos" section TV guide with top-rated content from enormous devices such as HBO, Netflix, FOX, and Showtime.
Conclusion:
Try the above universal remote iOS app or universal remote android app if you want to control your smart gadgets and electronic appliances in a remote manner by making use of these apps and enjoy various benefits with its key features.
Read More: