How to program Sevenhugs Smart Universal Remote? 
Have you ever dreamed of controlling all the devices in your home with a single device? Now it's possible with Sevenhugs Universal Smart Remote, the remote control that instantly adapts to any electronic device you point it at. However, you can also program Sevenhugs Smart Universal Remote by following the instructions mentioned below.
This smart remote control is compatible with more than 25 thousand devices. Through Wi-Fi, Bluetooth or infrared it controls TVs, media players, consoles, speakers, lights or thermostats. Once linked with the devices, you will be able to manage them all remotely in a unified way.
In this post, we will show you how to program Sevenhugs Smart remote, how it works and what steps you must follow to program Sevenhugs Smart remote correctly at home.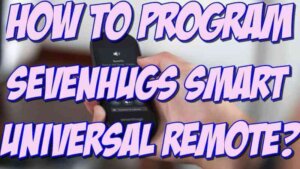 How to program Sevenhugs Smart Universal Remote?
How does Sevenhugs Smart Universal Remote control work?
Just point the Sevenhugs Smart Remote at any compatible device. The control will show you on its touch screen the interface to operate it. In case the devices are placed very close to each other, you will be able to change the interface so that you will not have problems when pointing.
The Sevenhugs Smart Remote uses a group of sensors mounted on the wall together with an internal motion sensor, accelerometer, gyroscope and compass. In this way, it tracks the position and orientation of the remote control. Also, the user can program the locations of multiple devices through an app.
By pointing the remote at the window, for example, you can set it to show you the weather. If you point it at the door, it will ask for an Uber, isn't it amazing?
Setup Sevenhugs Smart universal remote
If you have decided to buy a Sevenhugs Smart remote control, we will show you how to program it in a few simple steps:
The first thing to do is to turn on your Sevenhugs Smart Universal Remote. To do this, we must connect the power adapter to the Charging Base and plug the power adapter into a power outlet to turn it on.
Select the main area of the house or office where you want to use the Sevenhugs Smart Remote and install the Charging Base. Note also that you will need to install the Room Sensors in different strategic locations. As part of the Smart Universal Remote's indoor positioning system, the charging base will need to be visible to all three Room Sensors to use the Point Mode.
To start using and turn on the Sevenhugs Smart Remote, place it on the charging base and wait a couple of seconds for the display to turn on and show "hello, world". 
Setup Sevenhugs Smart Remote to a Wi-Fi network
The next step is to connect your Smart Universal Remote to a Wi-Fi network.

Press "Start" on the Smart Universal Remote screen and select your Wi-Fi network.

Note that all Wi-Fi devices you want to control with the remote must be connected to the same network. Also, this Sevenhugs remote only supports 2.4 GHz networks, which is why 5 GHz networks will not be available to connect to.
Connect to the wifi network by entering the Wi-Fi password and clicking "Join". Once the Smart Universal Remote is connected, "Connected to Wi-Fi" will appear on the screen, just click "OK".
Pair the Sevenhugs Smart Universal Remote Control with the App
Download and start Sevenhugs Smart Remote's app. Click on "Start Setup" and follow the application instructions.
The Sevenhugs Smart Remote app will start searching through your wifi network for the Smart Remote. At this point, it is important to make sure that your phone and the Sevenhugs Smart Universal Remote are connected to the same Wi-Fi network.
Select the Smart Remote you want to connect to. Then enter the security code that appears on the remote screen into the application.
Once they are paired, press "Continue" to add Smart Remote to your app.
Now, we will talk about how to program the sensors and setup Sevenhugs Smart remote's point mode.
Setup Sevenhugs Smart remote's Point Mode 
Each Smart Universal Remote includes three room sensors, which allow the remote to automatically display the appropriate controls when you point your Sevenhugs Smart Remote at any device. This feature is called "Point Mode" and is only available in the area where the room sensors and charging base are installed. 
To install the Room Sensors, the first thing to do is to create a Smart Zone.
Creating a Smart Zone
To do this, the three Room Sensors of the Sevenhugs Smart Universal Remote must be placed. The LED light on each sensor should start flashing white. Make sure that the Room Sensors can communicate with the charging base.
Note: It is recommended to place the sensors at a minimum height of 1.80 meters on the wall, which should be vertical. Angled placement is not recommended. There should be no obstructions between the sensors and the sensors, such as walls or objects of any kind. Note that only one sensor is installed per wall. 
Once everything is installed correctly, it is time to start configuring the Point Mode.
Go to the Sevenhugs Smart Remote's Settings icon and select Point Mode > Enable Point Mode. At this point, you will be prompted to calibrate your sensors.
Once your sensors are calibrated, the locations of your devices and TV scenes will be set. To do this, press and hold the icon at the top of the device you wish to locate.
Once "Locate" appears on your control, hold it within 6 inches of what you want to locate, and confirm.
Now, just repeat this operation for each of the devices you wish to control with Point Mode. 
Let's use Point Mode! 
When we have located at least two devices, we are ready to use Point Mode. 
Slide your finger up on the line at the bottom of your Smart Remote to activate Point Mode. Then, select the device and Smart Remote will show you its controls.
Now you can enjoy simple and easy access to all your located devices, which you can customize whenever you want by visiting Sevenhugs Smart Remote's app.
Conclusion
This remote control is one of the most revolutionary of the decade. It is a unique universal control that will surely delight those avant-garde and modern people who like advanced technologies.
Another aspect to keep in mind when purchasing this smart universal remote control kit is that operates on a horizontal plane, which is why you should use Point Mode outside of your stacked media furniture.
For this reason, you do not stack devices vertically or group them within 2 meters of each other. This will prevent them from being recognized by Point Mode.
Otherwise, it's an incredible remote control that you and your family will love to have at home. If you liked this article, take a look also at How to program a Universal Remote to a TV without codes, where you will learn the different ways to configure a universal remote control without codes or manuals. 
Also Read: