Technology is transforming the world, creating demands for people to acquire better standards of living. A high demand for electrical appliances has made them among the most popular technologies in the market today. This makes Samsung one of the most reliable brands in terms of electrical appliances for providing maximum value. LED TVs by Samsung are the most desirable products on the market. The Samsung QLED series consists of seven different models, including the Q65, Q75, Q60, Q70, Q80, Q95, Q800, and Q950TS. The current comparison of Samsung Q80T vs Q90T will focus exclusively on the Q80T series. It will offer full information about both models. By doing so, you will be able to decide which Samsung Q80t vs Q90t handset you want to buy.
You may also love to read: Samsung Washer Ur Code
From Samsung's 2020 TV catalog, both models Q80t and Q90t will be available. Given that both products have the same brand, there are many similarities between the two. This article will examine those similarities.
Samsung Q80t vs Q90t comparison
| | | |
| --- | --- | --- |
| FEATURES AND TECHNOLOGY | SAMSUNG Q80T | SAMSUNG Q90T |
| Resolution | 4K (3840 x 2160) | 4K (3840 x 2160) |
| Panel Technology | VA Panel | VA Panel |
| Backlight Technology | Direct LED | Direct LED |
| Local Dimming Technology | Yes (Direct Full Array 12X), 49 Inches (Direct Full Array 8X) | Yes (Direct Full Array 16X) |
| Ultra Viewing Angle | Yes , QN49Q80T: No | Yes |
| Processor | Quantum Processor 4K | Quantum Processor 4K |
| Numerical HDR Index by Samsung | Quantum HDR 12x, QN49Q80T : Quantum HDR 8x | Quantum HDR 16x |
| HDR Supports | HDR10, HLG, HDR10+ | HDR10, HLG, HDR10+ |
| Color Technology | Quantum Dot | Quantum Dot |
| Up-Scaling Engine | 4K AI Up-Scaling | 4K AI Up-Scaling |
| Motion Technology | Motion Rate 240, QN49Q80T: Motion Rate 120 | Motion Rate 240 |
| Native Refresh Rate Panel | 120 Hz, 49 inches : 60 Hz | 120 Hz |
| Variable Refresh Rate | Yes (FreeSync, HDMI Forum), QN49Q80T: No | Yes (FreeSync, HDMI Forum) |
| Smart TV Platform | Tizen 2020 | Tizen 2020 |
| Processor | Quad Core | Quad Core |
| Samsung's Bixby | Yes | Yes |
| Support Google Assistant | Yes | Yes |
| Support Amazon Alexa | Yes | Yes |
| Remote | TM2050C | TM2050C |
| Speaker Channel | 2.2.2, QN49Q80T: 2.2 | 4.2.2 |
| Total Sound Output | 60 watts, QN49Q80T 40 watts | 60 watts |
| HDMI Ports | 4 | 4 |
| HDMI Supports | HDMI 2.0 Full Bandwidth, HDMI 2.1, CEC, HDCP 2.2 | HDMI 2.0 Full Bandwidth, HDMI 2.1, CEC, HDCP 2.2 |
| USB 2.0 | 2 | 2 |
| USB 3.0 | No | No |
Technology Panels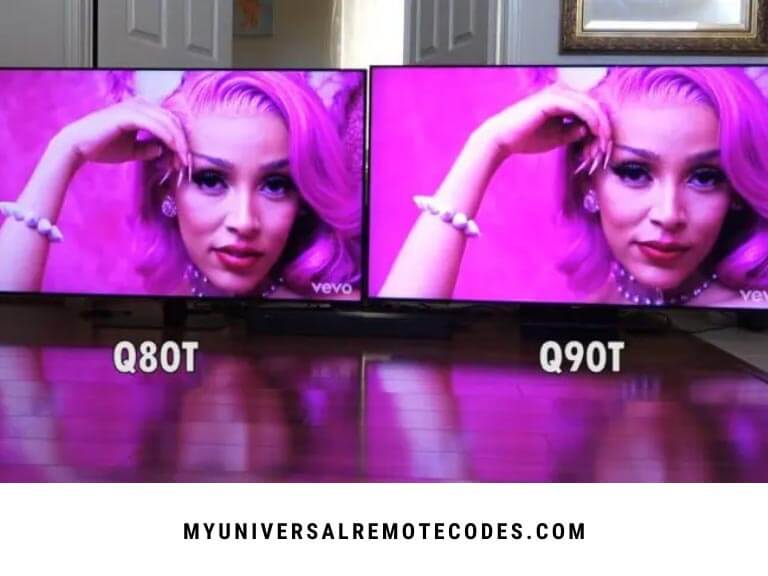 The Samsung Q80t and Q90t both use the same Quantum Dot LCD technology, meaning they have the same resolution of 3840 * 2460. They are able to achieve the highest native contrast ratio using Quantum Dot technology, which means deep black colors. Anti-glare technology is also featured on the Samsung Q80t vs Q90t. To maximize user satisfaction, the anti-reflective coating allows light to be dispersed rather than concentrating in one bright spot.

You may also love to read: How to Update and Manage Apps On Samsung TV?
The software's compatibility
The Samsung Q80t vs Q90t will support Bixby and Amazon Alexa smart features. The Q90t is the only device with Google Assistant. Additionally, to make the Q90t work with google assistant, it requires some extra components.
Technology of motion
There are no differences in the motion technologies between the Samsung Q80t vs Q90t. All of Samsung's models have excellent motion as well. The Samsung Q80t has a screen blur issue when it's not set to motion, but you can choose to make your own adjustment or if you prefer, you can choose to let the artificial intelligence perform its own reasoning based on what you're watching. The Samsung Q90t model comes with another option that allows you to disable the picture clarity feature.
Operating System
Tizen 5.5 is the same operating system on Samsung Q80t and Q90t. As such, the 120 Hz refresh rate provides a more smooth experience. Also, Samsung Q80t vs Q90t both have the same Quantum 4K processor which works great. A range of streaming apps can be used smoothly and reliably thanks to the Quantum processor 4k.
USB/HDMI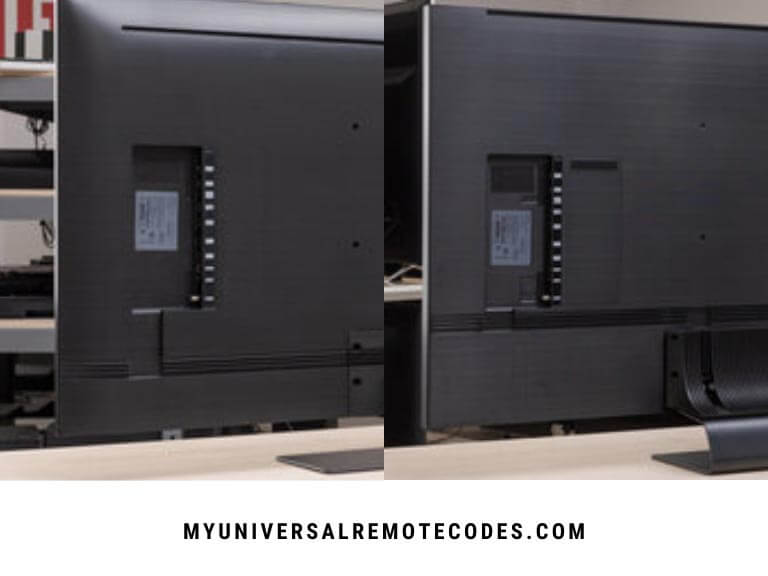 The products have the same features. There are four HDMIs, two USBs, a WiFi and Bluetooth antenna, and an Ethernet antenna on the back of the screen. We discuss each backport's specialty in the following sections.
The number 3 HDMI pin is intended for the enhanced return channel, which allows you to boost the soundbar. HDMI pin number 4 is dedicated to video games. It does this in the form of a variable fresh rate feature known as free sync. Currently, the feature supports 4K at 120 frames per second with automatic latency. 
Samsung's q80t vs q90 comparison is presented here. The q90 is the next-generation model. The new model should have some upgrades from the previous model.
You may also love to read: How to connect Samsung TV to your Wifi Network?
A design perspective
| | |
| --- | --- |
| SCREEN SIZE Q80T | SCREEN SIZE Q90T |
| 49″ | N/A |
| 55′ | 55′ |
| 65′ | 65′ |
| 75′ | 75′ |
| 85′ | 85′ |
Compared to this, they both have the same border around the screen. However, when viewed from the backside of the screen, they appear differently. Moreover, there is a difference between the Q90T and the Q80T because the Q90T is flat while the Q80T has a curve.
System of sound
There is no difference in the sound system power between the Samsung Q80t vs Q90t. This results in the Q80t having a 2.2.2 channel system as opposed to the Q90t's 4.2.2 channels. This results in a better-rounded sound on the Q90t. The only difference between the Q90t and Q80t is that the Q90t has better control over sound.
Display the content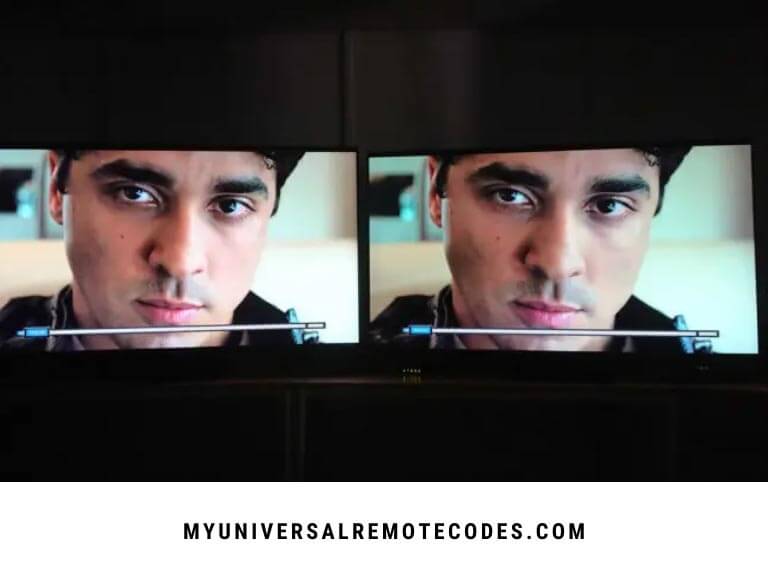 | | | |
| --- | --- | --- |
| HDR BRIGHTNESS | Q80T | Q90T |
| Real Scene Highlight | 702 cd/m² | 1,162 cd/m² |
| Peak 2% Window | 528 cd/m² | 1,170 cd/m² |
| Peak 10% Window | 739 cd/m² | 1,464 cd/m² |
| Peak 25% Window | 607 cd/m² | 1,033 cd/m² |
| Peak 50% Window | 461 cd/m² | 809 cd/m² |
| Peak 100% Window | 438 cd/m² | 631 cd/m² |
| Sustained 2% Window | 522 cd/m² | 1,124 cd/m² |
| Sustained 10% Window | 717 cd/m² | 1,400 cd/m² |
| Sustained 25% Window | 603 cd/m² | 1,023 cd/m² |
| Sustained 50% Window | 460 cd/m² | 807 cd/m² |
| Sustained 100% Window | 436 cd/m² | 628 cd/m² |
| Automatic Brightness Limiting (ABL) | 0.029 | 0.040 |
Displaying output is accomplished by a 120 Hertz panel on the Samsung Q80t vs Q90t. The Q90t has a wider dimming zone than the Q80t. In order to display HDR content, Q90t has a large amount of dimming zones.
Prices
Compared to the Q80t, the Q90t is significantly more expensive. Prices start at $1299.99 for the 55-inch Samsung Q80T series QLED 4K UHD smart TV with Tizen. It has a 55-inch screen and a price of $1509.99. Samsung offers a 55-inch QLED 4K UHD Smart Tizen with the Q90T series. You can get it for $4274.99. The screen is 85 inches and comes in the Q90T series QLED 4k UHD Smart model. $3609.99 is the price of Samsung's 5-inch class Q80T series QLED 4k UHD Smart Tizen
You may also love to read: Samsung TV Black Screen of Death
Gaming
The Q90t models feature HDMI 2.1, making it possible to play a variety of games on them. These models support all the current gaming systems. Despite being a bit sluggish, the operating system is easy to use because it's laid out well. When it comes to gaming, Q80t vs Q90t, the Q90t has the advantage since it includes HDMI 2.1.
Samsung Q90t vs Q80t: Which is the better choice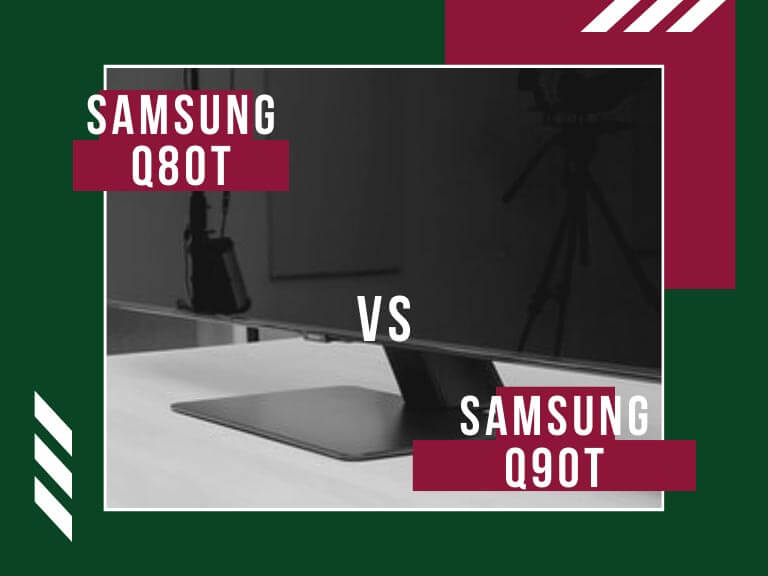 The Samsung 4k LED 2020 lineup catalog places both series in the upper-middle. A person who is willing to replace a television set will also find a lot of features worth considering. Quantum dots are responsible for the display's stunning color and brightness. This model also has better viewing angles than previous models.
Feature of the Q80t model
The screen has a thin bezel around it with a pedestal mounted in the center, giving the overall appearance a more modern feel. The picture looks very natural thanks to a lot of color volume
Moreover, a different preset is also available to make some simple adjustments. 
Those who wish to dig deeper and dial in their video files will also get some expert level of control. With ambient mode, photos, artwork, and weather are displayed relevant to your day. Comparing the Q80t with its predecessors, the audio is very good
The Q80t comes in two sizes – a 49-inch model and a 55-inch model. In comparison to the 49-inch model, the 55-inch model provides 60 watts, providing a 2,2.2 channel system. The action on the screen is tracked using the object-tracking sounds in both models. All Q80t models have adaptive sound plus, which is integrated into the remote control and optimizes the TV speakers to the room in which the TV is installed. Every home theatre system should come with an effective soundbar. If you aren't planning on installing a soundbar or if you are a gamer, then the Q80t makes sense. You get what you pay for.
You may also love to read: Samsung TV Won't Connect To WiFi
Features of the Q90t 4k QLED
Q90t with its thin bezel appears to belong to the category of thin bezel phones. There is a consistent thickness around the entire phone. The feet are single wide and mount in the middle. Connected to Xbox and Playstation are all the things that matter. It also works with Amazon Alexa and Bixby. As well as Google Assistant, if your Google device is compatible and connected. Above every app you are looking at, you will see a suggestion. This provides useful information. Using the menu or shortcut options, you can customize the displayed screen. You can calibrate a picture according to your needs if you can access the picture option. Most people use pre-sets instead, such as dynamic standard and movie. Better contrast and more dimming zones compared to the Q80t. Especially useful when viewing HDR content
Ultra-black technology was an upgrade from the Q80t. It was used to absorb external light from the screen. A brightly lit room would definitely benefit from this, as would watching the movie at night. Glare is not a problem. However, it is not perfect.
Although the bass is not earth-shattering, the sound quality is 60 watt 4.2.2. Vocals come through clearly according to hearing requirements. The other LED TV had to be equipped with a soundbar because the picture quality did not match the sound. Both the bright and dark rooms have good picture quality.