Vizio is a brand that allows some of their Smart TV versions to add and use apps. If your Vizio TV is one of them, you should read this article and figure out how to update and install apps on a Vizio TV. However, the instructions mentioned in this article will help you to update, manage and install apps on your Vizio TV.
There is a question among the users whether their Vizio TV has the feature of using apps or not. Before attempting to add, install or update any apps, it is fundamental to know if the TV is compatible with them.  
As a worldwide brand, Vizio smart TVs have a solution to all of its problems. They have somehow managed to fulfill the user experience. We will try to break down every piece of information to help you understand their policy and system with apps.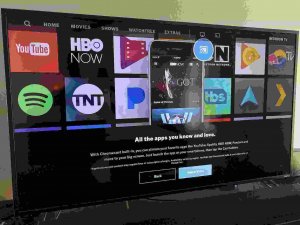 How to Install, Update and Manage Apps on Vizio TV?
Is It Possible to Update, Manage and Install Apps On A Vizio TV?
Vizio had features for adding and updating apps on all their smart TVs earlier. But after 2013, they categorized their TV operating platforms which lead some of their models without outer app using features.
It depends on the operating system whether a Vizio TV can carry apps or not. There are four different types of Vizio TV platforms-
The VIA Platform

VIZIO Internet Apps Plus ( VIA Plus)

SmartCast with No Apps

SmartCast with Apps
The VIA Platform
The VIA Platform can be found in the TVs that launched between 2009-2013. This particular platform enables its TVs to run a multitude of apps. You can add these apps from the connected TV store and delete them as well.
VIZIO Internet Apps Plus ( VIA Plus)
From 2013 to 2017, Vizio launched Smart TVs with VIZIO Internet Apps Plus ( VIA Plus)
Platform. This platform was an upgraded version of the previous one. However, the VIA Plus had the same features and facilities as the VIA platform.
SmartCast with No Apps
The first SmartCast version didn't support any apps, neither built-in nor extra. A very short number of TVs had this platform. It only supports Chromecast-enabled apps from another device.
SmartCast with Apps
The latest SmartCast with Apps version only allows built-in apps. The developers control these apps. Saying that you can not delete or add any extra app on a SmartCast Vizio TV.
When there is any update on the apps, it will be displayed on your TV as developers change their settings from the servers. You can use Chromecast-enabled apps from other devices as well in this platform.
Which Vizio TVs Models Can Update, Manage And Add Apps?
Considering the platform variations, we can conclude that only VIA and VIA plus users can add and update apps according to their wishes. Latest Smartcast users have to contact the providers to make any change in the app list.
SmartCast platforms of Vizio Tvs have the Chromecast support system. We will discuss how this system works for Smartcast users later in this article.
How to install apps on VIZIO TV?
The very first step you have to take is to know whether your VIZIO TV is compatible or not.
If you have a VIA platform, then you are ready to start the procedure. 
Installing apps through VIZIO Internet Apps
1. Grab your remote and press the VIA button.
2. Find the connected tv store option at the bottom left of the screen.
3. You will see options like All apps, Latest, featured, and Categories. Roam through the option and choose your desired apps.
4. select install, and then the file will be added to your TV.
5. You will find the new app on the dock beneath the display.
As VIA has become a deprecated platform, some apps don't support it anymore. Apps like Netflix and Hulu have already become unavailable for the older versions of VIA and VIA Plus.
Installing apps through VIZIO Internet Apps Plus ( VIA Plus)
The initial step of this procedure is to connect your Vizio TV to an internet connection.

Press the VIA button twice on your remote.

A full screen VIA Apps Window will appear in front of you.

Your all added apps will be listed beneath the "My apps" tab.

On the left side of "my apps," you will find options like Featured, Latest, All apps, and categories. Hunt your desired app through these options.

Highlight your chosen app and hold the OK button on your remote. 

A confirmation message will pop up in your display saying your app has been added to the list.
How to cast contents through Chromecast support in your Vizio Tv?
You can cast content through Chromecast support on Vizio SmartCast TVs. You will need an android or iOS device to begin this procedure.
Here is a step by step guide on casting content via Chromecast support on your TV-
Enter the Google Play Store or Apple Store on your device.

Select any of the Chromecast Compatible Devices.

After downloading, enter the app and press the "Cast" option.

Choose your Vizio SmartCast TV, and you will see your content displayed on the TV.
Now, if you are looking forward to knowing how to update apps on Vizio TV, then the rest of the article is for you.
How to Personally Manage And Update Apps on Vizio TV?
In terms of updating apps, there are three available options for you:
Updating through the destined option.

Completely uninstall and then reinstall a particular app.

Updating the firmware of the TV.
You can choose any of these alternative paths to manage apps on Vizio TV. Some of your Television may support one or two processes from them.
How to update apps through the destined option in Vizio TV?
Turn Your TV and connect it to your internet connection

Press the V or VIA button on your remote to open the app info section.

Select the app you want to update.

You have to press the yellow button on your TV.

If an "Update Menu" arrives, select update.
There are chances when you see a delete option instead of seeing an "Update" menu. You will have no choice but to delete and reinstall the app to get the updated version.
How to delete and reinstall an app on Vizio TV?
Following the mentioned steps, delete your app. Then come back and find the Vizio Tv app store. Find your app and press install. Your app will then be installed with the latest version available.
You can update your firmware directly in case you feel annoyed to update your apps individually. Vizio Tv automatically downloads the latest version of your apps while updating the system software.
How to update the firmware of a Vizio TV?
Power up your TV and snatch your Vizio TV remote.

Search the settings option and hunt "System" in there.

You will find an option named "Check for Updates."

Highlight "Check for Updates," and the system will automatically pop up a notification in the display.

Choose "confirm" to start your firmware update process.
SmartCast owners may be wondering how they will update built-in apps on Vizio TV. Scroll down to have a brief acknowledgment of how Vizio SmartCast platform apps work.
How Do Vizio SmartCast Platform App Updates Work?
If you are the latest SmartCast TV owner, you will notice more than fifty apps are already there on your Vizio TV. These apps are built-in, and you can neither remove nor add anything in the app section. They are called PWAs ( Progressive Web Apps).
The developers of the Smart cast platform have collaborated with these apps, and they have their partnership. So, all the changes, fixes, and updates are totally in control of the streaming providers.
If there is any update or new app arrival in your Vizio Tv, that is done by the developers of these platforms. They change the things from the servers, and the updates become visible when you open your Vizio TV.
Ultimately, PWAs are not self updatable. So, the apps will automatically get changed from time to time if needed. You don't have to bear headaches for the PWAs update on your Vizio TV. 
Does the Chromecast support system require updated apps?
You can stream content from other devices like tablets, mobile, etc., to your Vizio TV through the Chromecast Support System. That being said, the streaming apps need to run on the source device first.
Most of the time, you will be unable to run non-updated apps on your Android or Apple device. You must update them individually before trying to cast them on your Tv.
Casting is displaying the content on display. The TV platform will not be in control of the apps.
How To Update Streaming Apps on Android Or Apple device?
If you are an Android user, then you can update your streaming apps through the following steps:
Go to your app drawer and visit the Google app store.

There is a three-lined icon on the top left of the screen.

Press the tree line icon and select "My apps and games."

Select the app that you want to cast on your TV and update it.

You can select "Update All" to update all of your pre-installed apps.
If you are an Apple user, then you have to follow these steps to update your streaming apps: 
Enter your app store and select "Today." You will find it at the bottom of the app store.

Select the profile icon and will notice Update information.

Select the apps you want to update, and you are ready to cast.
Most of the apple and android apps install updates automatically when connected to a WIFI network. If not, you can manually update them following the mentioned process.
Conclusion
Hope this article has successfully helped you with the process of how to update and install apps on a Vizio TV. Vizio TVs Chromecast Support is an appreciative step considering customers' facilities.
You can either cast content from your mobile devices or use built-in apps to enjoy your movies, streaming, series, etc. Always try to update your apps and firmware to enjoy what providers are offering.
Read More: