How to program a Key FOB? – Key fob programming
As the name implies, a car key fob is an electronic handheld device to lock and unlock your car's doors. It makes the car's owner's life much convenient. You can control the door and trunk of your vehicle while sitting remotely. Plus, you can also set a safety alarm with this astonishing invention for cars. However, there are various methods to program a car key fob. Before moving ahead with key fob programming guide make sure there is no hardware or battery failure in your key fob. However, if there is hardware failure you can use replacement battery for Key FOB.
Although car key Fob is a great innovation and is exceedingly helpful for every car owner, they say after a specific time, FOBs can also not be up to snuff. They may become malfunctioned after continuous usage. The reason may be the loss of signal or some technical issue. However, this is not a problem anymore since the good news here is that you can reprogram your remote anytime on your own.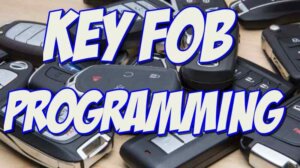 Key FOB Programming
o save your money time and car keys simultaneously, you have to invest a little time in reading key fob programming guides. And after that, you will be able to adjust and program key Fob just by clicking on files. We believe that our guide about how to program a car key FOB will have almost all of your queries answered. But still, if you are unable to adjust your FOB, you need to contact your car's manufacturer. 
Without any further delay, let the game about how to program car key Fob begin. 
What is remote keyless Key FOB? Do I need a car remote key fob replacement?
Key FOBS, which you can also call keyless remote entry, is exceptionally useful for car owners. It can be a life saviour for controlling the door locks and the trunk while sitting many feet apart. Along with many advantages related to key FOBS, they are almost impossible to break like traditional car locks. The prime reason behind this is the password or codes protected security associated with the key FOBs. 
Types of car key FOBS
Several types of key FOBs are distinguished based on the access granted to the user for entry. All of these types vary in the price range and specifications as well. Let's open up on the kinds of key FOBs.
Standard remotes:
These are the commonly occurring or generally used FOBS. These come up with the lock, unlock button, trunk button, and panic button. These remotes are separate from the key. The price ranges from $45 and goes on.
Flip keys
These remote keys are a bit advanced from the standard FOB keys thus are a bit pricier. Flip keys are switch blade-style keys that are operated by a single button. Upon pressing that button, the key will flip out.
Remote head keys
These unique keys are portable and impressive. Remote acts as the head of a key, and the metallic parts originate from the small; both act as a single unit.
Smart remotes
These are the best and easiest-to-use remotes for cars. All you need to do is keep those in your pocket or the purse, and the auto will detect when you will come in range, and the vehicle will get started automatically.
But if the battery dies, there is a minor key hidden inside the remote to start the car.
Fobiks
These unique technology remotes use infrared rays to start the car instead of using the typical key. A key is also hidden inside the remote to be used in case the battery dies, or the remote becomes malfunctions.
If your automated car key has stopped working, then your first attempt should be to check the batteries of your Key Fob. These batteries need to get changed after every 3 to 4 years. After placing the replacement battery for the key Fob, check if it is working correctly? If not, you need to move towards further actions and look upon the car key fob replacement or key fob programming. 
Tips for easy replacement key fob battery
No matter you own a BMW or a Toyota car, the Key Fob is of prime importance. And to keep it sane, you have to keep an eagle eye on its battery. And if the battery is not working, you need a replacement battery for a key fob. The technique for changing the battery slightly differs based on the car you own. However, you can get key fob replacement battery and can replace it with your key fob's old batteries.
Here are some easy steps involved in the key fob battery replacement. How to program key fob to car?
First of all, move the key out of the Fob if it is inside it.

If you have a spring fob, press the spring button; otherwise, push the button, and the key will come out automatically.

The next step is to unscrew the back lid of the battery holder. 

Use the ordinary screwdriver and unscrew it carefully without slipping it. 

Now you have to flip the coin inside the small slab and push it. 

You will see a small round battery lying inside it. 

Replace that battery with a new one.

Now place all the removed contents back in place. 

Check whether the Fob is working correctly or not. 

If it is working accurately, then congratulations, you have done an excellent job. 
However, in a contrasting manner, some fobs will now show positive results. In that case, you don't need to panic because a little alteration or readjustment will be enough to make it working again. Here we will guide you about some easy-going steps to follow to program key Fob to the car.
Still, it is guided that you must consult the manual before making changes to the Fob. This is because different car manufacturers have different settings for the key fobs. Thus have different steps for reprogramming a key fob. 
Let's jump towards the general steps for the key fob adjustment of the replacement car key fob.
What do you need to reprogram a replacement key fob?
When it comes to reprogramming or replacing a key fob, it is not as simple as replacing an AC remote or TV remote. Even after getting a new one, you will have to completely reprogram it so that it rhymes with the adjustments of the car. Programming of a fob can be done manually and by using both machines. However, it is dependent on the model of your vehicle. 
Generally, cars are preset for the manual reprogramming of the key fobs and can sense the Fob, which has to get programmed. 
How to know whether the vehicle is self-programmable or not?
Firstly, check the user's manual; it will reveal whether the key Fob is self-programmable or not. 
If you cannot understand the terms used in the manual, you can look for the settings of the self-programmable fobs online and then compare those with the settings of your Key Fob. If these settings are matching, this indicates that your Fob is self-programmable. 
Still, if you are confused about the nature of your Key Fob, you need to contact the nearby dealer to get possible assistance. 
If your vehicle key is self-programmable, all you need to do is follow some of the most straightforward steps mentioned below and get your programmed key Fob in minutes. 
A detailed key to reprogramming your key Fob easily
Get inside the car
The first step is to take the keys and the remote and get inside the car with closed doors. Make sure to close the doors to avoid any misconceptions or disturbance.
Turn the ignition on
The next step is to turn the car on by inserting the key inside the switch. Turning the ignition ON doesn't mean that you are going somewhere; it means all electrical systems are powered on. Don't forget to check that whether or not the car is on radio mode. If it is on it, then remove it and never start the engine. 
Press the lock button, which is situated on the key
While the key is in the ON position, you have to press the lock button carefully. Then turn the key to the off position instantly. Repeat this process up to three times in a row. This cycle sends a signal to the electronic control unit that it's your which is sending the signal, and then it saves the data for the next time. 
Listen for a lock sound.
Upon repeating the cycle as mentioned above, you will hear a lock sound. This lock sound indicates that now you are in programming mode. 
Within the next five seconds, you have to press the lock button again, and the programming will succeed.
Turn OFF the ignition.
Your last step is to turn OFF the ignition button before you leave the car. This will terminate the programming procedure automatically, and you are done. 
You are all done with the programming of your malfunctioned key Fob or the new car key replacement. 
Come outside the car

.
Now you can step out of the car and check whether the key Fob is working correctly or not; however, if you want to go somewhere instantly after the reprogramming, make sure to check the remote firstly.
How to erase key Fob memory?
If you want to erase key fob memory and then adjust it according to your choice, you will need specific tools. First of all, you have to get an OBD2 diagnostic tool because it cannot be done using a general scanner tool. 
Make sure that you are getting the suitable diagnostic tool according to the model of your car and the nature of the key FOB.
It is suggested to take the FOB to the nearby locksmith. He will do it for you. Don't spend too much on getting a diagnostic tool.
What are the top FOB programming tools? How to program key fob to car?
Insta code is the top going key data software all around the world. It is the basic tool for every professional locksmith.
You can get hundreds and thousands of affordable options in the FOB programming tools. These tools are highly useful and are well featured depending upon all of the modern models of cars. For instance, if you get a standard Autel programming tool, this will be enough to help you out in programming a Honda replacement fob and goes fine with the reprogramming of the Nissan replacement fob as well.
Here are some of the recommended FOB programming tools used as a professional or household device.
Autel IM508 Professional Key FOB Programming Tool contains XP200 Programmer.

XTOOL X100 Pad Plus Key Programming Tool 

Dorman 99355 Keyless Entry Transmitter

FasLink X Remote Key Fob Programmer for GM keyless Entry Programmer Remote Transponder Key

Autel MaxiDAS DS808K All Systems Diagnostic Scanner- Bi-directional Control
These FOB key programmers are of great use for those who own a car FOB that is not self-programmable. These tools will make your car key FOB programming experience worthwhile.
Each FOB programmer tool is highly rated by the users and has got a storm of positive ratings. We recommend these key FOB adjustment tools based on the positive ratings and the extraordinary features in a negligible price range.
How much does it cost to get a replacement BMW key fob
? How to program key fob to car?
Getting a new key FOB for your BMW generally ranges between $400 and $600. This FOB will be pre-programmed and will go fine with your car at the very first attempt. However, if you own a high-end BMW with expensive parts, then your FOB's price may also go to $1000.
Before getting a replacement BMW key fob, make sure that you are telling the 17-digit VIN accurately to the dealer. This is the code that is going to suggest the Fobs programming. You can get this number mentioned near the front of your windshield.  
How to get a Honda replacement key fob after the older one gets lost?
If your car key Fob gets lost, you will have to contact an automotive locksmith who has a facility to provide mobile services.
Another possible method is to tow the car. After dragging the car towards the shop or near the dealer, you will get a new FOB instantly.
The last option is to order a FOB online by telling the accurate details to the dealer. 
How much does it cost to get a Honda replacement key fob?
The price of the Honda key fobs ranges between $149 and $459. It varies based on your car model and the type of FOB your car is compatible with. We have mentioned all of the kinds of FOBS above. You can figure your type of FOB from there. 
How much time does it take to get a replacement key fob, Nissan?
Depending upon the year and model of your car, the replacement fob for your Nissan car will take hardly 2 to 3 days. You have to take your license and the papers to the Nissan dealerships; they will make sure that you are the owner of that car and send the paperwork for further actions. After some time, you will get your Nissan car automated keys delivered to your home.
Is Nissan's replacement key FOB self-programmable?
Usually, all new cars coming from Nissan have a self-programmable and unique FOBS, but it may be different in some cases. To know this, you need to head towards the manual of your and read the manual carefully. There will be a portion on which all of the keys and FOBS will be defined in detail. If you find that your car key FOB is self-programmable, then you can program it in minutes just by turning the ignition ON and OFF.
Conclusion
Keys FOBS is an excellent addition to the car lover's life. For instance, opening every single lock of your car was quite a mess earlier, but now, just upon pressing a button, you will get your car's all doors open. Similarly, you can open the trunk of your car while sitting in it. And you can get a signal if something hits your car while you are away from your vehicle.
All these points include the fact that the cars using automated key fobs are almost impossible to break through for the thieves because they are adjusted with specific codes. On the basis of these entire facts, one can conclude that it has added ease to our lives. But we cannot ignore the fact that every technological gadget may die anytime at any spot. However, in that case, instead of panicking, we need to work wisely. 
 If the same happens with you and your key Fob dies, then try to act smart and check your Fob's battery. If it is fine, then go for the reprogramming of your Key Fob by following the tips on how to program a Key FOB. We are quite sure that you will get your Fob working. This is the time to tap you back and congratulate yourself for saving the money you were going to spend on a replacement key fob.
Read More: