For every streaming device you can use to watch Hulu: Smart TV, Apple TV, Amazon Fire Stick, Roku, Chromecast, and even the NVIDIA shield, here are my top picks for the best universal remote for Hulu + Live TV. However, below are some amazing recommendations on best universal remote control for Hulu + Live TV.
Huuuulu! Sorry, I mean hello! I am happy to welcome you to my blog, where you can learn everything you need to know about universal remote controls.
Let's get started right now.
How Do I Choose the Best Universal Remote for Hulu + Live TV?
It's Hulu, Hulu. That's fun to say.
What's not so fun?
Use the remote that came with your Smart TV to navigate through Hulu + Live TV remote control.
Perhaps you are fiddling with that crazy one the cable company gave you.
Well, don't worry. I'm here to save you from the usability abyss with five great universal remotes for watching Hulu + Live TV.
Where can I find a universal remote that works best with Hulu + Live TV? The answer depends on what you are watching Hulu on:
Harmony 950 – Best for Smart TVs.

Harmony Elite – For Apple TV.

Sofabaton F2 – For Fire Stick.

Harmony Companion – For Roku.

Chromecast – For Amazon Fire 8 Tablet.
#1 – Logitech Harmony 950 – Best for Smart TVs

Controlling your home entertainment devices is easy with the Logitech Harmony 950 universal remote. Using the Hulu app on your TV to control Hulu Live TV is a perfect match for this device. There is a good chance you will be able to control Hulu Live TV with your Smart TV, or virtually any other streaming device, using Harmony's database, which supports over 275,000 devices from 5,000 brands.
Pros
Watch Hulu can automatically turn on the appropriate devices and switch to Hulu + Live TV with just one touch.

Touchscreen LCD display.

Combine up to 15 remote controls.

Installation is straightforward.

A cheaper alternative to Harmony Elite.
Cons
Do not control smart home devices [see Harmony Elite below].

You cannot control devices stored inside cabinets [see Harmony Elite below].
# 2 – Compatible with Apple TV: Harmony Elite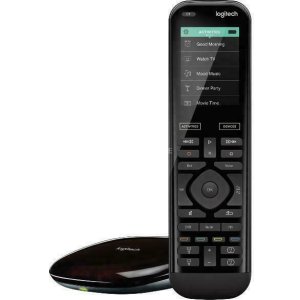 There is no doubt that the Logitech Harmony Elite is the best remote control on the market today. Using it, you can control up to 15 entertainment devices, streaming media players, and smart devices. "Watch Hulu" will launch Hulu and all required components by creating an activity in Harmony for Hulu. Furthermore, you could have a TV, Apple TV, Roku box, or Fire Stick, a stereo receiver, and a soundbar / surround sound setup. You could also power up your smart bulbs or bias lights and set them to a cool blue color. Voice commands and activities can be controlled using Alexa and Google Assistant. Check out my review of the Harmony Express if you want an Alexa remote on steroids. It's also compatible with Apple TV.
Pros
The ability to control both smart devices and home entertainment.

For one-button access to Hulu, create an activity called 'Watch Hulu'.

A touch-sensitive color LCD screen.

Bright backlit buttons.

The device is designed to be user-friendly.
Cons
The Harmony remote is more expensive than other Harmony remotes.
In their review of the Harmony Elite [both good and bad], Modern Classic nails it:
 Love the Dr Who and Weird Al clips! I'm a fellow nerd. Haha.
#3 – For Fire TV Stick: Sofabaton S2
The SofaBaton S2 attaches to your existing Amazon Fire TV Streaming Player Alexa remote. The "IR learning technology" allows you to program buttons from existing remote control devices (TV, soundbar, receiver, Blu-ray player, etc.) for controlling Fire TV. It was easy to set up and saved you the hassle of using multiple remote controls.
Please note that the Alexa Voice Remote is not included. It attaches to your existing remote.
Pros
With the Alexa voice remote, you can control Fire TV and Hulu with your voice.

It snaps on easily.

Eleven customizable buttons.

Compatible with devices in your entertainment center (no line of sight is required).

No "Alexa" wake word is required.
Cons
Only works with IR devices.

To issue commands, simply press a button on the remote control.

Remote controls have limited functionality.
#4 – Harmony Companion: For Roku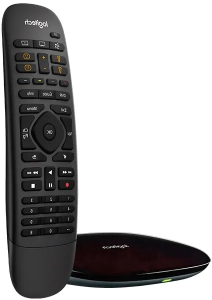 CNET, Wirecutter, Techhive, and even Tom's Guide are big Harmony Companion fans. Harmony Elite must be too expensive for all of these people. That's funny. The Harmony Elite remote is basically the Harmony Elite without the color touch screen. With it, you can control home theaters and smart devices, and Alexa will also work with it. As part of the Harmony package, you'll also get a companion app, which gives each family member a remote control for their smartphone that they can customize to meet their preferences. If you have a limited budget and want a great remote [like my reviewer friends], this is a good option.
Pros
Most of the features of the Harmony Elite are available at a lower price.

It works with Alexa and Google Assistant for limited voice control.

The Harmony app turns household smartphones into personal remote controls for each family member.
Cons
The Elite does not have a color LCD screen.

Home control buttons are limited to certain functions.
#5 – For Chromecast: Amazon Fire 8 Tablet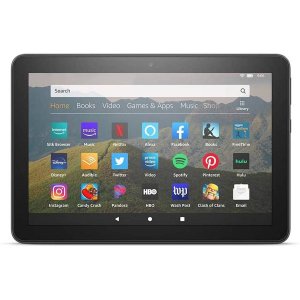 Users of Chromecast have long complained that the streaming media player does not come with remote control. Chromecast cannot be controlled with a universal remote like Logitech Harmony [or any universal remote for that matter]. Chromecast was designed so that it can be controlled with your smartphone.
However, it is annoying not to have a standalone remote for avid smartphone users because if you get a call or want to text [or check your blog stats like me], you need to launch an app in order to control your Hulu set up. What to do? Use a dedicated phone or tablet to control Chromecast. Amazon Fire tablets are my favorite. They are less expensive than iPads, and you can use them for a lot more than just remote control. One of my friends uses it to control his Hulu live TV, and it works really well as a remote. You will need to make a little hack to make it work. This is what you need to do.
Pros
It's easy to use and looks cool to use a large tablet interface.

In addition to using the tablet as a remote, you can use it for other things.
Cons
Using a tablet to navigate the TV may take some time for some users.
Your Turn: Best Universal Remotes for Hulu + Live TV
Okay, so what do you think of my Hulu + Live TV remotes recommendations?
With most of these remotes, you can watch Hulu on any streaming device.
What is your current Hulu experience? Would you consider upgrading to a new remote?
Please leave me a comment below. Thank you.
Possibly of interest: HULU + Live TV Remote Control
You might also like some of my other posts about the best universal remotes for Hulu + Live TV. The posts include reviews of several remotes mentioned here in more detail.
I hope you will take a look around and share on social media if you wish! Thanks for your support!