My goal is to provide a thoughtful and comprehensive answer to the question: What are the best remote controls for YouTube TV? There are many amazing devices and best remote controls for YouTube TV.
Hello, YouTube TV (Goodbye, cable?)
That was a tough one. Let's be honest.
This is my first time watching YouTube TV.
I absolutely adore YouTube. Still, I enjoy cable [AT&T Fios, xFinity] as well, so I'm not quite ready to cut the cord yet. YouTube TV does not offer high resolution for all channels and programs, which is a dealbreaker for me. Nevertheless, many people may find the cost savings over cable worth it.
I did temporarily sign up for a subscription to try out different remotes for this blog. I got mixed results, but they were interesting nonetheless.
It wasn't as easy as I expected.
You can control YouTube TV on some media players using remote controls.
For the most popular streaming services, a detailed comparison table will be provided for each of the best remote controls for YouTube TV. I will also evaluate the pros and cons of various media players.
Best Universal Remote Control for YouTube TV
Now, let's dig into the details. The table below shows the best universal remotes that work with YouTube TV and their current prices on Amazon. Using direct integration with Amazon's API, It provides the latest Amazon price every night.
 

Logitech Harmony Elite Remote Control, Hub and App (Renewed)

 

Logitech Harmony Companion All in One Remote Control for Smart Home and Entertainment Devices, Compatible with Alexa (Renewed)

 

Black – Logitech Harmony Smart Control with Smartphone App and Simple All in One Remote

 

Logitech Harmony Hub for Control of 8 Home Entertainment Devices

 

Logitech Harmony Smart Keyboard for Living Room Control of 8 Devices and Streaming Entertainment

 

Updated SofaBaton U1 Universal Remote with OLED Display and Smartphone APP, All in One Universal Remote Control for up to 15 Entertainment Devices, Compatible with Smart TVs/DVD/STB/Projector so on

 

 

Top Pick For

AppleTV, Roku, Xbox – App only

 
The Logitech Harmony is the best remote control for YouTube TV on Roku.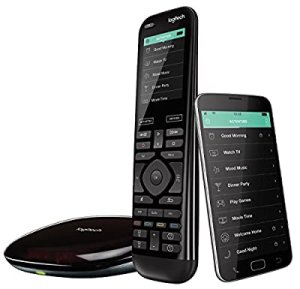 Logitech Harmony Hub remotes are my favorite for Roku. The Harmony Elite is my favorite Harmony remote. This allows you to control Roku and all of the other devices in your entertainment center and smart home. You can create activities or scenes by using multiple devices together, such as "Movie Night" or "Watch Roku."
By pressing the button with that label, Harmony will automatically start all required components. With Movie Night, you can program an activity that would fire up your Roku, tune into YouTube TV, dim your lights, lower your blinds, etc. I realize the Harmony Elite is quite expensive. Alternatively, if this is not an option, you can look at the Harmony Companion, which has all of the same features without the fancy LCD screen.
Remotes from Roku can also be used for this, but I'm not thrilled with the plastic remotes. However, they are certainly less expensive than the other options.
Wanderer001 does a nice job of showcasing these remotes.
What is the best Device YouTube TV remote for Apple TV: Sofabaton or Harmony?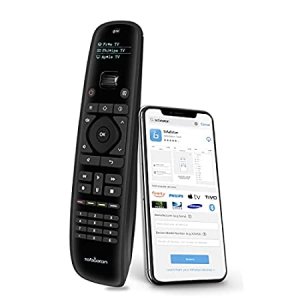 Oh! Apple TV. Chances are, if you are a big fan of Apple products like I am, you are also a fan of Apple TV and may have even subscribed. Apple TV subscribers love it. It's funny since you don't really get that much more than you would with Amazon or Roku.
I have a $700 iPhone, so who am I to judge? Just kidding.
Nevertheless, some customers have reported that the Apple TV remote device works just fine to control YouTube TV. Nonetheless, this is a proprietary remote that can only control Apple TV content.
Look at this universal remote from Sofabaton if you want something more universal. Harmony Hub remotes will also work with AppleTV. Check out my review of Harmony Hub-based remotes here.
Any Harmony remote is the best YouTube TV remote for Xbox One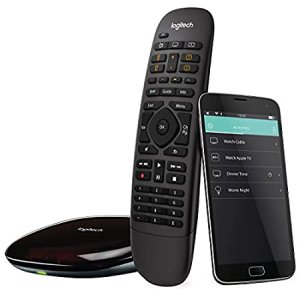 I'm going back to Harmony remotes for Xbox One and YouTube TV. Logitech has confirmed that all Harmony remotes will work with Xbox One, providing a wide range of options and pricing.
The Harmony Companion remote [pictured here] has Amazon Alexa built right into it for voice control. It is very similar to the Harmony Elite, which I use to control my devices. The only difference is that it controls fewer devices and does not have that cool LCD screen that organizes your activities.
Amazon Fire TV Cube is the best YouTube TV remote for Fire TV.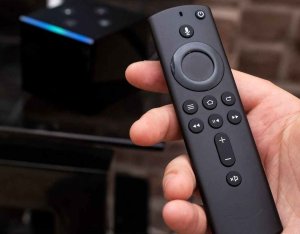 Since adding my Fire TV Cube to my home theater, I find myself using it as my go-to launchpad for everything.
 Amazon announced YouTube TV would be available on Fire TV late in 2019. It is now available for download. By saying, "Alexa, open YouTube TV," you can open YouTube TV and download YouTube TV.
That's right; it's that simple.
There are YouTube TV service fees after the trial period, but if you want to cut the cord with YouTube TV, the Fire TV device is a good choice.
 Amazon currently offers two versions of the Fire TV Cube. There is a newer option, which is just a little more expensive, but it has vastly improved hardware, so if you are going this route, I will go with the 2nd Generation Cube (labelled 2019 release at Amazon).
The best YouTube remote for smart TV: Harmony Smart Keyboard

I would be remiss if I didn't mention your favorite Smart TV. It works well for regular YouTube viewing, although I haven't tested it with YouTube TV.
Whenever I watch YouTube, I do a lot of searching, and navigating with a remote, any remote, was exceptionally frustrating. To go along with my Harmony Elite remote, I bought the Logitech Harmony Smart Keyboard.
It adds another device to your coffee table, yes. In my opinion, the time savings alone make it totally worth it for avid YouTube watchers.
The Best YouTube TV Remote Control: Harmony Hub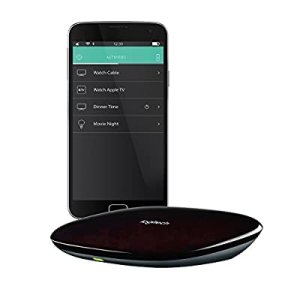 YouTube TV is available through YouTube's own TV app. Check out this YouTube TV Help video to learn how to download and set up the app.
However, I prefer Harmony Hub. What's the reason? It is the best remote control app for YouTube TV. In fact, it is the best remote control app you can buy, period. Up to eight devices can be controlled with virtually all the features of the Harmony Elite remote. In addition to being able to program activities like movie nights, you will also be able to control your smart home devices. For more information, please read my review of the Harmony Hub.
The Best Remotes for YouTube TV: Now it's Your Turn
What do you think about my picks for the best YouTube TV remote?
I'd like this post to turn into more of a dialog so you can share your opinions and insights as well.
Are you a subscriber to YouTube TV? Are you considering cutting the cord? What streaming media services do you use to view YouTube TV if you already subscribe? Do you like it?
Do you have any experience using a remote with Chromecast? Which one have you used?
Would you be interested in a remote for any other service listed here [or not listed here]?
If so, please leave a comment below.
Looking forward to viewing and moderating an ongoing dialog here. Best wishes!
Related Links
Check out some of our other posts if you enjoyed this one: