Hulu Error Code 95 can be caused by either a corrupt cache on your device or missing files in the installation of the Hulu application. However, there is a very common problem that can occur on a variety of platforms without a guaranteed resolution from Hulu.
In fact, Hulu officials have not commented on the issue and users must contact the device manufacturers' support agents, who then direct them to Hulu; this is a cycle that never ends.
Hulu error 95 can be encountered on the following devices:
PCs

PS4

iPads

Xbox

Apple TV

Firestick

Smart TVs
While the fixes listed below can be applied to all applications, the method for implementing them may differ slightly.
Hulu Error Code 95: How do I fix it?
Next, we'll look at more complex fixes. Let's begin with the most effective fixes. Before continuing, please have your Hulu credentials handy.
Power cycling your device is a good idea
Power cycling your device completely is the first thing you need to do. However, restarting and draining your device's power is what power cycling means. As a result, all bad configurations (if any) will be removed, and configuration-related issues will be resolved.
Firstly, unplug their power cables. (All devices, including your router, should be turned off.)
If you want to ensure it has consumed all the energy, hold the power button for a dozen seconds.
Check if the problem is resolved after 10 minutes by reconnecting everything.
The Hulu app needs to be cleared of its cache and data
Following the retrieval of important information and configurations from Hulu's servers, the application stores Cache and Data locally. Cache and data can become corrupted over time, resulting in errors like Hulu error 95. Indeed, this solution attempts to clear all the application's data and cache and see if that works.
As a demonstration, we'll use Android, but this also applies to Samsung TVs and Firesticks.
Firstly, open the Android Settings and navigate to Apps/Application Manager.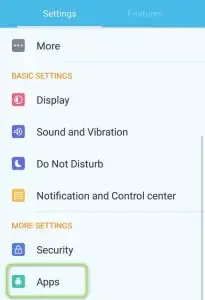 Secondly, tap on Force Stop if Hulu is already running and select Hulu. After that, open the Storage.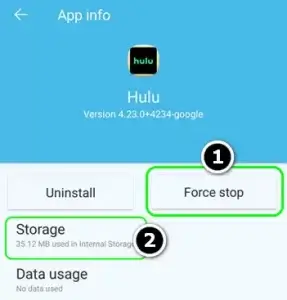 Then, you can now check if the Hulu app is functioning properly by tapping on the Clear Cache button.
As an alternative, repeat the above steps and choose the Clear Data option in the Storage settings.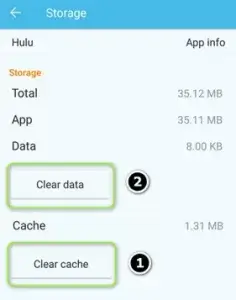 Clear the Hulu app's data, then launch the app to see if the Hulu error 95 has been resolved.
Changing the WIFI frequency from 5GHz to 2.4GHz
Users of dual-band routers will find this solution useful. A recent interaction between Hulu users revealed that switching to 2.4GHz from 5GHz in their routers immediately resolved the issue. Additionally, you may experience poor attenuation through your house's walls due to 5GHz's poor attenuation.
Try switching your router's network settings to see if that helps. Moreover, try the other methods listed below if you are unable to fix the Hulu Error 95 code.
You can try resetting the smart hub on your Samsung TV
In case the Hulu app is one of your system apps on your device, you may be able to resolve the issue by resetting the device (like Samsung TV) or by resetting the Smart Hub.
Note: Holding down the remote for a period of 12 seconds at a time is essential if you want it to work. In addition, a flashing Samsung logo will appear, followed by a Smart Hub reset.
Select Self Diagnostics from the Samsung TV's Settings under the Support tab.
Please confirm that you want to reset the Smart Hub after clicking on Reset Smart Hub.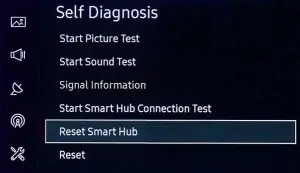 Hulu will launch after the reset has been completed.
By entering your credentials, you should be able to fix Hulu Error 95.
Try reinstalling the Hulu app to Fix Hulu 95 Error
Try reinstalling Hulu from scratch if none of the methods above work. As a result, Hulu error 95 or any other related issues will be resolved if incomplete files are found in your Hulu application.
Navigate to Settings > Apps > Application Manager.
Scroll down to Hulu and choose Force Stop. In addition, after tapping on the Uninstall button, confirm the uninstall of the Hulu app.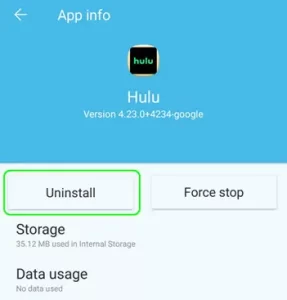 Reinstalling the Hulu app from the App Store or Google Play Store will be necessary after rebooting your device.
Replace your router and install a new network.
You may have to replace the networking equipment if none of the methods above work. According to our troubleshooting, if your application is not the problem, it's most likely your internet connection or router.
Try changing your internet service provider first. A 3G or 4G mobile device can be used as a Hotspot. If your device supports a wired connection, you can also replace the router temporarily to rule out a router problem. Just make sure that the router operates at a 2.4GHz frequency.
Read More: