Logitech Harmony Elite vs Ultimate? Ummm, Which should I get?
Fortunately, we are here to help you. 😉
Here are the major differences between the two:
Harmony Elite has a 65,500 color, 128*128 pixel LCD touchscreen, while Harmony Ultimate has a 320*240 pixel QVGA screen. However, unlike the Ultimate, the Elite's navigation buttons are located at the top of the remote, making it easier to use. Additionally, the Elite's battery can be replaced, while the Ultimate's cannot.
In this article, we compare the Logitech Harmony Elite universal remote control vs the Harmony Ultimate Home universal remote control.
In addition, below are the comparisons of Harmony Elite vs Harmony Ultimate.
The Harmony Elite vs the Harmony Ultimate: Complete Comparison
The following table outlines Harmony Elite vs Ultimate Home:
| | | |
| --- | --- | --- |
|   | | |
|   | | |
|   | | |
| Color | White and Black | Black |
| Technology | | |
| Includes Hub | ✔ | ✔ |
| Touchscreen | | 1.5 inches (diag.), 65,000 colors,128×128 pixels |
| Device Control | 15 | 15 |
| Favorites | 50 | 50 |
| Alexa and Google | ✔ | ✔ |
| Smart Devices | ✔ | ✔ |
| Button Placement | | |
| Backlit Buttons | | |
| Available from | Amazon and Other Retailers | Amazon and Other Retailers |
| Warranty | | |
| Battery | Lithium-Ion rechargeable, replaceable | Lithium-Ion rechargeable, replaceable |
Harmony Elite Vs Ultimate: Choosing between the two can be difficult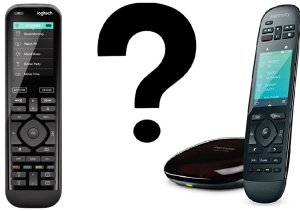 Which Logitech Harmony high-end remote control should you use for controlling your smart home devices?
Indeed, Harmony Ultimate (also known as Ultimate Home) is very similar to Harmony Elite, but there are a few additional features that may appeal to discerning smart home pioneers.
The recently discontinued Ultimate has a lower price.
Check out the links above for the latest Amazon prices. Additionally, I will include links to Amazon at the end of the article.
Harmony Elite vs Ultimate Home: Which is the best?
The Elite is the predecessor to the Ultimate. However, the manufacturer recently discontinued it. At a much lower price, it still offers most of the same features as the Elite.
[Logitech advertisements]
Introducing Logitech's 30 second commercial for the Harmony Elite remote.
Moreover, the video below showcases Logitech's Ultimate One campaign.
Harmony Elite Vs Ultimate: A similar approach, but unique
In comparing Logitech Harmony Elite vs Ultimate, both products have many of the same features. In addition, Harmony supports up to 15 devices, has a database of over 270,000 products, and works with Amazon Alexa.
Furthermore, they both come with a hub, so you can control devices behind closed cabinets, and you will be able to control your smart home devices as well as your entertainment system.
The main difference between these two remotes is their design. Moreover, the placement of the buttons on the top and bottom of the remote has been criticized by a number of users. In addition, they complain that the smart screen isn't as nice as what you find on a modern smartphone. Indeed, (The complaint is that the remote requires too much back and forth from top to bottom to navigate.) Logitech has addressed both of these issues with its new Elite model, which has buttons beneath a modernized touch screen.
In the FAQ, you will find some additional minor differences between Harmony Elite vs Ultimate remotes.
What's the most important difference between the Harmony Elite vs Ultimate Home?
For the reasons cited above, we recommend the Logitech Harmony Elite. The "ultimate" remote for controlling your smart home.
However, choose the Ultimate if you are:
Searching for a cheaper alternative to the Elite.
Don't mind not having the latest technology.
I like the design, particularly the placement of the buttons at the top and bottom.
Most of the time, I use the touchscreen. In other words, you don't need physical buttons to automate certain tasks.
In addition, while both of these remotes are not cheap, the Ultimate offers most of the same functionality at a lower price.
There are several key features in the Harmony Elite vs Ultimate Home
Read our full review of the Harmony Elite here. In addition, the following features are listed below. Moreover, you can also read some reviews on Amazon.
Our top pick for a smart universal remote is based on so many satisfied customers.
A multicolor touchscreen display
With swipes and taps, you can control activities, channels, volume, and more. In addition, you can schedule up to 50 favorite channels, so you won't miss the latest Walking Dead episode on AMC. You can also control smart home devices with the backlit touchscreen, such as Philips Hue lights.
Alexa and Echo Dot are both certified by Amazon.
Harmony Elite and Echo Dot 2 are compatible for the ultimate in smart home voice integration. Additionally, Alexa will automatically turn on all necessary devices (cable, soundbar, receiver) when you ask the Harmony Elite or Echo Dot to "turn on the TV.".
Single-touch control.
As soon as the Activity "Watch a Movie" or "Play a Game" starts, multiple devices will be switched to the appropriate settings. In this case, "Watch a Movie" will turn on your TV, receiver (if included in your setup), and soundbar at the same time.
Compatibility with over 275,000 devices
Harmony controls 275,000 devices, and the database is growing every day. Therefore, you can be confident that the Harmony devices will control the devices you own today, as well as the ones you add in the future.
 No more remote codes are needed.
Logitech's intuitive software interface lets you add devices by entering model numbers or brands. Moreover, your computer, Mac, iOS, or Android device will be able to perform this task. As a result, you no longer have to scramble to find lost manuals or use "secret codes" to get the lights to blink.
Get the Harmony App.
In addition, transforms iOS or Android smartphones or tablets into universal remote controls for the entire house. Indeed, this is great for family members to use. However, the battle for remote might take on a whole new meaning.
Control over closed cabinets
With the Harmony Elite Hub, you can control devices in closed cabinets, even while away from home.
A convenient charging station is also included.
It keeps your remote charged and within reach. Indeed, you don't need to plug anything in. Just place the remote into the dock.
 Total home automation.
Harmony activities or devices can be started or stopped using schedules. In addition, when you get home from work in the evening, you can use the remote to turn on your smart lights or to play music.
Media control via wireless technology
You can control streaming media players such as Apple TV, Roku, and Tivo. Additionally, you can control game consoles like the Xbox, Wii, and PlayStation.
Key features of Harmony Ultimate Home Vs Harmony Elite
Certified for Alexa
The Harmony Ultimate Home works with Alexa to control your home.
Supports powerful radio frequencies (RFs)
In addition to RF, the Ultimate supports IR, Bluetooth, and Wi-Fi. The Elite does not have RF.
Control over closed cabinets:
With the Harmony Hub, you can control your entire home entertainment system. In addition, you can control game consoles and other devices hidden behind cabinet doors and walls. The Elite has the same capabilities.
Customizable remote control options.
Users can create one-touch activity sequences, adjust and remap buttons, and set device delays and timing.
No remote control codes are required.
Logitech software simplifies setup. Moreover, once you enter the device make and model into the software interface, Harmony takes care of the rest.
Interactive color touchscreen.
Using shortcuts for your most frequently used commands, you can switch between entertainment activities.
Enhanced Convenience Features
The device includes a vibration feedback touchscreen, up to 50 favorite channel icons, back-lit buttons, and a charging station.
Multi-OS compatibility.
Additionally, configuration software runs on Windows XP, Windows Vista, Windows 7, Windows 8, and Mac OS 10.5+.
A maximum of 18 devices can be controlled.
Currently, there are more than 6,000 brands and 275,000 devices in the online device database.  
Included in the Box: Harmony Elite Vs Ultimate
Previously, the Ultimate didn't have a hub, but that's no longer the case. Indeed, everything is the same in the Elite and Ultimate boxes. However, the remote is the only difference.
There is an Elite remote and an Ultimate remote (with a rechargeable battery).
Harmony Home Hub.
2 IR mini-blasters.
Wireless charging station.
A USB cable is included.
An AC adapter is also included.
Instructions.
Purchase information.
Here are some links to the products on Amazon.com that include direct links and current prices.
Frequently Asked Questions: Harmony Elite Vs Ultimate
Logitech Harmony Elite vs Ultimate: Which is cheaper?
Prices for the Elite range from $250 to $330 depending on where you shop. Since Logitech discontinued its Ultimate Home remote, prices have fallen dramatically. They were between $120 and $200 at the time of this writing. There can be a difference of over $100 between Harmony Elite and Ultimate.
Can the Harmony Ultimate be configured with my smartphone?
For Logitech Harmony Elite vs Ultimate, please refer to the following system requirements (from Amazon) for configuration: WLAN: Supports 802.11g/n, WPA Personal, WPA2-AES, and 64/128-bit WEP encryption. Setup and control require iOS 6.0 or later on iPhone 4S or later, iPad (3rd generation or later), iPad mini, and iPod touch (5th generation or later). Setup and control of Android mobile devices requires a Wi-Fi enabled smartphone running Android 4.0 or higher. To get started, download the Harmony App from the App Store or Google Play. Some home automation devices require a mobile device for setup and control. The PC setup is supported by Windows 8 and Windows 7. Mac OS X 10.6 or higher is required for Intel-based Mac OS computers.
Does the Logitech Harmony Ultimate Remote work with Amazon Alexa?
The Ultimate product is also compatible with Alexa devices such as the Amazon Echo and other Alexa-compatible devices. However, it may not be compatible with older versions of the Ultimate without an upgraded Hub. Moreover, you should purchase a remote control that includes the Hub and is certified for Alexa.
What are some common Alexa commands that I can use with Harmony devices?
The Ultimate cannot be used to control items stored behind cabinet doors in my entertainment center, am I right?
No, it cannot. That isn't the case anymore. As a result, you should get the version with the Hub so that you can control devices behind cabinets just like the Elite.
Besides the features of the Harmony Elite vs Ultimate Remote, what are some other differences?
According to the Logitech forums, there are three other differences: The Elite has extra physical buttons for controlling home applications (e.g. lighting). Harmony Elite Hub has more internal memory than Harmony Ultimate Home Universal Remote. Battery replacement is not possible for the Ultimate.
What Harmony remotes are compatible with Alexa?
Harmony Elite and Harmony Ultimate are the only Harmony products that work with Alexa on Dot 2. However, you can also control up to eight Alexa-enabled devices using your smartphone with the less expensive Harmony Hub. However, some users complain that the app is buggy and inconsistent.
More Interesting Articles:
Additional articles just like Logitech Harmony Elite vs Ultimate: