Nest WIFI vs Google WIFI Which mesh Router
Google Nest WIFI – an upgraded version of the Google wifi mesh router is a successful addition to the ever-growing family. Just after its launching, the hype gets created among the user related to Google WIFI vs Nest WIFI review. What should they use? Is it worth upgrading to the Google Nest WIFI? Moreover, you can also learn about google WIFI vs nest WIFI point speed and extender app as well.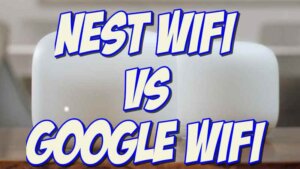 Google WIFI vs Nest WIFI Speed Review
Therefore, we came with a detailed guide for our readers. With this guide, you'll be able to select the best mesh router for yourself. Let's find out all the answers to your question with our comparison!
Google

WIFI

 Vs Nest WIFI: Google WIFI vs Nest WIFI speed

Google always shock its user with their significant launches. If we go back to 2014, the outer world had only dominated by the Netgear, Tp-link, and Asus as the router. Google was basically out of this conversation. But now, it claims to be the top-selling router. That's only because of their successful launch of the Google wifi mesh system in 2016.
Google wifi has grabbed all the attention because it popularized the idea of a mesh router. This idea had proposed to provide better wifi coverage within a home. Following the need of the users now google has launched the follow up of google wifi known as Google Nest wifi.
Nest wifi router introduces a more robust wifi system with various configurations promising 25% better coverage than google wifi. We can say that google Nest wifi is the updated version of google wifi. Google named it the nest Wi-Fi rather than calling it the google Wi-Fi second version, but they both make the same fundamental pitch.
The company's effort can be seen within this launch to rebrand the google home hub smart display and google home mini smart speaker into the nest hub and nest mini. Let's go through some of the critical features of google wifi vs Nest wifi to elaborate on which one is better.
How is Google Nest Wifi router different from Google

WIFI

?

 Nest WIFI speed
If you think that both the wifi are the same in terms of configuration, then you are just making yourself a fool. Though they belong to the same pitch, their features and layout are different. Let's dive deep into it in this google nest wifi review.
Innovative design:
Nest WIFI speed
If we talk more about the difference between the design of google wifi vs nest wifi, then it's crystal clear that both the devices take the same basic approach toward the design. Google has spruced up many things in generation 2 of the Google wifi. 
Nest wifi came up with softened edges, and the specific blue led light we've seen on the google wifi had been ditched in nest wifi, giving it a classy and gentler look. It will get blended into your house decor as the design looks more like a marshmallow. Well, that sounds quite interesting. In simple words, it's the classy-looking cylindrical device that gets paired together wirelessly.
Nest wifi router features a specific router and the extending devices with the smaller range known as points. This router came in white color, but you'll find the google Nest wifi points in 3 different colors: white, blue, or coral. The three different colors of points have created a big difference in this generation of google wifi.
Ethernet Jacks:
Nest WIFI speed
In google wifi, each device was identical, their design was the same, and you can connect any of them to the modem, and it serves you as the network's router. Moreover, Any of those devices can be used as the range extender. You'll not find the same thing in the nest wifi as it features a dedicated router with the smaller and separate range extender known as Google Nest wifi points. 
Each google wifi device includes an ethernet WAN port, whereas ethernet LAN port is given separately. It offers users an option to connect directly to any google wifi device in your home. In addition, it enables you to wire all the devices together to get a faster speed. On the other hand, the Nest wifi router also has the same two eternal jacks, but the Nest wifi points don't have one. 
If speaking about those Nest wifi points, they have a built-in microphone and a speaker, enabling you to use things like smart speakers. It means that the full intelligence of the google assistant is just a voice command away from you with these Google Nest wifi points.
Bring the best experience to its users.
Along with those voice assistants in google Nest wifi points. Like asking to check the weather, playing your favorite music, and turning your smart devices on and off. You can also ask the Google Assistant to match the speed of your network by running a quick speed test. 
Nest wifi also contains Built-in touch controls at the top of each of the points. Indeed, helping you pause playback or volume adjustment. All these things are just a quick tap away. You can turn the microphone off by flipping a physical switch on the nest wifi point. 
Differentiation table of Google

WIFI

 vs Nest 

WIFI
| | | |
| --- | --- | --- |
| Configuration | Nest WIFI | Google WIFI |
| Range | 2,200 square feet per router, 1,600 square feet per point | 1,500 square feet per point |
| Speed  rating | AC2200 | AC1200 |
| Security standard | WPA 3 | WPA 2 |
| Built-in speaker | Yes ( on the points only) | No |
| Touch controls | Yes ( on the points only) | No |
| Standard of WiFi | Wifi 5 | Wifi 5 |
| Antennas | 4X4 | 2X2 |
| Wireless router transfer speed, 5 feet | 612 Mbps | 451 Mbps |
| Wireless router transfer speed, 75 feet | 431 Mbps | 201 Mbps |
| Price of the single router | $149 | $99 |
| Additional extender price | $129 | $99 |
| 3-piece mesh system price | $299 | $259 |
Specification and Speed
With the three-year difference in the development, google wifi and nest wifi contain different hardware capabilities. For starters, google wifi came with the AC1200 mesh system, which means the combined speed of its band is 1200 Mbps. At the same time, Nest wifi speed rating jumps up to the AC2200 featuring the 2.4 and 5GHz bands with powerful access points. 
It would be very best if you remembered that you could only connect the router to one band at a time. However, both wifi will automatically steer your connection within these two bends depending on the speed and signal strength. The band steering of the google wifi and nest wifi seems to be the Strongest google suits. 
The Ac bit clears that nest wifi, and google wifi supports the wifi 5, which had been the go version of the wifi from the past years. Wifi 6 has also started rolling up out last year, the new and faster version of Wi-Fi, but Google has chosen not to include it in the Nest Wi-Fi.
However, Google boosted the antennas to a 4X4 configuration capable of simultaneous MU-MIMO transmission. Hence, it is more robust and faster than google wifi. Nest wifi also supports the newest WPA3 encryption standards.
Controlling of apps
Google wifi came with the dedicated controlling app that helps you walk through the basic controls and setup. You may not find as many advanced features as any gaming router, but its features are somehow helpful for other people. If you like having all the advanced network settings at your fingertip, then google wifi is not ideal for you.
Where google wifi has its app, nest wifi has relocated the controls in the official google home app. With this, you can control your router and other smart home gadgets. With the parental controls and other features, you can run a quick speed test through the rules in the app. 
Grouping devices has made it more accessible as you can group them up by just turning their wifi access on and off. The control of the nest wifi point and router is more simplified and streamlined than the controls in the google wifi app. In addition to all, you can control the google wifi with the nest wifi if you want.
FAQs
After the whole google Nest wifi review, we hope that our readers better understand the difference between the mesh routers. Below is the answer to the frequently asked questions related to the Nest WIFI.
Can you use your google WIFI router with the Google Nest
WIFI

?

 

Yes, you can use it, but it seems to come with a few headaches. Let's discuss it in detail. If you've replaced the google wifi nodes with the google nest wifi points, it's as simple as adding your existing network with them. 

But if you replace your primary google wifi router with a nest wifi point, you will need to start it all over again by factory resetting it. It will take around 30 minutes of your time, so it's not a big deal. If you want to get the best result, you should reset it.  

Unfortunately, there is one thing you should remember if you need google on hub support, then it won't be able to include any of the routers within the same network.

 
Which one is better? – Google Home app or Google
WIFI

app

 

You will need both the app to get all the features of the google wifi and nest wifi routers. With the google wifi app, you can handle the setup and management, whereas the Google Home app will be of greater use to create or add a network for the google Nest wifi point. 

The google home app is considered the one-stop-shop for all smart home devices. It gives you the option to create the guest network, add parental control, enable mode for the traffic optimization for google stadia, and toggle the WPA3 security. 

If you want to tweak your network with the advanced option, you'll have to redirect to the google wifi app. With the app, you can alter your LAN, WAS, and DNS settings, control port management, change NAT type, and many other locations available for the users. On the whole google wifi app let you prioritize your devices on a network. 

 
Where can you buy google Nest WIFI?
You can pick up the google Nest wifi router on Amazon or any other major retailer. For the google Nest wifi, you'll get a variety of combos. From Amazon, you can get a nest wifi router for just $169, while a two-pack is of $299 approximately. 
On the other hand, you can buy the two-pack with the google Nest wifi point and router from best buy for $269 or three packs of the nest wifi point for $349. All these bundles are available at different prices with different retailers.
Bottom line
After the whole nest wifi review, we finally conclude that you should need to upgrade your google wifi with the nest wifi. It has a faster speed and an improved coverage system, ensuring a smoother and stabler wifi experience. 
It can be a really great option if you want a router combo and thoughtful speaker. Going with the newest version is a better option if it's your first time buying any mesh router. In comparison, we can't predict any future-proofing with the nest wifi router, as it lacks wifi- 6 support. 
It is possible that in 2022 we can see the newest nest wifi model as this one had taken three years to update when it was launched in 2019. But until then, the nest wifi is the best addition to the ever-growing Google family.
Read More: