Use different remote controls on other devices in addition to your GE Universal Remote? Tough! You can control virtually any video and audio device with the GE Universal Remote Control. Every electronic device is equipped with a remote control. Even GE devices have remote controls. It can be challenging to manage multiple remote controls. The appropriate remote control is not always easy to find. In such cases, there is a perfect solution. With one GE Universal Remote, you can control all your GE devices instead of having multiple remotes. There is virtually no restriction to what TV or device can be controlled with GE Universal Remotes. In addition, you may also need the GE Universal remote control codes for your Sanyo TV, as listed below..
In this guide, you can find codes for programming a Sanyo TV using a GE Universal Remote. Moreover, GE Universal Remote Control Codes for Sanyo TVs are listed below.
GE Universal Remote Codes for Sanyo TVs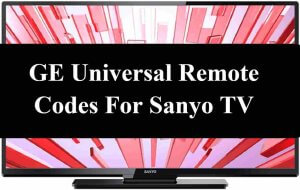 In order to program your Universal remote for Sanyo TV, you will need a two-digit, three-digit, or four-digit GE universal remote codes. Examples include Blu-ray players, televisions, DVD players, VCR stereo systems, and televisions. There are generally remote controls on GE televisions, which is the most popular brand. GE Universal Remotes can be programmed if the remote has been lost or stopped working.
3 Digit GE Universal Remote Codes for Sanyo TV:
054

180

049

025

069

110

023

013

004

108

209
4 Digit GE Universal Remote for Sanyo TV:
1208

0009

0373

2461

0037

0292

0370

1585

0486

0108

1667

0556

0264

0508

0208

0170

2676

0036

2279

1163

0412

1037
5 Digit GE Universal Remote Control Codes for Sanyo TV:
10107
10232
10054
10036
10799
10154
10159
10893
11362
11907
14675
13488
10484
10798
10146
11142
10088
13547
Sony Universal Remote Control Codes for Sanyo TV
Comcast Remote Codes for Sanyo TV
Cox Remote Codes for Sanyo TV
One for All Universal Remote Control Codes for SANYO TV
0097

0110

0180

0004

0268

0108

0012

0049
DirecTV Universal Remote Control Codes for SANYO TV
10159

10893

10799

11142

10154

10484

10232

10107

10146

10088

10339

10208
GE Universal Remote Control Codes for Sanyo Soundbar
The universal remote control works with the Sanyo Sound Bar when programmed correctly. Enter the following 3 and 5 digit GE universal remote codes for Sanyo.
3 Digit GE Universal Remote Control Codes for Sanyo Soundbars:
5 Digit GE Universal Remote Control Codes for Sanyo Soundbars:
10051
20593
20000
20081
20149
20035
10154
20039
20047
10159
21781
30189
21593
30531
10250
These Sanyo soundbar models that are compatible with the mentioned GE universal remote codes: FWSB415E, FWSB405FS, FW405SB, and FWSB405F.
Note: Most Sanyo TVs use the GE universal remote code 049.
GE universal remote auto-search method: what is it?
It is possible to scan each code one by one until you find the correct one with this method.
Plug in the universal remote control and turn it on.

Press the component button on the universal remote to select a component (TV DVD, CBL, OK/SEL). Select it by pressing it three times. A green LED indicates the component has been selected.

Use the universal remote control to select the component. Push "Ch+" and "Ch-" to control it. The device will now turn on or off according to the signal. Use the Up/Down keys repeatedly to turn it off.

Press the power button to verify the code's validity. When the device goes green, the code is valid. If this occurs, you can try switching channels and verify that the device is programmed correctly.

Press the device's button to confirm the code. A flashing light will indicate that the code was successful.
Manual Programming Method for Universal Remote Control:
Programming begins by turning on the device.

At the universal remote, press the component or TV button.

Hold down the Setup button until the light appears. You will learn this way.

In the previous section of remote codes, we mentioned a list of codes that you can choose from. These GE Universal remote codes for Sanyo TV must be entered.

Hold the power button for a few seconds after that, then point the remote at the television.

As soon as the device has been successfully programmed, it will turn off automatically.
Note: The correct code for the Universal Remote for GE has now been programmed into your Sanyo TV. You can try another code from the list if your chosen code does not work.
By pressing and releasing the TV key, you illuminate the code search key on your universal remote.

After entering the three digit code, the indicator light turns off. 

The light will flash rapidly if the wrong code is entered.

You can activate or turn off your television by pressing the on/off button on the remote control.

Press the on/off button again to turn it off.
4 Digit DVD Player GE Universal Remote Codes for Sanyo:
0670

0790

2050

1919

0896

0695

0873
Read More: