Even Amazon's products are susceptible to malfunctions from time to time, despite its reputation for creating dependable tech products. Streaming is not working on the Amazon Fire TV Stick due to the screen stating "FireStick Home Is Currently Unavailable". There are several ways to resolve this issue.
You may also love to read: How To Force Close Apps on Firestick?
Why does Fire Stick say home is currently unavailable? Check your internet connection and WiFi. Check your router settings if necessary. Make sure the router is close to the device. Turn it back on. Here are three possible solutions:
While pressing both Play/Pause and Select simultaneously on the remote control, wait 10 seconds.
From the menu, restart the device. Click Settings > My Fire TV > Restart.
Ensure that your Fire Stick is disconnected from the wall, wait 60 seconds, then plug it back in.
Here are a few different ways that you can try to fix the problem with your Amazon Fire TV Stick. In addition, we will cover some frequently asked questions in this article as well. Scroll down to see the Amazon streaming devices best sellers!
How to Fix the Firestick Home Is Currently Unavailable Display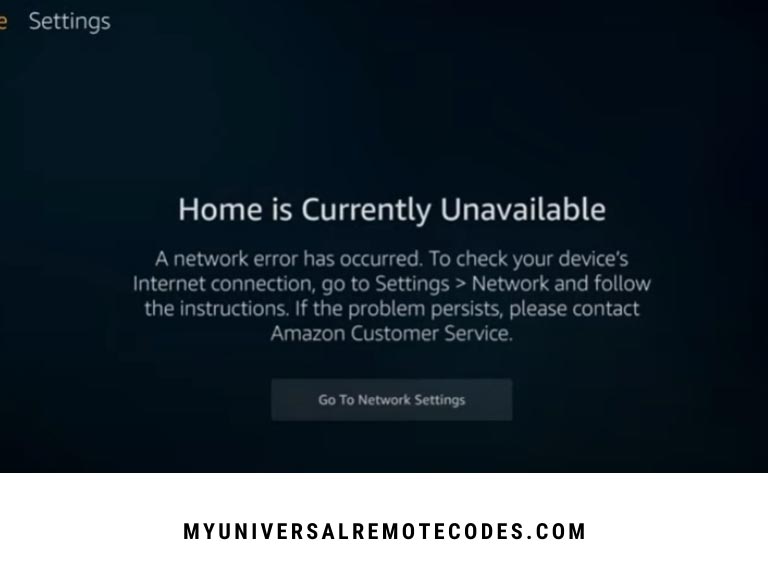 While troubleshooting this issue is usually easy, finding out what needs to be disconnected or reset may take a while. It is usually the same solution that works when the problem recurs, which means you should save time in the future if one of these methods works for you.
1. Do a Basic Reset
FireStick Home Is Currently Unavailable screen on your Amazon Fire TV Stick, a simple reset will solve the problem. Three methods are available.
Steps:
To restart the Amazon Fire TV Stick, hold down the center and play buttons simultaneously for about five seconds.

If you are able to reach the menu, restart the device. Click the Settings option, then click My Fire TV, then click Restart.

Plug your Fire Stick back in after unplugging it for 60 seconds.
Tips: It is the circular, large button that is devoid of symbols on the remote control. Once the firestick home screen goes dark and the logo appears, you know the Fire Stick has restarted. Listed below are several ways of restarting the Fire Stick. It may take several restarts.
You may also love to read: FireStick Keeps Rebooting, Restarting or Freezing?
2. Reset All Connections
The next best option if resetting the Fire Stick doesn't work is to reset the devices that are connected to it.
Steps: 
Remove the Fire Stick's USB cable and unplug it from the HDMI port.

Unplug the wall-mounted TV and turn it off.

Take about five minutes to wait.

Replace all the plugs.

As usual, follow the optimization process.
3. Check your Network Settings
You should check your network next to see if any changes need to be made if none of the resetting options worked.
Navigate to the Network Settings page.

View all networks by clicking this link.

Click Rescan all the way down.

All wireless networks should be rescanned.

Your device should appear in the list.

You can connect to it.
Tips: In order for your Fire Stick and router to work properly, you must set the security type to WPA 2 PSK.
4. Forget the Network
In addition to running a fresh scan of all your WiFi networks, we will also try to reconnect to your WiFi network by forgetting it altogether. Following these steps if you click on your network and you are connected immediately without being asked for a password:
Navigate to the Settings menu using the Fire Stick remote.

Choose Network from the menu.

Click the three-bar menu button to see more options when you locate your network.

When the option is selected and the Select button is pressed, the network can be forgotten.

To re-establish the connection, enter your password again.
5. Restart your Router
Because your FireStick requires a good WiFi signal to function, your router might be the cause of the problem. To resolve the issue, follow these steps:
Your router needs to be reset and completely booted up before connecting to your Fire Stick.
Or
After you have unplugged your router, wait a few minutes then plug it back in. You will then be able to establish a connection.
6. Switch HDMI Ports 
If the issue occurs frequently, it may be caused by a failing HDMI port or cable.
Steps: 
Connect the Fire Stick to a different HDMI port.

If your TV has an HDMI port, try a different one.

You should use a wall outlet to connect the Fire Stick (not a power strip).
Tips: If you cannot use an HDMI cable because they are all alike, mark the one that doesn't work. Unless you mark it, you may throw away a cable that doesn't work. If your HDMI cable is faulty, you can mark it with wire ties or cable ties.
You may also love to read: How to Program a Firestick Remote
7. Deregister and Reregister 
If all of the above methods do not work, the next step is to redo the registration for your Amazon Fire TV Stick.
Steps: 
Select Settings from the Fire TV menu.

You will then be able to select My Account, Amazon Account, and Deregister.

Confirm this choice by clicking Deregister once more.

The Registration page should appear once the screen has loaded.

Reregister your Fire Stick by logging back into your Amazon account.
Tips: Unlike most of these other methods, reregistering your Amazon Fire TV Stick does not require an extended period of time. You can do this instantly.
8. Update Your Fire Stick
Regardless of whether you have issues or not, checking this regularly is always a good idea.
There may be problems with the home page if you didn't receive an update for some reason, or if you installed updates but didn't receive them for some reason. Check for system updates by going to Settings > My Fire TV > About > Check for System Updates.
9. Perform a factory reset on the Fire Stick
You can also reset your device to factory settings if nothing else has worked, which will erase all the data stored on it.
Go to the Settings page on your Fire TV (hold down the Home key on the remote or go to the top of the screen).

If you have an older Fire Stick, it will be labeled Device or System).

Enter your PIN when prompted to reset your device to factory defaults (when prompted for it).

Click the Reset button.
You may also love to read: How To Install Spectrum TV App On Firestick
10. Contact Customer Support
The problem may be more serious than a simple glitch if none of the other methods listed here fix the screen display of your Amazon Fire TV Stick.
Steps: 
For a thorough analysis of your problem, you can contact Amazon's customer support department (1-888-280-4331). Your Fire Stick may need to be returned for examination.
Frequently Asked Questions 
A house is FireStick Home Is Currently Unavailable problem is often accompanied by these questions. Here are some helpful tips:
Is it possible to fix this without a remote?
Definitely. You can still use some of these methods if you do not know what happened to your remote.
The Kindle Fire app is free, and most cell phones and tablets can be used to download it.
You can also use a reset method where you just need to unplug your Fire Stick from the wall and plug it back in after 60 seconds. No remote is needed.
Is it also possible to fix a stuck Fire TV logo with these methods?
Many of these same methods will also fix a stuck Fire TV logo, since the two issues are typically related to screen glitches. In order to use the methods mentioned for this issue, one must also use the Amazon Fire TV app. Click here to check out the best streaming devices on Amazon!
You may also love to read: How To Reset Firestick Without Remote or WiFi?
Conclusion
It is most often just a screen glitch that causes the Amazon Fire TV Stick to display the message "FireStick Home Is Currently Unavailable" they way it does. The most common way to fix the issue is to reset the device or everything connected to it.
You may also encounter this problem if your HDMI cable or port is faulty. Mark the faulty HDMI cable so that you don't mix them up. The issue may be more serious periodically, so please contact customer support if none of these other solutions solve your problem.
In most cases, you can fix these issues without spending any money. If you use their app, you don't even need the Fire TV Stick's remote.