Alexa is one of the most reliable and affordable home assistants available on the market, but a smart home isn't the cheapest hobby. Nearly everyone asks, "How much is Alexa? So, approximately how much Alexa and echo costs?
Amazon's Alexa voice assistant is free to use, without subscriptions or fees. Alexa is completely free unless you use Echo or Fire TV devices (normally $25–120 each) and if you subscribe to any premium services (music, privacy, etc.). 
In this article, I will discuss how much an Echo device and Alexa typically costs, as well as what you get for free and what you need to pay for. I've even included some tips on how to save money when you have an Alexa smart home.
Are there monthly fees associated with Alexa?
There are no subscription fees or monthly fees associated with the Alexa voice assistant. Now is the perfect time to download the Alexa app to your smartphone and give it a spin without spending a dime. Furthermore, there is no need to worry about how much Alexa costs because you use it for free.  
Alexa can be used with a Fire TV set-top box or an Echo smart speaker, however, to get the most out of its features. In a moment, I'll talk about the costs of Alexa and Echo devices, but you can usually expect to pay between $25 and 120 dollars. The most expensive devices unlikely echo and Alexa can cost as much as $350.
Are there any features included with Alexa for free?
You can get a lot done with the Alexa app and Echo devices without paying a subscription fee. There's always more to Alexa, but here are just a few features that are free:
You can add items to your lists and manage them by voice or in the app. You can share your list by text and purchase it on Amazon using Alexa's features. It organizes your list, alerts you of duplicate items, and lets you purchase it all.
Alexa is becoming increasingly useful for controlling smart home devices. As the market's most powerful smart hub without a subscription fee, Alexa has recently added a Zigbee controller.
In a smart kitchen, Alexa's timers and alarms are among its best features. The "Meatball timer is complete" is much more informative than your typical timer noise if you have multiple timers set up.
Alexa will notify you when your Amazon packages arrive and will allow you to track them. You'll also receive notifications about emergency situations and severe weather.
By asking Alexa for your morning briefing and weather updates, you can receive your morning briefing and weather updates. Before you leave the house, you can ask Alexa about the weather.
According to Alexa, she is able to answer a wide variety of questions using web data. One of my favorites is the conversion of measurements while cooking and random facts about celebrities.
Through Alexa-enabled devices, you can communicate with your family members. Moreover, you can have Alexa call your friends' Alexa devices or make a phone call to your own.
Are there any fees associated with Alexa?
There are some skills (apps) on Amazon Alexa that require separate subscriptions. Typically, these apps are used to monitor security systems, or to stream music or videos.
Among other Amazon services, Prime subscribers can access Amazon Music and Prime Video. While it's not a requirement, having Prime will definitely enhance your Alexa experience.
In general, Alexa skills from streaming providers are free if you subscribe to the provider. On some music services, however, you may only be able to use the paid tiers. For example, Spotify requires a subscription to be used through Alexa.
Below are a few options that are popular and in the range of prices:
Since Alexa cannot call 911, Alexa Guard ($5.00/month) is a popular security option.
Spotify Premium ($10.00/month) – A music streaming service with more than 80 million songs.
You can watch Amazon Prime Video on the Fire TV or Echo Show for $9.00/month or for free if you are a Prime member.
What is the cost of Alexa devices?
How much is an Alexa Echo speaker?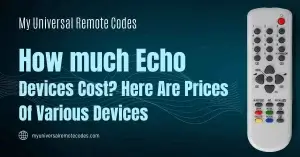 As your smart home hub, Echo devices act as the central control point for your smart devices. Even the cheapest Echo devices offer the same basic control options. 
With more expensive devices, either the sound quality is better (like the awesome 3D audio of the Amazon Echo Studio) or the device has a touchscreen built in (like Amazon Echo Show). Smart features like video calling and monitoring security cameras make the Show a much more versatile hub.
There is a slight price difference between the newer generations of Echo devices, but the price difference is justified by their enhanced capabilities and sound quality. Spending $20-$25 more on your setup will secure it for the future. You can control even more smart devices with the 4th generation Echo, for instance, because it has a built-in Zigbee hub.
Read More About: How to Cancel ESPN Plus? – Best Ways To Cancel Without Being Charged
How much does a Fire Stick cost?
With a starting price of $20–30, Fire Sticks are among the cheapest smart TV options available. Alexa is fully integrated into these devices, which are primarily designed for entertainment.
The cheapest Fire TV sticks come with Alexa, but only the Fire TV Cube has a full Alexa speaker, making it effectively an Echo substitute. Hold down the remote control button or speak into an Echo speaker to communicate with a Fire Stick. Fire TV Cube, on the other hand, recognizes voice commands and responds accordingly.
Fire TV devices differ most in terms of audio quality and integration of 4K and HDR. However, Fire TV Stick and Fire TV Stick Lite only offer 1080p, whereas Fire TV Stick, Fire TV Stick 4K Max, and Fire TV Cube offer 4K and HDR.
Since the regular Fire TV Stick costs less, I would recommend it if you don't have a 4K television. However, if video quality is important to you, the Fire TV Stick 4K or Fire TV Cube would be a better choice.
In addition, the Fire TV Stick Lite has a limited remote and lower video quality than other devices. If you want to control streaming services as well as volume and TV power with the same remote control, the Fire TV is worth the extra few dollars.
As far as performance is concerned, the Fire TV Stick 4K and the Fire TV Stick 4K Max differ significantly. If you're frustrated when an app takes a few seconds to load, you might want to consider the Max. It is easy to justify the small price difference if you are planning to do anything more than basic streaming (such as running a Kodi server or Plex server).
Read More About: Amazon Fire Stick YouTube Problem – Here is How to Fix It [2022]
Devices with Alexa third-party integration
It is not necessary to use an Amazon-branded device as an Alexa hub. The company has licensed Alexa to some other smart speaker brands, including my favorite premium alternative, the Sonos One.
Compared to the Echo, these Alexa-compatible speakers tend to cost more, but you get much better sound quality for the extra cost. It is extremely convenient to have both a good sound quality and Alexa hub in one device. 
You can also simply connect Echo to any Bluetooth speaker if you want a more affordable option. The cheaper Echo dots, as well as most Echo speakers, also come with a 3.5 mm line-out port.
So how much does Alexa cost?
Each product is priced separately. Obviously, that's a great start, but it will be more convenient and secure for most users if they install Alexa devices in more than one room.
Users of smart homes are likely to use only one of the $60+ devices in a central room (such as the living room or kitchen) and to use the $30–40 devices in other rooms.
To illustrate this further, consider the following:
Echo Show in main room ($70-120)
Echo dots in two to three bedrooms, garages, or other rooms ($80-250)
Adding a firestick to the living room television ($30-60)
Prices are based only on Alexa devices. You will probably want to add smart lights, smart plugs, and smart appliances to your setup in the future.
Moreover, you can do all this incrementally with a smart home setup, which is one of the great things about it. You can start using Alexa from Amazon for as little as $25, so you don't have to spend much money to get started. Following that, you can set aside some money here and there or splurge when you find something you really like.
Wrapping Up:
With a free app and affordable devices, Alexa is a perfect smart home starter system. This device allows you to build your ultimate home automation setup with ease thanks to its easy-to-use interface and incredible power. Regarding your question, "How much does Alexa or Echo cost?", I hope you have found an answer you are satisfied with. I'm more than happy to answer any additional questions you may have in the comments.
Read More: