Are you looking for a remote code for AXESS TV? Moreover, if you have a universal remote control and need remote codes to use your Axess TV, we have codes below your TV that should be working. However, if the first one doesn't work, keep trying numbers at the bottom of the list. Depending on the universal remote control you have, the code search method will vary; below is an example that may work for most remote controls.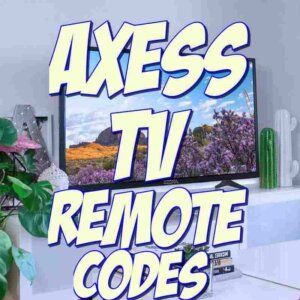 Axess TV remote codes
4 digits remote codes – Newer Axess Codes.
3 digit remote codes – Older Codes.
Programming Axess Remote Control codes using Universal remote.
How to program Axess Universal Remote Control Codes? Depending on your remote, the code search method will vary; below is an example that might work with most remote controls. However, search Axess TV Remote Code If you have tried your TV codes and cannot activate TV, try the following process to search for your code.
Step 1: Firstly, press your TV button for some time before releasing it.
Step 2: Secondly, press the Setup button, and hold it until it flashes a red light.
Step 3: Then, type 9-1-1 digits.
Step 4: Now press one after another, the Power Button and Device button, to turn off the device.
Step 5: Moreover, point your remote to the TV.
Step 6: Then, to search for the codes, press these keys in sequence multiple times until you find the correct code for your remote. 
Step 7: Finally, to save the remote code, press the Setup button and then release it when your TV switches off.
Your Axess TV can be ​controlled and run with RCA remotes, Comcast, DirecTV, Charter, and more.
However, you can read more interesting articles here: