If your TV screen goes black, but your sound works, there may be various issues depending on your TV model. Smart devices can sometimes cause unpredictable errors as they can be technical, factory-related, or minor, such as wrong wiring. However, if your TV has sound but no picture, you can follow the five easiest methods to fix your TV while sitting at home.
Being interrupted while watching your favorite show is a buzz kill no matter what the issue may be. How do you deal with a blank or black screen on your TV? How do you fix a TV that has sound but no picture?
Your first thought might be that the TV disconnected from its power source. Despite this, you can still hear the audio from whatever you are viewing but not see the visual.
Most of these problems can be resolved with simple hacks, while you will need to contact a professional technician for other issues.
This article will recommend five ways to fix TV sound but no picture.
Causes of Blank or Black TV Screen:

TV Has Sound But No Picture: How to FIX?
The following is why your TV screen shows blank pictures, usually black. In other words, TV has sound but no picture:
Power supply board failure
A fault in the power supply board is the most common cause of a blank TV screen. TVs typically have a power supply board and a T-con board, and other internal components. Moreover, if the TV has sound but no picture, then power supply board failure can be one of the reasons.
Try connecting your TV to an independent power source to determine if it's the power supply. The problem is not with the TV but with the power outlet if it works.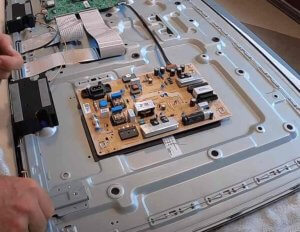 TV Has Sound But No Picture? Here is How To Fix
Read More About: Samsung Universal Remote codes and setup Guide for TV
Backlight Error
As LCD TVs use a backlight to illuminate the images on screen, this issue is particularly prevalent. Therefore, if there is an issue with the backlight, you might not be able to see anything on your screen.
TV Panel Issue
If your TV panel is damaged, the screen will automatically go blank. It is a complex issue because you can either get a new TV or buy a new screen. Moreover, if the TV has sound but no picture, the TV panel might also be a reason for this.
Bad Connections
Your TV screen can go blank if you have a bad connection or wiring. Ensure that the power source, TV, and other devices are correctly plugged in by checking the connection cables. Additionally, if the TV has sound, but no picture, the bad connections or signals on the TV connection can also be the reason.
Sleep Timer
Once the sleep timer on the TV has been set, the TV will automatically go to sleep. You can deactivate the timer from your TV setup menu.
Capacitor Issue
When the TV's capacitor fails, it will not turn on or display any images.
5 Hacks to try if the TV has sound but no picture Issue:

TV Has Sound But No Picture: Here is How to FIX
These are our top five picks for how to fix the TV that has sound but no picture:
Factory Reset
Use the RESET button on the TV to perform a factory reset. ; To reset the TV;
Get a small pin

Look for a small hole on the side or back of your TV

Put the pin in the hole

For 30 – 60 seconds, press and hold
You can also reset some TVs via the remote control or TV app. When you release your hold, the TV will turn off again. Check if the TV is now working correctly by resetting it. A reset would have been initiated automatically. Moreover, you can fix a TV with sound but no picture by factory resetting your TV.

Check your TV's settings to see if it is on power-saving mode. Your screen will automatically turn off during a power saver while the sound is still playing. So, if your TV has this feature, you should disable the power saver mode or Energy save mode to ensure no interruptions while watching.
If your TV goes blank due to faulty cable connections, consider changing the HDMI cable. These cables are inexpensive and can be found both online and offline.
TV Power Board Replacement
If none of the hacks mentioned above work, you may want to replace your TV power board. You can replace your TV power board yourself or contact a technician.
Following these steps to fix a TV that has sound but no Picture:
Protect the TV screen with a soft towel or cloth

The size of the screwdriver will depend on the size of the TV

Take a container or screw holder

Unscrew the back of the TV by laying it down and using a screwdriver

Find the five fuses on the TV

Replace the fuse if it is burnt or faulty

Remove the screw holding the power board

Replacing the old one with a new one and screwing it in

Connect all the cables and wires

Remove the back cover of the TV

Turn on the TV and check if the problem has been resolved
Check the TV installation
One of the easiest hacks is this one. Check the power and installation connections if your TV is installed correctly and there are no loose cables. If all cables are plugged into the appropriate ports, do the following:
Unplug the TV and turn it off.

Plug it back in after waiting 15-30 minutes

Hold the power button for a few seconds

Press and release the power button

Turn on the TV
With this hack, you should be able to restore and fix a TV that has sound but no picture:
Conclusion: TV Has Sound But No Picture: [Solved]
If you follow the above recommendations, you should be able to fix your TV that has sound but no picture. If the problem persists, you should contact a technician or your TV brand's customer support.
Read More: