This name "Hyundai" has its origin in the Korean word "hyeondae" which can be translated to mean either "modernity" or "contemporary" in the English Language.  A company by this name was first established in 1947 by Chung Ju-Yung in South Korea but waited until 1965 to begin operations outside this nation.
The company initially made construction materials then diversified into the manufacturing of ships and cars. By 1976 it had become a corporation with a trading arm to market her products within and outside South Korea.
Come 1983 Hyundai Corporation became a player in the semiconductor industry through the establishment of Hyundai Electronics which was 2001 renamed Hynix.
Hyundai today manufactures a wide range of electronic appliances to 'Make Your Life Joyful' like air conditioners, refrigerators, television sets, washing machines, and audio systems.
It has become a globally recognized technology company known for its strengths in research, product innovation, and talent acquisition and its visibility in the fields of artificial intelligence, technology, supply chain, logistics, and energy efficiency.
Among the several customer comments that have been cited as testimony that Hyundai is an electronic appliances manufacturer to reckon with globally goes thus, "TV watching has become more fun with Hyundai Smart LED TV. This set offers awesome picture quality as well as voice sensing capacity required to deliver a truly satisfying viewing experience. This is besides offering games and browsing applications to underscore the accompanying technological input that Hyundai needs to be appreciated for."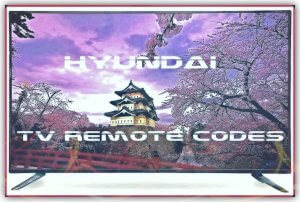 Instruction to set-up the Hyundai TV Remote control
The most basic step you have to take to get your remote and TV to communicate is to pair the devices. This requires a clear path that allows your TV set to receive signals during the programming process. It is also worth remembering that universal remotes use 3, 4, or 5 –digit codes to sync with different TV sets, although not all the listed codes usually work. You, therefore, have to try out the different codes when the code used first fails.
The step-by-step process to sync your remote and TV is provided here-below.
Press and hold the program ("PRG") button on your remote for at least 3 seconds. This action will cause the LED light on the remote to turn on and remain lighting during the entire programming process.
Press on the "TV" button on your remote to let it know it needs to sync with your TV. Besides the "TV" button, your universal remote is likely to have buttons to connect it to other devices like VCR and DVD player.
Feed the 3, 4 or 5-digit code into your remote then press "Enter". If the code you entered is accepted, your TV will turn on upon pressing the POWER button. As long as this light remains on, you should continue down the list of provided codes until you reach the correct one!
Once you have established the correct code, verify by pressing the VOLUME + button. Your TV volume should rise/increase!
Press on your "TV" button to store the 3, 4 or 5-digit code. This action will trigger your TV-set to blink twice to confirm the code is stored!  
There also exists an alternative way to auto-program your TV. The accompanying steps to follow and codes to use with every TV brand by name are usually provided on the backside of the instruction sheet as presented below.
Note: Write down the Hyundai TV codes to use to program your TV prior to moving to Step 2.
Press and hold down your remote's SETUP button until the RED light blinks twice before releasing it.
Confirm the code for your Hyundai TV according to your set's manufacturer as provided in the user guide.
Using your remote's digit/number keys, input the first 4-digit code listed for your Hyundai TV brand.
Note: Your remote's red light will flash twice.
Aim the remote control at your Hyundai TV and press the "POWER" button once.  
Note 1: The device should turn off. If the TV does not respond, you should repeat steps 2 to 5, each time trying the codes listed until the correct one is found.
Note 2: You should write the right code somewhere for future reference!
Using Auto Search to Program Hyundai TV Universal Remote
In this search option, every code is scanned to establish the code that serves to sync your remote and device (in this case Hyundai TV). The steps you should follow in determining this code are as here-below.
Turn on the device you want to control ie your Hyundai TV.
Press and hold down the CODE SEARCH button on your remote. Hold on until the POWER light on your TV begins to blink then release the "CODE SEARCH" button. 
Press and release the remote's button that corresponds to your Hyundai TV.
Note: The corresponding light should blink once and remain on.
Direct your remote control at your TV and press and release the "ON-OFF" button.
Note: You should keep your remote aimed at your TV throughout this process.
Press and release your remote's "ENTER" button as soon as your TV set turns off.
Note 1: Failure to press your remote's "ENTER" button within three seconds, automatically triggers your remote to the send the next code in the list. If this happens, you have to start over from Step 2.
Note 2: You should record the correct code somewhere for future reference to avoid reprogramming your TV and remote time and again!
Using the Manual Method to Program Hyundai TV Universal Remote
In this method, your remote is programmed by identifying the make and model of your Hyundai TV. It is the fastest way to program your remote. The correct code to use will also vary depending on the model of your RCA code.
Note: when it blinks it shows that it is in "Learning Mode".
Enter the code provided in the programming guide or Instructions Booklet.
Note: You should continue aiming your remote at the TV and long press on the "POWER" button.
Release the "POWER" button as soon as your TV screen goes off.
Note: Your TV should work perfectly thereafter with the universal remote. If your TV fails to work, then repeat the entire procedure with a different code provided in the Instruction Booklet!
Using Code Search to Program Hyundai TV Universal Remote
This search method automatically searches through all the codes stored in your universal remote. Once the correct code is established, you have to lock it in to operate your TV.
You can program your Hyundai TV Universal Remote via code search through following the steps below.
Turn on your TV's "POWER" button.
Press and release the "TV" button on your universal remote.
Press the "SETUP" button and hold it down until your TV button flashes twice.
Input 9-9-1 using the keypad on your remote.
Press and release your "CHANNEL" Up (+) and Down (-) buttons at 2 seconds interval between successive presses.
Note: Every time you press the "CHANNEL" button your TV button should flash otherwise, you should repeat steps 1, 2, and 3!
When your TV goes off, stop pressing the "CHANNEL" Up (+) button and press the "SETUP" button and hold it until your TV button flashes twice.
Note: Although this method might take long, if done with keenness and patience it will enable you to find the correct code for your remote programming. You can also confirm that you have established the correct code by trying and establishing that all other functions (like volume, brightness, etc) are working.
Remote codes for Hyundai TV's Remote Control
0037 0803 0865 0556 0706 0860 0753 are some of the 4-digit codes provided to work with Hyundai TV sets. However, this range continuously grows and also includes 3 and 5-digit codes. Below is a longer list of 3, 4 and 5 digit Hyundai TV universal remote codes to operate various brands of electronic appliances commonly found in homes, offices and entertainment joints world-wide.
HYUNDAI TV Universal Remote Control CODES
DEVICE
3 DIGITS
4 DIGITS
5 DIGITS
COMCAST
 
 
10849 11219 11294
DIRECTV
 
 
13418 10849 11219
11294  11814
DISH
125 695 594 550 720
365 087 103
 
 
GE
 
1134 4651 5103 5110 5369 5466 5467
 
PHILIPS
 
4651 0892 1015
16548
RCA
 
4509 08949 1219 1294
 
U-VERSE
 
1134 1350 1351 1352
1479
13418 10849
11219 11294
Note:
These codes are the universal defaults for a particular brand of TV (or other devices like DVR, DVD, or VCR). Therefore, irrespective of the manufacturer of your universal remote control, the provided codes will work if set-up (programmed) correctly. 

Troubleshooting Hyundai TV Remote Control Codes:
Due to the fact that electronic appliances are programmed using particular software to work in certain ways when an error occurs in their software programs, they generate and display an error code.
This error code is a specific number to identify what the error is to the system. Any corrective step taken to resolve such a problem is called troubleshooting.
Below are common troubleshooting steps you should take to resolve code errors displayed by electronic appliances like a Hyundai TV.
Step 1
 Manually or remotely turn ON your TV with the remote that came with your TV set.
On the remote accompanying your TV, press the "TV" button once.
Press and hold the "SETUP" button until the "TV" button on your remote blinks twice.
Input the 4-digit code retrieved from the Instruction booklet.
Note: You should see the "TV" button on your remote blink twice.
Press the "VOLUME" Up (+) button several times.
Note: If your TV volume adjusts, this is to indicate that you used the correct code.  If the volume does not adjust, you should repeat the steps above using the next available code until you find the correct one.
Step 2
Turn both your TV and cable box on.
Press on your remote's "CBL" button.
Press and hold the "SETUP" button until the "CBL" light blinks twice, then release.
Input 9 9 5 and press the "POWER" button.
Press both "TV" and "POWER" buttons.
Gently press on your "CBL" button, followed by "PWR" button.
Press "CBL" separately.
Long press on "SETUP" button until your "CBL" button blinks twice. 
Note:
You can confirm that your remote has been properly programmed by directly aiming the remote at both your TV and cable box and pressing on the "POWER" button once. Both appliances (your TV and cable box) should go off after a few seconds!
If both your TV and cable box go off, you have correctly programmed the remote. 
If the TV and cable box remains on, you should repeat the steps above until it is correctly done!
Problem/Solution Matrix for Troubleshooting Remote Control/Hyundai TV Hiccups
Problem
Solution
The Red LED light does not blink when you press a key.
Replace the batteries
with two (2) new AAA
batteries
During programming, a
red light does not flash
twice after entering the
code.
An invalid entry has
occurred. Check the
code to be entered and
try programming again.
The red light blinks when
you press a key, but the
TV does not respond
Make sure the remote
control is aimed at your
TV and is not farther
than 15 feet away
The remote control does not control the TV or the commands are not working properly
Try all listed codes for
the TV brand being
set up. Make sure they
can be operated with an
infrared remote control.
How To Use Your TV, Cable Box and Remote
Option 1 Using your TV with a remote
Press the "POWER" button on your remote to turn on your TV.
Note: Refer to your User's manual and read how to use a basic TV remote if need be!
If you are using your TV with additional speakers, games consoles or DVD players, etc., ensure you turn them on as well.
Option 2 Using your TV with Remote and cable Box
Ensure your cable is ON first;
Note: You can confirm that your cable is ON or OFF by looking at its screen which will have either a number (to indicate it is ON) or blank (to indicate it is OFF).
Get the remote control for the cable box. Sometimes it is different than the one for the TV.
If you have a Comcast remote, you should press the "ALLON" button. This will turn ON both your TV and your cable box, simultaneously.
Press the "POWER" button on the TV remote.
Note: If the TV does not turn on, something might be wrong with the remote. This may require ensuring that the batteries are 'alive'.
If your V turns on but you're not seeing a channel (just a blue screen, or the phrase "no signal" appears):

Ensure that your cable box is indeed on!
Ensure your TV on channel zero "0" which is when it receives signals.
Option 3 Using your TV Without a REMOTE
Walk over to your TV and hit the "POWER" button. If you cannot find the POWER button, the following hints should help.
Note:
Refer to the instructions manual that came with your TV set.
Check if your TV has a hidden touch power button usually situated at the middle point of the lower panel of your TV.
You can also check the left and right sides and the top of your TV.
You may also replace or repair your TV remote if it becomes unsuitable to work with your TV!
Frequently Asked Questions
How many devices can my remote control?
A universal remote can control up to 8 devices although high-end models can accommodate more. The device (TV, DVD, STRM, AUX, AUD, B-RAY, CBL, SAT) buttons on your remote specify the devices you can control.
How do I program my Universal Remote?
The 'direct code entry' and 'automatic code search' are the two methods for programming your remote!
What can I do if there are no codes for my device or the listed codes do not work?
Since each device is unique, you need to activate an automatic code search by following the instructions coming with your remote's manual. The auto-code search function will try each code that is inbuilt in it!
What should I do when I try to Program my Remote but the Red Light fails to follow the instructions given?
The problem could be weak batteries. Fix this by replacing the batteries in your remote device with new ones and fitting them correctly!
What should I do when my remote is well programmed but not all of the buttons work for particular devices?
This problem is called partial code functionality. It happens when your remote uses a code that only controls some functions. This is an indication that there exists another code inbuilt in your remote that will provide better functionality. You can locate the code with better functionality by reprogramming your remote using automatic code search method.
How do I run a channel scan?
You need to periodically scan your channels via TV or converter box to ensure you are getting all the channels broadcast in your area. This can be done going by the steps below:
Step 1: Go the "MENU" button on your remote and select "SETTINGS" for your TV or converter box.
Step 2: Select an appropriate option like "SCAN", "AUTO SCAN", "AUTOTUNE" etc.
Step 3: Give your TV time to handle the rest!
NOTE: If your TV set does not respond, or you cannot find the "SCAN" option, refer to your TV manual or contact customer care service. If you can reach your TV or converter box manufacturer, the better!
My remote device has a button for TV, CBL/SAT, and DVD/VCR but cannot program other devices like sound-bar or streaming media player?
Your remote buttons can be programmed to control any compatible A/V device. Simply locate the corresponding code (codes) in your remote's code list and assign it to whichever device button you choose. It is possible to program your DVD/CVR button to control your TV although it is not recommended!
Will there be a need to reprogram my device whenever I change my batteries?
No! This is hardly ever the case. Your remote stores information on codes for at least 10 minutes to allow for a change of batteries. Beyond this time, reprogramming your remote becomes necessary!
What should I do when I can change the volume but not the channels?
Simply program your remote to control your cable, satellite, or converter box! 
Remember, your channels are controlled through the remote and not TV.
What should I do when I cannot get my menu to appear?
Simply press and release the shift/setup button as the red light blinks to deactivate the SHIFT mode. If this does not work, try reprogramming your remote using a different code provided for your device. You can refer to your manual for additional information.
What should I do when I cannot move around in my TV menu and/or my DVD menu?
Simply deactivate the SHIFT mode by pressing and releasing the shift/setup button as the red light blinks. If this fails, reprogram your remote by a different code provided by the manufacturer of your device!
Final Thoughts
Hyundai TV is ranked among the first 18 best TVs in the world according to TheTopTens®.
This according to ranking criteria that considers the price, size, whether OLED or LED, resolution, streaming, and potential of upgrading.
There is evidence that Hyundai products are performing well not just in Asia but also in the international market. In fact, Hyundai's 42 inch TV set is one of the highest-selling TVs in the Amazon market. It currently ranks at 4-star in this international market!