The company that is known today as ViewSonic was founded by a Taiwanese-born American business magnate, James Chu, in 1987 under the name, Keypoint Technology Corporation. ViewSonic acquired its current identity after one of its key line of products- colour computer monitors which it continues to supply globally to public and private customers.
This company has a logo featuring three Rainbow Birds also known as Gouldian Finches originating from Australia. The company has regional and continental headquarters in the cities of California- USA, Taipei- Taiwan, London-UK, and Shanghai- China. ViewSonic whose motto is, 'see the difference', remains a key manufacturer of a range of electronic products including LED Monitors, Projectors, ViewBoard Interactive Display, Commercial Display, my ViewBoard, and Pen Display.
This company which is guided by the vision of providing the world with innovative visual solutions for work, play and learning has a mission of listening to customers and creating products, services as well as sustainable ecosystems that enhance visual satisfaction.
Customer focus, growth-mindset, team-work, agility, integrity, and corporate citizenship are the six (6) core values that have guided ViewSonic to the pedestal of international fame that it continues to enjoy in the world of electronics engineering to-date.
ViewSonic remains a leader in the visual display technology realm for pioneering the development of LED and laser projectors like the advanced M1/M1+ portable projector, X10-4K UHD wireless smart projector, and M1 mini pocket projector. The company won the iF Design Award for this achievement!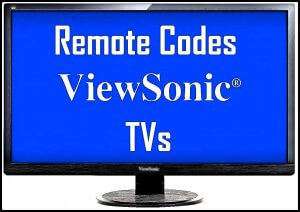 ViewSonic TV Remote codes and Setup Guide
065, 0054, and 10054 are among the 3, 4, or 5 digit universal remote codes that can be used to control your ViewSonic TV. This range of codes is long but is worth knowing that these very codes can be used to program (or set up) your CABLE or SAT remote controls.
The secret of getting these codes to work with your device lies in trying each and every code provided by the manufacturer and listed in the manual until you land the right one.
Below is a table providing remote codes that you can use to program your remote to work with your ViewSonic TV sets.
ViewSonic TVs Remote Control Codes

Digits

Remote codes

3

065 056 043 017

4

0054 1454 0690 1154 0586 0221 0391 1937 0379 1535 1040 0039 0333 0565 0225 0542 0067 1755 0885 0864 0857

5

10054 11755
Note: There are also Philips codes (like 0117 0373 0404 0802 0039 0230 0586 0067 0268, and 0221) that have been established to be able to set up ViewSonic TV remote controls.
Instruction to setup the ViewSonic TV Remote control
Option 1  
Using AUTO SEARCH Method to program your ViewSonic TV Universal Remote
In this option, you subject all applicable universal remote codes to a process of scanning to find out the right remote code that works with your ViewSonic TV and remote control.
 Here below are the steps to follow in conducting this auto search.
Click "On" your smart ViewSonic TV that you intend to operate using the universal remote.
Turn "ON" your remote and long press (3 seconds) on your TV and OK (or SEL) button. The LED light should blink to indicate that your remote is ready to program.
Directly point your remote control at the TV and tap on channel up (CH+) or channel down (CH-) switches. Your remote should indicate "ON"/"OFF" signals.
Tap on Press "CH+" or "CH-" repeatedly till the device goes off.
To verify this code, click on the "POWER" key. Your TV should come ON. If your TV comes ON, try changing your channels to confirm that your universal remote has been correctly programmed.
Lastly, click the device (TV) button to save this code.
Note: The LED light of your TV will blink twice to confirm that that the code is stored!
Option 2
Using MANUAL Search Method to Program your ViewSonic TV Universal Remote
You can use the key code (provided within your TV set's Instruction Booklet) to program your universal remote control. This key code is able to identify the make and model of your ViewSonic TV-set.
Here below are the steps to follow in using the manual search method to program your ViewSonic TV set.
Turn "ON" your ViewSonic TV set.
Tap on the "TV" button on your ViewSonic TV universal remote control.
Long press on the "SETUP" button on your ViewSonic TV universal remote control. This long press on your remote should result in a 'light flash' which indicates that it is on a 'learning mode'.
As a final step, enter the "Keycode" as provided in the Instructions Booklet/Manual that came with your ViewSonic TV.
Note: When done with this procedure, continue 'pointing your remote control at the ViewSonic TV set'.
Long press on the "POWER" button.
Release the "POWER" button as soon as your TV screen goes 'OFF'.
Note: Successful completion of this procedure should enable your ViewSonic TV to perfectly work with your universal remote control.
If this fails, repeat the same procedure using a different code provided in your Instruction Booklet's reference table.
Option 3
Using the CODE SEARCH Method to Program your ViewSonic TV Universal Remote
When the Auto and Manual code search methods fail, you can search through inputting 9-9-1 to find the unique key code that works with your ViewSonic TV set. This code (9-9-1) forces your remote into a search mode that should result in identifying the correct code to program your TV and remote.
The steps to follow to undertake a 9-9-1 code search is as below.
Turn your ViewSonic TV "ON".
Long press on the "SETUP" button on your remote control.
Key in the three-digit code of "9-9-1".
Now, holding down the "POWER" on your remote, proceed to press the channel up (CH+) button until your ViewSonic TV set goes "Off"
Note to Remember
Although this is quite a long procedure, doing it with keenness and patience is key to finding the right key code for your ViewSonic TV set.
After finding the right key code, you should test other ViewSonic TV set functions whether they work as expected!
Troubleshooting ViewSonic Universal TV Remote Control
Your remote control device is key in enabling you to enjoy a hassle-free viewing experience both within and outside the home. Occasionally, your ViewSonic TV set remote control can accidentally go out of sync. This can be as a result of inadvertently pressing the wrong remote control buttons and thereby deprogramming the remote from your TV.
Whenever your remote goes out of sync with your ViewSonic TV set, it ceases to have control on the TV set. You will therefore need to reprogram your ViewSonic TV set remote to get back in sync with the TV and work as desired.
Below are the preliminary troubleshooting steps to take prior to reprogramming your remote control to work as expected.
Step 1
Turn "OFF" your ViewSonic TV set prior to initiating the process of reprogramming your remote.
Note: Turning "OFF" still allows your TV to catch signals from your remote control device.
Step 2
Exert a long press to the "TV" button on your remote.
Note: This action (long press on the "TV" button on your remote) is to communicate to your remote that it is pairing with a TV (your ViewSonic TV set) hence enable your remote to give out the appropriate signals required for the process of syncing.
Step 3
By use of a slender or thin tipping item like a paper clip, toothpick, etc, press down (press in) the indented "SET" button situated at the bottom of your remote control device.
Step 4
Refer to the 'Resources' section in the internet link provided in your instruction booklet to find the code (or codes) for your ViewSonic TV.
Type in the 3-digit code provided (from the link you accessed) on your remotes number pad. Try all the codes provided until you find the correct one for your ViewSonic TV set. 
Step 5              
Press the "Power" button on the remote. If the TV turns on, it means the code worked, but if the TV does not turn on, repeat steps 2 through 5 until the TV turns on from the remote.
Troubleshooting steps
When you lose or do not have a remote for your ViewSonic TV set, you can program and use a universal remote as a substitute.
Below are the steps to take when provided with programming codes that apply as provided in the manual that comes with your universal remote control device.
Check up the codes for ViewSonic TV set in your remote's manual.
Press and hold down the "CODE SEARCH" button on your remote control device.
In a quick motion, press down the "TV" button and proceed to release the "CODE SEARCH" button. The red light on your remote should stay lit.
Retrieve from your manual and enter the provided three-digit codes via your remote's keypad.
Note: The RED light of your remote should turn off if the code entered was correct. Otherwise, this RED light will continue to flash!
Turn your ViewSonic TV set on and test the "CH+ or CH-" and "VOL+ and VOL-" buttons to confirm that your remote is working as desired!
Note: The procedure above should be repeated using another code if the one preceding did not work as expected.
Alternative Troubleshooting Methods for ViewSonic TV Remote Control
Option 1
Where your remote control does not work correctly.
Check the polarities (+/-) of your batteries to ensure they are correctly set.
Test your set of batteries and replace with a stronger/powerful set if found to be weak or spent.
Reduce the distance between your TV and remote depending on the strength of IR. This could also apply if the receiver is situated at an extreme angle.
Remote any fluorescent or other bright light that could be shining on your TV set's receptor.
Turn "ON" your TV set's keylock or lockout feature in case it was "OFF".
Test and ensure that the receptors of both the TV set and remote are functioning well.
Repair or replace remote in case it is malfunctioning!
Option 2
Checking the relevant hardware
Check and ensure the power cable is connected securely to the "AC IN" terminal.
Check the power switch and ensure the "AC SWITCH" is "ON". The (O) symbol means OFF, while (I) symbol means ON.
Ensure the data (or signal) input cable is properly connected to the unit.
Check remote control to ensure the batteries are connected correctly and working by pointing your remote control's sensor at a digital camera or smartphone camera and pressing on the power button. If the sensor does not flash purple repeatedly –to indicate it is functioning well-, then replace the batteries!          
Troubleshooting / Problem Possible Solution Matric
Problem

Possible Solution

No Power

Make sure your power-cord is properly connected to the LCD TV AC power socket.
Ensure your AC Power cord is properly connected to a power source.
Is your DC power button ON? i.e.(Blue LED).

Note: Please test your power source to ensure it is supplying adequate voltage.

No Picture

Could it be a problem with your TV station/channel? Try the next.
Is your Cable TV signal scrambled? You can contact your local cable operator.
Ensure that connections to other components in the system are done as per your Instructions Booklet/User guide

.

Ensure you have selected the correct input and the input signal is compatible.

Strange color, Light
color, or color
Misalignment

Is the video cable secured correctly?
Could there too much light in your room? Turn off or reduce the light intensity in your room.
Try adjusting your TV set's brightness, contrast, colour, and tint.
Is your input signal setting right?

No sound

Are your audio connections properly connected?
Attempt turning "ON" and "OFF" your MUTE button.
Try increasing your TV set's volume by pressing the "VOL+" button on your

remote control

.

The Remote control unit does not operate well

Are you using the correct battery size?
Are the batteries properly set and not 'dead' i.e. weak?
Is there a lit fluorescent light near your remote control sensor?
Is the path of the remote control IR beam blocked?
Can your remote control

power "ON" your TV?

Can the MENU button on your remote show a MENU on the screen?

The unit cannot be operated

Is there an external influence (e.g. lightning or static
electricity/magnetism) causing this improper functionality?

Note: Try operating your unit after first turning "ON" the power of your LCD TV and AVC System. Alternatively, unplug and plug back your AC cord for 1 to 2 minutes.

Power is cut off suddenly

Is the sleep timer setting "ON"?
Is the PC mode or HDMI 

mode signal "ON"?

Has the temperature of the unit become hot? Try removing any objects blocking the vent. Alternatively, clean your unit of any dust.

No CATV reception (or
no reception above
CH13)

Is the AIR/CABLE option correctly set?
Ensure all CATV 

connections are properly done.

Confirm with your cable operator that all is well.

Picture is cut off / with
sidebar screen

Ensure the screen mode adjustments for picture size is set correctly?
Press the "WIDE" button on your remote control repeatedly to get your preferred picture size.
How To Use Viewsonic Remote control?
ViewSonic Corp's technical team encourages her customers to ensure the following tips are observed prior to putting her products to use.
One, ensure that your device (like TV set) is installed correctly.
Two, ensure that you have installed the necessary drivers.
Three, ensure that your device is correctly plugged.
Four, ensure that your system is configured correctly.
Lastly, ensure that there are no peripherals (obstructions) causing a link or connectivity problem.
This company proceeds to offer her esteemed customers the best quality after-sales service.
ViewSonic Corp has dedicated a page https://www.viewsonic.com/eu/support/category.php?id=33000123026 providing questions and answers to simple and technical challenges that users may have concerning the use of their products.
It also proceeds to provide a detailed region-specific customer service and technical support contact list https://www.viewsonic.com/eu/support/call-desk/ to reach whenever one has an inquiry to make or in need of technical support.
Frequently Asked Questions (FAQs)
Question

Answer/Response

Will my new remote need programming?

No. This is not necessary unless it is labeled or indicated to be 'universal'. This also applies where it is an original replacement from the company.

You can always call ViewSonic Corporation at +1-877-671-7173 (if you are based in the USA) for an original remote replacement.

My remote does not work. What can I do?

Possible reasons could be:
• Batteries are either used up or incorrectly installed.

• Ensure the batteries active and held tightly in place by the springs in the battery compartment.

• Are the batteries compatible with your equipment?

• Your remote may need programming if it was specified as 'universal'.

• Your remote's IR receiving diode may have gone bad. 

• Your remote may be damaged during shipping.

Note: Always refer to the ViewSonic "Product Description" section of your product just in case there are special instructions to follow!

I misplaced my remote's manual. Where can get another one?

You will need to find your ViewSonic TV model number (or DVD player, VCR, etc.) and search ViewSonic Corp's website to find it. From the "Owner's manual" found within ViewSonic Corp's website, you will find all information about the remote you need including the applicable programming codes!

What are the common models for ViewSonic TV?

The most common ViewSonic TV set is the "C" series. Examples of these are: CD4200, CD4225, CD4620, CD5233, CDE3200, CDE4200, and CDE6500.
Final Thoughts
ViewSonic Corp projector dominance is best told by the 30% market sales growth realized in the first half of 2020. Considering that this is a project segmented just three years ago (2017), this company remains a force to reckon with in electronic engineering.
Another recent milestone for ViewSonic Corp was in March 2020. The company flung a surprise at her peers when its monitor brand was recognized by PCMag magazine (an electronics magazine published in the UK) as the Best Monitor Brand for 2020. This was following a customer survey to establish which technology companies are most trusted based on first-hand experience in every major technology category.
A great addition to ViewSonic's latest range of monitors that have offered touch and corporate solutions are ViewSonic ColorProTM, and ELITE monitors. These products are specifically customized to meet the needs of content creators, video editors, photographers, and artists as well as e-sports professionals and hard-core gamers.
It is also worth mentioning that in 2019 received an award-"Readers' Choice Award" for her computer monitors in five ranking categories, namely, Overall Satisfaction, Likelihood to Recommend, Ease-of-Use, Satisfaction with Picture Quality, and Satisfaction with Reliability.
In a nutshell, ViewSonic products are known to offer customer satisfaction, provide good picture quality, are easy to use, and reliable.