One of the products the Philips Company is known for is the philips universal remote controller codes. With this remote, you can program it to your TV, DVD player, Cable all at once. To do this, you need the Philps universal remote codes. This post outlines the codes below. We provided more than one code for each device. So if one of the philips tv codes doesn't work, please try out another code. The code is usually a 4-digits figure.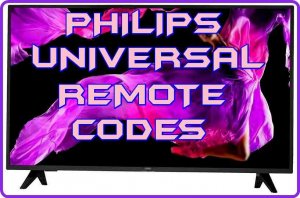 All-in-One Philips Universal Remote Codes List
1059
1056
1053
1057
1004
1011
1017
1047
1018
1007
Philips Universal Remote Codes For HDTV

1237
1129
1261
1411
1390
1334
1351
1239

Philips Remote Codes For Audio
Philips Universal Remote Codes For DVD Player

2045
2032
2051
2109
2033
2158
2157
2159
2109
2091

Philips Remote control Codes For VCR

3061
3016
3071
3135
3160
3216
3208
3135
3173
3061
3047

 
Philips Remote control Codes For Amplifier
Philips Remote Codes For Receiver Tuner

5145
5000
5143
5112
5154
5138

Philips Universal Remote Codes For Satellite Box

0362
0265
0963
0863
0065
0664
0260
0864
0259

Philips Television Remote Codes Dish Network Boxes

0560
0366
0660
0167
0862
0067
0464
0460
Philips Remote control Codes Hughes Network Boxes

0465
0362
0763
0659
0864
0765
0564

Philips Universal Remote Codes Motorola Satellite Boxes
Philips Remote Codes For Comcast

0954
0752
0148
0552
0654
0754
0048
0556
0252
0453

Philips Universal Remote Codes For Cable Box

0148 (Codes For Motorola box)
0952
0552
0754
0048
0453
0654
0752 (Codes For Comcast & At&t)
0954
0556 (Codes For GE)
0252 (Codes For Time Warner Boxes)
How To Program Philips Universal Remote Setup to TV
Switch on your PHILIPS TV set.
Also Read  Remote Control Codes for Panasonic Tv
Hold your universal TV remote to face your PHILIPS TV you
wish to program.
Find the 'SETUP' option on your universal remote.  A red light will come up on your universal remote. 'TV' if it is your TV you want to program. For cable, you choose 'CBL' and 'Sat' for Satellite box.
You will see the column to enter the remote code. Find the correct code from this article and enter into space.
If you got the process right, the tiny light will blink 4 times. When it does, pick any of the codes above for your device and enter. The button light will go off once you get the correct code. If not, try another code.
Press any of the functions keys on your remote control. If it works, that means you got the steps correctly. If it doesn't work, repeat the steps and try with another code.
If you have any code that is not included in these, please help us add it to the comment box. We will really appreciate it.
Check out other categories to find universal remotes codes for different brands of your gadgets.
Philips Universal Remote Not Working
If your Philips universal remote control is not working, it could be as a result of some minor issues. This session will point out issues that can make your universal remote to stop working and to fix it.
Object: If there is an object obstructing your TV or device you want to program, your universal remote may not function well. Ensure you remove all objects and hold your remote close to the device you wish to program.
Battery: If there is no battery in your universal remote or the battery is bad, it will not work. Check the battery box of your remote to ensure there the batteries are correctly fixed. Also, ensure that the batteries are not wet, because that is a sign of damage.
Correct Code: Another reason your universal remote control may fail to work is if you are using the wrong code. Thankfully, this post has listed codes for all devices for your Philips remote. For most device, we listed more than one codes. If a code doesn't work, simply copy the next code and try again.
Also, there is a need to know how to program your universal remote control to work with your PHILIPS TV before you can use the code. This post provides a guide on how to program a philips universal remote.
How to troubleshoot Philips Universal Remote
If you are facing any trouble using your Philips universal TV remote then, there are chances that it might have some errors, and you need to troubleshoot.
In today's article, we are going to talk about how to troubleshoot your Philips TV remote. You can also check philips tv remote codes list below.
How to troubleshoot Philips remote?
Here are certain steps and instructions that you need to follow. 
When you turn on your TV and no picture appears for 10 to 15 seconds.  Don't panic. This is the time your TV takes for operation. You, Philip, start-up screen will soon pop up. During this time period, your remote will not respond to any of the keys. So, wait for 10 to 15 seconds.
If this duration extends more than 15 seconds
If you feel your remote is still not working even after 10 to 15 seconds. Then, you need to remove the following source of errors that might be causing the trouble:
Turn off the bright lights like florescent light or overhead or light device, which might be interfering with your remote control signal.
When any external interference device is interfering with your remote then, we recommend you to turn it off.
If the error persists 
Even after performing all these operations, your remote control is still not working then, follow the following steps:
Now, you need to test some of the buttons of the remote control randomly. If your TV doesn't respond, there is a probability that your remote control might have a low battery.
Reinstall the battery and make sure to insert it according to the illustration.
If you feel even after replacing the battery, your digital remote is not working; you can follow the following steps:
You need to observe the emitter on the front remote control through a digital camera or a mobile camera.
Now click any button on the remote.
If the LED light is blinking red, your remote control is working right. There might be some defect in the TV.
If this doesn't happen in your case, then there is a probability that your remote control might have defected, and it's high time that you need to replace it with the new one.
If you want to get more guidance and assistance, you can contact Philips customer care center. While contacting them, make sure that you have your model number and serial number in hand. You will find it on the backside of your remote.
Philips Universal Remote Codes For All TV Brands
| | |
| --- | --- |
| ABEX | 0120 |
| ADMIRAL | 0224, 0603, 0701 |
| ADVENT | 0219, 0893 |
| ADVENTURA | 0019 |
| AIKO | 0407 |
| AIWA | 0324, 0121, 0221, 0528 |
| ALLERON | 0706 |
| AMARK | 0603 |
| AMTRON | 0906 |
| AKAI | 0112, 0801, 0309, 0027 |
| AKAM NATIONAL | 0906, 0901, 0104, 085, 0920 |
| AOC | 0002, 0102, 0502, 0003, 0217, 0119, 0320 |
| APEX | 0023, 0223, 0123, 0741 |
| ARCHER | 0603 |
| ASPECT | 0507 |
| AUDIOVOX | 0906 |
| AXION | 0319, 0793 |
| BANG & OLUFSEN | 0620 |
| BELCOR | 0002 |
| BELL & HOWELL | 0704, 0506, 0601, 0701 |
|   | 0709, 0909, 0711 |
| BRADFORD | 0906 |
| BROKSONIC | 0327, 0632, 0041, 0316, 0115, 0626 |
| BROKWOOD | 0002 |
| CANDLE | 0002, 0502, 0019, 0402 |
| CAPEHART | 0119 |
| CELERA | 0023 |
| CELEBRITY | 0801 |
| CENTRIOS | 0518 |
| CENTURION | 0502 |
| CETRONIC | 0805 |
| CHANGHONG | 0023, 0741 |
| CITIZEN | 0520, 0115, 0701, 0402, 0805, 0407, 0002, 0502, 0906, 0112, 0512, |
| CLAIRTONE | 0003 |
| CLASSIC | 0023, 0741, 0805 |
| CLP | 0008 |
| CLP CLASSIC | 0020, 0002, 0006 |
| COLOR VOICE | 0602 |
| COLORTYME | 0002, 0502, 0602 |
| CONCERTO | 0002, 0502, 0019, 0402 |
| CONCIERGE | 0713 |
| CONTEC | 0906, 0802, 0003, 0805 |
| CORNEA | 0606 |
| CRAIG | 0906, 0805 |
| CROSLEY | 0807 |
| CROWN | 0906, 0805 |
| CURTIS MATHES | 0704, 0112, 1614, 0002, 0502, 0601, 0506, 0512, 0437, 0701, 0103 |
| CTX | 0603 |
| CXC | 0906, 0805 |
| DAEWOO | 0614, 0002, 0502, 0611, 0102, 0415, 0905, 0615, 0505, 0826, 0529, 0046, 0609, 0805, 0407, 0303, 0602, 0214, 0403, 0314, 0503 |
| DAYTRON | 0002, 0502 |
| DELL | 0522, 0404, 0814 |
| DIAMOND VISION | 0622, 0496, 0810 |
| DIGISTAR | 1503, 0118, 0413, 0213, 0318 |
| DIMENSIA | 0704, 0601 |
| DISNEY | 0417 |
| DUKANE | 0507, 0808 |
| DUMONT | 0713, 0002 |
| DURABRAND | 0520, 0115, 0317, 0916, 0027, 0447, 0323 |
| DYNASTY | 0805 |
| ELEKTRA | 0701 |
| ELECTROBAND | 0801, 0003 |
| ELECTROHOME | 0002, 0502, 0027, 0901, 0803 |
| ELITE VIDEO | 0321 |
| EMERSON | 0002, 0502, 0006, 0115, 0506, 0706, 0520, 0906, 0316, |
| ENVISION | 0002, 0502, 0009 |
| FISHER | 0506, 0612, 0428, 0619, 0802 |
| FUJITSU | 0321, 0706 |
| FUNAI | 0706, 0520, 0906, 0324, 0247, 0805 |
| FUTURETEC | 0906, 0805 |
| GATEWAY | 0206 |
| GE | 0704, 0312, 0018, 0002, 0502, 0006, 0007, 0601, 0835, 0901, 0114, 0103, 0803, 0806, 0310 |
| GIBRALTER | 0713, 0002 |
| GOLDSTAR | 0002, 0502, 0102, 0324, 0435, 0802, 0307, 0609, 0217 |
| GRUNDY | 0706, 0906 |
| GUESTVISION | 0721 |
| HAIER | 0709, 0223, 0323, 0317 |
| HALLMARK | 0002, 0502 |
| HARVARD | 0906 |
| HITACHI | 0410, 0507, 0815, 0607, 0808, 0002, 0502, 0710, 0701, 0802, 0707, 0315, 0515, 0715, 0519, 0324 |
| HISENSE | 0908, 0819, 0223 |
| ILO | 0421, 1608, 1004, 1903 |
| IMA | 0906 |
| INFINITY | 0807, 0430 |
| INITIAL | 1608 |
| INSIGNIA | 0911, 0520, 0323, 0115, 0914, 0213, 0318, 0247, 0504 |
| INTEGRA | 0719 |
| INTEQ | 0713 |
| JANEIL | 0019 |
| JBL | 0807 |
| JCB | 0801 |
| JC PENNEY | 0704, 0002, 0102, 0502, 0112, 0312, 0512, 0007, 0601, 0310, 0402, 0802, 0103, 0803, 0604, 0806 |
| JENSEN | 0002, 0502, 0914 |
| JVC | 0607, 0204, 0321, 0508, 0326, 0993, 0802, 0108, 0308, 0715 |
| KAWASHO | 0002, 0502, 0801 |
| KAYPANI | 0119 |
| KEC | 0805 |
| KENWOOD | 0002, 0502 |
| KLH | 0023 |
| KLOSS NOVABEAM | 0408, 0019 |
| KONKA | 0906, 0702, 0203, 0306, 0208, 0911, 0842, 0942, 0504 |
| KTV | 0906, 0003, 0703, 0805, 0608 |
| KURAZAI | 0701 |
| LASONIC | 0622, 0496, 0810 |
| LG | 0002, 0606, 0502, 0102, 0324, 0435, 0802, 0307, 0609, 0217 |
| LIQUIDVIDEO | 0319, 0418, 0793 |
| LODGENET | 0704, 0821, 0601, 0701 |
| LOEWE | 0722, 0807 |
| LOGIK | 0704, 0601, 0701 |
| LUCE | 0107 |
| LUXMAN | 0002, 0502 |
| LXI | 0704, 0002, 0502, 0506, 0807, 0312, 0512, 0601, 0324, 0103 |
| MAGNASONIC | 0706 |
| MAGNAVOX | 0807, 0002, 0502, 0247, 0919, 0224, 0430, 0402, 0408, 0109, 0715 |
| MAJESTIC | 0704, 0601, 0701 |
| MARANTZ | 0807, 0719, 0002, 0502 |
| MEDION | 0922, 0421, 0417 |
| MEGATRON | 0002, 0502, 0507 |
| MEI | 0003 |
| MEMOREX | 0002, 0502, 0506, 0706, 0115, 0704, 0601, 0428, 0632, 0701 |
| MGA | 0002, 0102, 0502, 0706, 0802, 0803, 0715, 0619 |
| MIDLAND | 0704, 0713, 0007, 0312, 0103 |
| MINUTZ | 0806 |
| MITSUBISHI | 0102, 0716, 0706, 0002, 0502, 0027, 0803, 0715, 0619 |
| MONIVISION | 0205 |
| MONTEGOMERY WARD | 0704, 0701, 0601 |
| MOTEVA | 0506 |
| MOTOROLA | 0603, 0901 |
| MTC | 0002, 0102, 0502, 0112, 0512, 0003 |
| MULTITECH | 0906 |
| MULTIVISION | 0010 |
| MYRON & DAVIS | 0822 |
| NAD | 0002, 0502, 0512, 0120 |
| NEC | 0719, 0002, 0102, 0502, 0901, 0602, 0111, 0715 |
| NET TV | 0206, 0014 |
| NEXXTECH | 1806, 0318 |
| NIKEI | 0805 |
| NIKKO | 0002, 0502, 0407 |
| NORCENT | 0223, 0905, 0207 |
| NTC | 0407 |
| OLEVIA | 1304 |
| ONCOMMAND | 0721 |
| ONKING | 0805 |
| ONWA | 0906, 0805 |
| OPTIMUS | 0618, 0120, 0039, 0739 |
| OPTOMA | 1404 |
| OPTONICA | 0603, 0111 |
| ORION | 0713, 0115, 0105 |
| PANASONIC | 0718, 0416, 0007, 0618, 0807, 0039, 0739, 0345, 0696, 0901, 0608 |
| PHILCO | 0807, 0002, 0102, 0502, 0919, 0408, 0109, 0715, 0901, 0402 |
| PHILIPS | 0222, 0322, 0002, 0520, 0919, 0521,0807, 0022, 0020, 0422, 0122 |
| PHILIPS-MAGNAVOX | 0807, 0022, 0322, 0919, 0224, 0430 |
| PILOT | 0002 |
| PIONEER | 0120, 0719, 0808, 0002, 0502, 0610, 0519 |
| PIVA | 1109 |
| POLAROID | 0819, 0918, 0914 |
| PORTLAND | 0002, 0102, 0502, 0407, 0415, 0614 |
| PRECISION | 0218 |
| PRICE CLUB | 0112 |
| PRIMA | 1503, 0118, 0213, 0318 |
| PRINCETON GRAPHICS | 0603, 0511 |
| PRISM | 0007 |
| PROSCAN | 0704, 0312, 0103, 0601, 0817, 0917 |
| PROTON | 0820, 0002, 0502, 0910, 0119, 0220 |
| PROVIEW | 1104, 1204 |
| PULSAR | 0713, 0002 |
| QUASAR | 0718, 0416, 0007, 0618, 0807, 0039, 0739, 0901, 0608 |
| RADIO SHACK | 0704, 0506, 0002, 0406, 0618, 0906, 0502, 0324, 0802, 0111 |
| RCA | 0704, 0406, 0011, 0007, 0611, 0811, 0312, 0002, 0514, 0720, |
| REALISTIC | 0704, 0002, 0406, 0506, 0906, 0618, 0502, 0601, 0324, 0802 |
| RHAPSODY | 0003 |
| RUNCO | 0713, 0719, 0712 |
| SAMPO | 0014, 0206, 0002, 0502, 0119, 0802 |
| SAMSUNG | 0502, 0002, 0102, 0110, 0818, 0895, 0437, 0802, 0103, 0609, 0012, 0212 |
| SAMSUX | 0502 |
| SAMTROM | 0112 |
| SANSUI | 0115, 0632 |
| SANTECA | 0021 |
| SANYO | 0506, 0311, 0612, 0002, 0428, 0802, 0412, 0619 |
| SCOTCH | 0002, 0502 |
| SCOTT | 0002, 0502, 0706, 0906, 0004, 0105, 0805 |
| SEARS | 0704, 0807, 0506, 0706, 0112, 0002, 0502, 0312, 0512, 0612, 0520, 0601, 0812, 0509, 0041, 0247, 0802, 0103, 0619 |
| SELECTRON | 1803, 1603, 1703 |
| SHARP | 0502, 0224, 0228, 0202, 0111, 0813, 0509, 0913, 0907, 0603, 0002, |
| SHOGUN | 0002 |
| SIGNATURE | 0704, 0601, 0701, 0903 |
| SIMPSON | 0402 |
| SONIC | 0003 |
| SONY | 0414, 0902, 0801, 0708, 0639 |
| SOUNDESIGN | 0002, 0502, 0706, 0906, 0402, 0805 |
| SPECTRAVISION | 0921 |
| SQUAREVIEW | 0520 |
| SSS | 0002, 0906, 0805 |
| STARLITE | 0906 |
| STARSIGHT | 0008 |
| SUPRA | 0002, 0809 |
| SUPERSCAN | 0812, 0509, 0247 |
| SUPERSONIC | 0096 |
| SUPREMACY | 0019 |
| SUPREME | 0801 |
| SVA | 0223 |
| SYLVANIA | 0324, 0247, 0402, 0408, 0109, 0715, 0717, 0807, 0002, 0502, 0115, 0520, 0919, |
| SYMPHONIC | 0906, 0520, 0324, 0247, 0004 |
| SYNTAX | 1304 |
| TANDY | 0603 |
| TATUNG | 0709, 0421, 0901 |
| TECHNICS | 0007 |
| TECHWOOD | 0002, 0502, 0007 |
| TEKNIKA | 0704, 0002, 0102, 0502, 0706, 0906, 0112, 0512, 0618, 0601, 0019, 0701, 0402, 0802, 0805, 0407 |
| TELECAPTION | 0313 |
| TELERENT | 0704, 0601, 0701 |
| TERA | 0002, 0220 |
| TEVION | 0421 |
| TMK | 0002, 0502 |
| TOSHIBA | 0719, 0112, 0506, 0111, 0517, 0419, 0512, 0613 |
| TRUTECH | 1504 |
| UNIVERSAL | 0806, 0310 |
| VICTOR | 0607 |
| VIDTECH | 0002, 0102, 0502 |
| VIEWSONIC | 0206, 0808 |
| VIKING | 0019 |
| VIZION | 0709 |
| WARDS | 0601, 0408, 0109, 0704, 0807, 0002, 0102, 0502, 0706 |
| WESTINGHOUSE | 0915, 0013 |
| WHITE WESTINGHOUSE | 0611, 0614, 0415, 0215, 0324, 0529, 0609 |
| YAMAHA | 0618, 0002, 0102, 0502 |
| ZENITH | 0415, 0507, 0714, 0405, 0712, 0015, 0713, 0502, 0606, 0409, 0710 |