If you just bought a remote and you need the Panasonic universal remote control codes, this post outlines the codes below. There are a number of remote control codes for Panasonic TV listed below. If one of the codes doesn't work, please try out another code. The code is usually a 4-digits figure.
Before you can use the code, you need to know how to program your universal remote control to work with your Panasonic TV. The guide on how to program a universal remote control to a Panasonic TV has also been outlined below.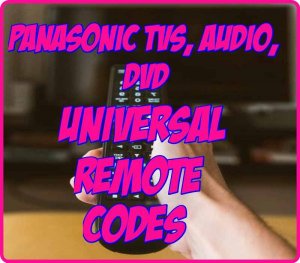 Remote control codes for Panasonic Gadgets
Panasonic TV Codes
1010
1003
1053
1049
1231
1096
1152
1289
1295
1293
1267
1253
Panasonic HDTV Codes
1169
1140
1170
1234
1194
1233
1442
1417
1410
1336
1331
 Panasonic Audio Codes
4018
4005
4038
4030
4050
4063
4051
Panasonic DVD Codes
2075
2031
2076
2105
2104
2154
2151
2153
2066
Why universal codes needed for a Panasonic remote
Panasonic universal codes are required to link the gadgets with the universal codes. Each universal code is linked with a device. So, when you enter the right code, your remote automatically sink with the device and store the code. Next time you don't have to follow a manual process to link the remote again.
Let's get an idea about how to program your Panasonic remote.
How to program a Universal Remote Control to a Panasonic TV
Step 1: Switch on your TV set or DVD player
Step 2: Find the SEL and TV button. Press and hold down both buttons together for some seconds. The LED on the button will turn on.
Step 3: Hold your universal TV remote to face your Panasonic TV or DVD player you wish to turn on.
Step 4: Pick any of the universal remote codes for Panasonic above and enter the code.
Step 5: Press any of the functions keys on your remote control. If it works, that means you got the steps correctly. If it doesn't work, repeat the steps and try with another code.
If you have any code that is not included in these, please help us add it to the comment box. We will really appreciate it.
How to connect Panasonic remote to DVD?
In order to know how to connect your Panasonic remote to a DVD, you need to follow the following steps. Read the instructions carefully and follow the steps one by one.
Step 1: Turn on your device first.
Step 2: Now, on your remote control button, you will see e "DVD" or "aux" button, press the button. 
Step 3: Now, click and hold your RCU setup unless your device blinks twice.
Step 4: Click "9" "9" "9". As a result, you will notice your device button blinks twice. 
Step 5: Now, to get the first code, click "1" on the remote and count how many times your device blinked. Keep this count in mind and don't forget it.
If the blink is two times, then the first number of the code is 2. If your device did not blink, the first number of the code is 0.
Step 6: Now, to get the second digit, press "2". Then, again count how many times the device blinked. Now, repeat the above process to get the remaining digits of the code. 
Step 7:  If you want to know the codes of other devices, simply follow the above steps. You only need to change the button with the appropriate one.
How to program Panasonic remote to Audio device
We will help you and describe every detail about how to program your device the right way. All you need to do is follow the steps carefully. The programming for Dvd or audio device is easy and effortlessly. 
Before you get into the programming, write a remote model number. We have done this because some devices use the model number in remote code.
The first step is to shut down the audio device that you are planning to program. Another essential thing to keep in mind is that your batteries should be fresh. You need to press the power and action button on your remote simultaneously now, hold down the button for 5 seconds and then release it in this way; your remote will enter into programming mode.
Now select your audio device and press the button and enter the code. Now click on the power button on the remote to test whether your device was connected or not. If it turns on, then the code you entered was right. If it fails to do so, enter other codes. Be sure you turn on the power of the audio device.
How to use the programmed remote?
Now, you need to locate the code for your remote; you can consult the manual.
Now list down the codes and try them one by one. The listing will make your work easy and straightforward. 
Usually, the Panasonic remotes have a separate button for separate devices and one power button for the entire system. So, firstly turn on your audio device. The next step is to select the audio device on the remote. The final step is to turn on the button.
How to connect your Panasonic remote to HDTV
Are you planning to buy a Panasonic universal remote or have already brought the remote then, you have made the best decisions? It is the best device to keep your gadgets and remotes organised. 
Now, you don't have to worry about changing the batteries of different remote regularly. Don't need to panic now if you misplace your remote or are not able to find it. Connect your devices with this universal remote.  
In this article, we are going to talk about how to connect your Panasonic remote to HDTV. These steps are easy and straightforward. 
Steps to follow to program your Panasonic universal remote to HDTV
Follow the steps one by one: 
Firstly, turn on your Panasonic Hdtv. 
Now, press and hold the TV and SEL buttons for three seconds. You will notice light will blink. 
Now, enter the 3, 4 and 5 digit codes.
After this verify by pressing volume+ button. If your volume button increases the volume, then, the code you entered is correct. 
The final step is to press the TV button to store the code. If the button blinks twice then, your code is saved.  
Benefits of Universal remote
Here are the following benefits of using a universal remote: 
Panasonic universal remote is simple to set up. 
Universal remote cut down your costs of buying batteries and maintaining them. 
This is all in one device that makes your work easier and organised. 
Universal remote is convenient and simple. 
Troubleshooting Panasonic Universal remote?
If your Panasonic universal remote is not working properly then, there might have some trouble. No need to panic as in electronic devices error like these is often—all you need to do to stay calm and figure out the problem.
Maybe you need to troubleshoot your remote. It will help your remote to get back to normal functioning. The process of troubleshooting is quite simple and easy. All you need to do was follow these steps carefully.
In this article, we are going to talk about how to troubleshoot your Panasonic universal remote. Try these steps one by one to get an idea about the cause and look for the solutions mentioned below:
How to troubleshoot your Panasonic universal remote?
Follow the following steps to troubleshoot your Panasonic remote:
STEP 1: The very first step is to check the device you are using should be switched on.
STEP 2: Next step is to check the batteries of your remote. Maybe it's high time that you need to change the batteries. Try to replace them with the new one and check again.
STEP 3: If the previous step doesn't work, you need to ensure that no other device is interfering between the remote and gadget. Make sure that you are 20 feet away from the device not more than that.
STEP 4: Try turning off the parental button of your remote. In some cases, this might also help.
STEP 5: In this step, you need to turn off the infrared light that might be interacting with the remote signal. For this turn on your digital camera, point the remote towards the camera and press the small button. You can notice the infrared light if not try for another button.
STEP 6: In this step, look for the manual that came along with the remote. Make the necessary changes if required. It will be helpful.
Even after trying hard, you fail to troubleshoot your device and try contacting the Panasonic customer care number. They will assist you and guide you about the same.