A converter box comes in handy when you are using an analog TV. One of the best converter box brands out there is the Digital Stream Converter box. You will need the Digital Stream Converter box remote codes to program your converter box to your TV. The codes usually appear as 3 to 5 numerical digits. After the code list is a mini-guide on how to program your Converter box.
What are the benefits of the Digital Converter Box Remote?
Digital convertor box remote has various benefits some of them are listed below:
It is relatively easy to use and program.
It controls all your electronics in one device in one place.
It saves you time.
It has an easy and affordable setup.
This device helps to cut down your cost as you don't have to take the pain of changing batteries repeatedly for different devices.
Using your devices becomes much more comfortable as you don't have to keep looking for other remotes to operate the machine.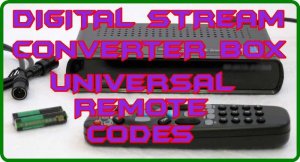 5 Digits Remote Codes for Digital Stream Converter Box
52303
00819
00749
00747
00783
00837
00839
4 Digits Digital Stream Converter Box Remote Codes
0819
0465
0899
0864
1749
0749
0763
0818
3 Digits Digital Stream Converter Box Remote Codes
037
033
035
189
157
120
161
028
030
034
029
169
132
149
140
161
032
093
How to program Digital Stream Converter Box remote
Here is a mini-guide to help you out to program your digital stream converter box:
Step 1: Switch on your Digital Stream converter box.
Step 2: At the top of the DIRECTV remote control to "AV2".
Step 3: Press the mute and select button on the DIRECTV remote control until the light blinks twice.
Step 4: Enter the codes mentioned below:
Use code 9-9-1-0 for cable and satellite boxes.
Use code 9-9-1-1 for television sets. 
Use code 9-9-1-2 for VCR, DVD player and recorders, and PVRs.
Use code 9-9-1-3 for stereos and audio receivers. 
Step 5: In this step, you need to push the "channel up" button on the DIRECTV remote control. Count till two and press the "channel button" again. You have to repeat this process until the Digital Stream converter box shutdowns, or AV2 LED light blinks thrice.
Now, when you press the channel button on the Direct TV remote control.
The remote tries a different device code that is already stored in the library for the selected device.
When your Digital Stream converter shuts down, that means you have found the correct code. You don't need to continue the next steps if this works for you.
If your "AV2" LED light blinks thrice and your direct stream converter doesn't shutdowns then, you have gone through all the codes and haven't found one. Follow the next two steps to complete the process.  
Step 6: Repeat the second step and then try to find a different code this time.
Step 7: Once you find the correct code, click on the select button.