How to Connect Subwoofer to Receiver?
The receiver can be a complicated device, and it can be easy to lose track of what specifications and ports you need. Some subwoofer receivers have a Pre Out feature which can be confusing. If you are considering buying a subwoofer A/V receiver, you may wonder what a pre-out is and how to use it. Moreover, you can learn how to connect Subwoofer cable to pre-out receiver by following the methods mentioned below.
An external power amplifier can be connected to a subwoofer pre-out instead of using the amp built into the receiver. Signals can pass through the receiver without being amplified, instead of being amplified by another power source. 
You won't have to worry about pre-outs initially, but they can add valuable flexibility later. Connecting to a subwoofer pre-out is pretty straightforward. To begin with, you need to check if your speaker has an external amplifier. Most subwoofers have a pre-out for every speaker and two connections for the subwoofer. However, there are a number of sound reasons someone might want to use pre-outs on their subwoofer A/V receiver, and there are pros and cons to using them.
Why Would You Need Pre-Outs?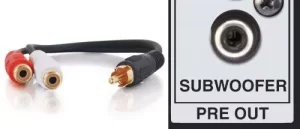 Subwoofers are commonly used with the pre-out. Since subwoofers have their own internal amplifiers, using a pre-out connection is often beneficial. Nevertheless, they can also be used to add all kinds of channels to your home theater.
Even the most expensive A/V receivers often lack the power for more complex home theater systems, even if they are technically equipped with enough speaker ports. Separate power amplifiers open up possibilities for your setup that were previously unattainable because of power limitations.
If you have a large sub or special speaker channel, you can use an external amplifier to improve sound quality and lessen the load on your receiver's built-in amplifier. 
Many subwoofers and other speakers come with their own amplifiers. This type of speaker uses a pre-out connection and is known as Active Speakers. If you do this correctly, your receiver will be less stressed, and your speakers will operate at their best. 
Having Zone 2 or Zone 3 outputs allows you to play audio in another room as well. Furthermore, your system can use more power when your speakers are in a large room. As you can see, pre-outs give you serious upgrade options for your home theater.
Pros of Using Pre-Outs
Now that you know some of the great benefits a pre-out can offer, let's look at some specific benefits.
Less Strain on Your A/V Receiver
When powered by an external source, pre-outs offer many benefits. The most obvious benefit is that your receiver consumes less power. However, it would be helpful if you took good care of your A/V receiver, and we recommend getting a more expensive model so that you won't have to push it to its maximum capacity. Moreover, better models support Bluetooth via an adapter, as explained earlier.
For example, our highly recommended Sony STR-DH790 7.2-ch Surround Sound Home Theater Subwoofer AV Receiver: 4K HDR (on Amazon) has 7.1 pre-outs. Thus, this unit can be scaled up to expand to a pre-out while maintaining the subwoofer receiver's capacity.
The receiver's built-in amplifier has a limited power supply, so sharing that power across fewer channels will benefit your speakers. If you use pre-outs connected to external amplifiers, your receiver will work better and last longer.
Add Channels and Improve Your Speaker System
Enhancing your surround sound system is another benefit. When many different channels are involved, pre-outs make complex setups like Dolby Atmos possible.
These are unique added channels that an external power source should be used if your pre-out section has "Front Wide" or "Height 2" connections for subwoofer speakers. With a home theater system, you have endless possibilities, and you should know when to use each connection.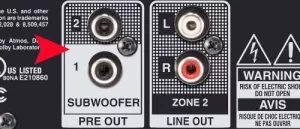 Pre-Outs Improve Sonic Character
The pre-outs will benefit both passive speakers connected to the receiver's amplifier and active speakers with their own amplifiers. Your system will sound better overall. Even though knowledge of pre-outs is not entirely necessary for a basic subwoofer speaker system, for more advanced and expensive setups, this is crucial.
Cons of Pre-Outs
When it comes to high-quality audio equipment, there are no free lunches. Pre-outs do have some disadvantages.
Pre-Outs Can Be Expensive
One of the main disadvantages of pre-outs is the cost. You will need a more expensive A/V receiver if you want to have a high-end home theater system. It is not cheap to buy a subwoofer A/V receiver with plenty of pre-out options, but you get what you pay for. 
This is discouraging when you're looking for a new receiver since units like the Denon AVR-S540BT 5.2 channel 4K Subwoofer Receiver (on Amazon) may seem like a good deal until you expand them and find that there are no pre-outs.
More Amplifiers Means More Power Consumption
Another consideration when using pre-outs is power consumption. A/V receivers with more power will consume more electricity, and pre-out connections like your subwoofer will also need to be plugged in. Having an advanced system that utilizes more power will cost more in the long run, especially when it comes to home theaters.
Additional Cables and Potential Sound Issues
If you're using most of the pre-out ports on your subwoofer receiver, there will be a lot of cables involved, and things can get confusing. Keep your cables organized and protected at all times. Using a pre-out, speakers and subwoofers can be connected independently without using the amplifier on the receiver.
There may be slight inconsistencies in your sound when using multiple amps. These flaws, however, will be so minor that no one will even notice them. A true audiophile, however, may find these sonic inconsistencies frustrating.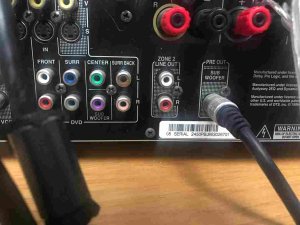 Is Pre-Outs Common on A/V Receivers?
These days, A/V subwoofer receivers come with pre-outs, especially with higher-priced models. Each receiver will have different connections, so be sure to research your options before purchasing.
More expensive receivers will typically have more connections than less powerful models. Many models omit pre-outs at all, but this is usually only the case with the cheaper ones. Today, most A/V receivers with subwoofer pre-outs are available on the market.
How can I use the Pre-Out on My A/V Receiver?
However, previously we discussed how to connect a subwoofer preamp cable to an AV receiver pre-out. Using the pre-outs on your subwoofer receiver is similarly straightforward. Determine whether you will use the receiver's amp or an external amp for your speakers. Locate the corresponding pre-out connection on the receiver for subwoofer speakers with an external amplifier. 
For example, you have several options when connecting your subwoofer via a pre-out. If there are multiple sub inputs, you can also use an RCA cable and Y-Splitter if there is only one RCA cable. Some companies even make a dedicated subwoofer cable.
You should be able to play the audio once your receiver and speaker are connected. Check the connection you made with the receiver – it's easy to insert the cable into the wrong port accidentally. However, you can easily learn how to connect cable to Subwoofer pre-out using the multiple methods mentioned above.
Pre-outs are easy to set up and will allow you to improve your home theater considerably. Utilizing pre-outs is a great way to add to your speaker setup if you're looking for creative ideas.
Conclusion
In order to improve the sound quality of your home theater system, you should consider getting an AV receiver with pre-outs. By using subwoofer pre-outs, you can enjoy better home theater sound. Thanks to this post by our experts, setting it up is easy. You just need to have the right cables.
Read More Interesting Articles Here: