By connecting surround sound speaker systems via Wi-Fi and the main controller, Sonos is transforming home audio streaming. You might be wondering how to connect Sonos wirelessly to your TV.
There are three ways to connect Sonos to TV wirelessly – by Bluetooth, by using the Sonos app, or by using the APTX BT transmitter as an audio receiver. The choice of method would be determined by the setup and the wireless capabilities of the TV and audio device.
Also read: 
Speakers no longer have to be moved between the perfect outlet and the perfect placement for good sound.
You can now focus on the main reason you purchased the speakers in the first place- to enhance the sound quality of music and movies played throughout your home. Keep reading to learn how to connect your Sonos to your TV.
How Do Sonos Speakers Work?
Modern technology is represented by Sonos speakers. With a sound connection to your home's Wi-Fi, they enhance the sound quality throughout the home.
As an alternative to connecting each speaker to the next and running multiple cables through your audio streaming area, you can simply connect them over Wi-Fi and get rid of the jumble of cables.
How to Connect Sonos to TV Wirelessly?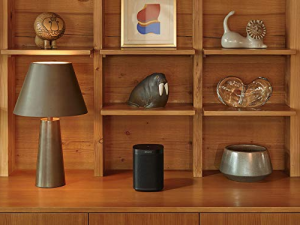 All Sonos speakers are connected to the base (your controller) and controlled through the Sonos App (unless paired directly and controlled by another streaming device). There is no need for cabled connections between the speakers of a Sonos speaker system since they are connected via Wi-Fi.
When planning the best audio output for your home, this is extremely helpful. If you've ever tried creating your own home theater, you know how difficult it is to arrange speakers.
Ideally, you should be able to blend the natural acoustics of your living space with the power and pitch of your speakers.
With Sonos speakers, you can control them using the Sonos App on your Wi-Fi enabled computer or phone. To use the Sonos speakers, you will need to connect them to your home's Wi-Fi network, but you can do this through the Sonos App. You will then be able to stream the audio of your dreams.
Now, when you invite friends over for a thrilling movie night, you can be confident that your speakers will provide an audio thrill ride.
As a result, you don't have to repeat the line given by your favorite actor; you'll be able to hear it, as well as the high and low frequencies in your favorite movie's soundtrack, loud and clear.
How to Connect Sonos to TV Wirelessly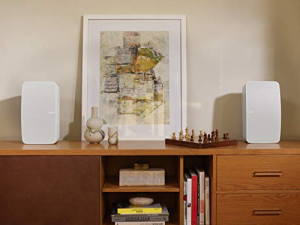 The Sonos surround sound speaker system has the major advantage of being wireless. You won't have to connect each speaker to the next, and your home's media room will become a technological masterpiece. Instead, you can connect them via Wi-Fi and manage them with the Sonos app.
In most cases, the main Sonos speaker is connected via a wired setup. However, do not be discouraged. You can still connect your Sonos system wirelessly to your TV, so there are no tangled, jumbled wires to undermine the beautiful aesthetic of your home theater.
There are a few ways to connect your Sonos to your TV wirelessly. There are a few ways to connect your speakers to your TV: Bluetooth (on Bluetooth-enabled speakers and TVs), the Sonos App to connect your speakers and the main soundbar, or an APTX BT transmitter as a receiver that plugs into your TV without the need for wires.
The following options can be used to connect Sonos to TV wirelessly:
1. Connect the Sonos Speaker to the TV via Bluetooth
You will need to make sure both your Sonos speaker and your TV are Bluetooth-enabled before you can connect them via Bluetooth. Despite seeming obvious to some, it can be a complete oversight for even the most experienced audio enthusiasts.
While you might be planning to pair the two devices in this way, if you have overlooked the fact that one of them is not Bluetooth-enabled, then you might be thoroughly dissatisfied once you discover that you must find an alternative solution.
You will need to use your TV streaming service and connect the Sonos speaker as a Bluetooth device in order to connect the Sonos speaker to the TV via Bluetooth. If you use Hulu, you can go to the Settings section and pick the Sonos Bluetooth-enabled TV speaker from the list while the speakers are on and ready to connect.
How to connect new Sonos speakers to TV via Bluetooth:
Once the TV and Sonos speakers are connected via Bluetooth, the streaming service and the speaker will be able to stream content wirelessly.
You should keep in mind, however, that not all speakers are Bluetooth-compatible, as the Sonos speaker system was designed to provide a Wi-Fi connection for your home's surround sound speakers.
If you purchase a Sonos Bluetooth-enabled speaker, this option is actually quite simple. With a single touch of a button on your speakers, you can turn on the Bluetooth and pair the device with your TV.
If you plan to stream movies or TV shows on your TV, the speakers need to be high-quality.
Some speakers, including some Sonos models, work best with TV music streaming. However, given the Wi-Fi connection that they use, they are not intended for watching movies. So, pay close attention to reviews of various speakers to know which ones are suitable for movies and which ones would work better with music.
2. Use the Sonos App
The best part about the Sonos surround sound speaker system is that it comes with an App and can be controlled remotely via your Wi-Fi enabled phone or computer.
It is especially convenient because you can control each speaker from the comfort of your sofa cushion. You can tune your speakers from your phone rather than manually adjusting them.
Each Sonos speaker in your surround sound system is connected to the same Wi-Fi network as your phone or computer (whichever you plan to use as the controller). With the Sonos App on the controller, you can manipulate the sound to create the audio experience of your dreams.
You will probably still need to connect at least one of the Sonos speakers to your TV via a wired connection to accomplish this. Many people, however, might prefer this option because it allows for only one cable to connect the entire system of speakers, rather than having to find a way to connect multiple speakers in a jumble of cords.
Connect each of your Sonos speakers to the Wi-Fi system paired with your Wi-Fi enabled phone, TV or computer using the Sonos App. As soon as you have established a connection with each of these Sonos speakers, you will connect them to the centralized soundbar.
According to the model you choose, the soundbar is likely to be connected to the TV through an audio input/output cable.
For your main speaker, you will be using a wired connection, but for the rest of your Sonos speakers in your system, you'll be using an App, so you'll maintain a relatively wireless connection. Depending on the Sonos soundbar you choose, you might be able to connect it to your TV wirelessly as well.
3. Connect an APTX BT Transmitter as an Audio Receiver
If you want to connect your Sonos speakers wirelessly to your TV, you can use a connecting device that will enable your speakers to work with your TV via Bluetooth. Once again, this assumes that your Sonos speaker is Bluetooth-enabled, so before you plan on using this feature, you should make sure that it is.
The APTX BT transmitter (see it on Amazon) can serve as a Bluetooth audio receiver to connect to your TV's input/output receiver if you are not using a TV streaming service (like the Hulu example given above).
Basically, this attachment turns your TV into a Bluetooth-enabled device, regardless of whether your streaming service allows it or not.
The APTX BT transmitters are fortunately not very expensive, and they are relatively easy to use.
APTX BT transmitter acts as an audio receiver that plugs into your TV without needing to connect to speakers. Rather than plugging in your speakers, you will connect them via Bluetooth to this transmitter.
You will need to enable Bluetooth on the Sonos speaker as well as the APTX BT transmitter. You will then plug the transmitter into the audio input/output jacks as necessary.
Best Transmitters to Connect Sonos to TV:
The input/output receivers on your transmitter might be different, but they should be pretty clear. It is possible to use the headphone jack if your TV does not have a port labeled for audio output.
Once your Sonos transmitter is connected to your TV and your Sonos speakers are enabled via Wi-Fi, you will simply need to wait until the two devices (the transmitter and the speakers) pair.
Whenever you no longer wish to use the speakers with your TV, you can simply unplug the transmitter, and the two devices will no longer be paired.
While it may seem like a roundabout way to connect your speakers. It is actually pretty simple once you have both your transmitter and speakers set up.
Furthermore, since you can connect the majority of your surround sound speakers via Wi-Fi. To the main speaker and then just connect that one to the transmitter. You won't need to jump through too many hoops.
With the Sonos surround sound speaker system, you can enjoy high-quality audio streaming for the ones you do.
Which Sonos Devices Can I Connect to My TV?
Given the wide variety of Sonos products available, you might wonder which of them you can connect to your TV. If you plan to use these incredible wireless speakers in your media room. To enhance your audio streaming capabilities, then this is an essential step.
However, not all Sonos speakers were designed for the same purpose. If you are new to audio streaming, this might seem frustrating. However, this is part of the beauty that comes with the complexity of sound.
Various speakers are designed to stream various frequencies more effectively. As a result, their shape, appearance, and functionality differ. Therefore, not all Sonos devices can (or should) connect to your TV.
Generally, it is a good idea to check whether your Sonos speaker is meant to stream audio. In the form of music or if you can connect it to movies and other media. Additionally, keep in mind that most Sonos TV devices will need a cable to connect to your TV.
The purpose of this is to avoid mishaps that can occur when multiple devices are using the same Wi-Fi network. Consequently, the cabled connection ensures that the audio is streamed on time. In order to prevent you from hearing the punchline of a joke 20 seconds after it has been delivered on-screen.
Best Option to Connect Sonos Speakers Wirelessly to TV:
In light of this, Sonos offers a few devices that are designed to connect to a TV. Sonos Beam and Sonos Arc are perfect for streaming music or movies to your TV.
Each of these has its advantages and disadvantages. So you will want to assess which one will work best with your larger or smaller space. Either way, a Sonos soundbar will greatly enhance the quality of your TV's sound.
Next, you can use the Sonos One, Sonos SL, or Sonos. Move paired directly with your soundbar (although indirectly with your TV). You can connect them all through the Sonos App to improve the audio quality in your surround sound speaker system.
To stream your TV audio, you can connect the Sonos Play:5. To the output port on your TV (which appears as a headphone jack). It is probably the only way for this to work if this connection is available on your TV.
Additionally, if you only intend to use the speakers to enhance holiday tunes. That you plan to blast throughout your home. Perhaps at your next social gathering, you can use the Sonos Connect or Connect:Amp.
It is best to select another option. When using the Sonos surround sound speaker system for watching movies in your house instead of these.
How to Set Up Your Sonos Surround Sound Speaker System?
Do not worry if you are just beginning to set up your Sonos surround sound speaker system. For those of us who are less technologically savvy, this system was made to be user-friendly.
In order to set up your Sonos surround sound speaker system, you need to first download the Sonos App. Following the step-by-step instructions in the App, you will pair the individual Sonos speaker. Then pair each speaker in your system one by one.
The Sonos App and connecting this system will be a dream come true. If you have ever set up a home theater surround sound system before Wi-Fi enabled speakers were available. Then, this will seem like magic to you.
If this does not come naturally to you. You can always look up the steps for your specific speaker online or in your manual. Then, you're ready to stream your favorite music.
Read More About: