This article aims to help you resolve the error "SIM not provisioned." I recently changed my Phone, so I had to change my SIM card as well.
Both phones were carrier unlocked, so I knew you could swap SIM cards quite easily.
However, as soon as I inserted my SIM card into the new phone, I received an error message: "SIM Not Provisioned."
Since I couldn't use my Phone or pick up work calls, I missed some important work developments.
I searched for a solution online; I checked my provider's support pages and general user forums.
Using what I found from my research, I created this guide to help you fix a "SIM Not Provisioned" error.
Re-insert the SIM card to fix the "SIM Not Provisioned" error. If this does not work, try using the SIM card on another phone or restarting your Phone if this does not work.
What Does "SIM Not Provisioned" Error Mean?
The "SIM Not Provisioned" error means that your SIM card hasn't been authorized for use on your carrier's network.
Indeed, all sim cards must be activated before they can be used, but if you had activated yours before on the same Phone, something else might have been wrong.
Reasons for "SIM Not Provisioned" Error
If a SIM provisioning error "SIM Not Provisioned" occurs, it can be a carrier-side issue, or it could be that the SIM card itself is damaged or the SIM slot is damaged.
In addition, there can also be software or hardware bugs on your Phone that cause the "SIM Not Provisioned" error.
It is also possible to encounter a "SIM Not Provisioned" error if you have been out of your carrier's network and recently returned to it.
The least likely reason is that your Phone isn't carrier-unlocked, which means it won't work with SIM cards from carriers other than the one you're contracted with.
Ensure SIM is Inserted Properly
SIM cards in newer smartphones are housed in a flimsy tray that can flex and bend when inserted which can cause a "SIM Not Provisioned" error.
Moreover, your Phone also may not recognize the SIM card properly if the SIM is not touching the internal contacts properly.
Then, Remove the SIM card and gently re-insert it.
Keep the card flush with the tray to prevent it from bending and missing the contacts.
If your Phone has a visible SIM slot, you can clean the contacts with a dry earbud or a microfiber cloth.
Additionally, consider trying all of these with both SIM slots if you have a dual-SIM phone.
Restart the Phone
The next step is to restart your phone to fix the "SIM Not Provisioned" error.
The "SIM Not Provisioned" issue may be resolved by resetting all recent settings changes.
To restart an Android device, follow these steps:
Gently hold down the Power button just for a few seconds.

The power options will appear in a pop-up menu.

Select "Restart" or "Power off."

Holding the power button again will turn your Phone back on if you have chosen "Power off" after the Phone has completely shut down.
How to restart an iOS device:
Firstly, press and hold the power button. The button location varies by model.

Then, you will see a "Power off" prompt. Slide it away to turn it off.

To turn the phone back on, press the Power button and hold it until it turns back on.
Activate Your SIM Card to Fix 
the "SIM Not Provisioned" Error
A SIM card usually activates itself when it's inserted into a device, but sometimes it won't, and you have to activate it manually.
The method of activating a SIM varies by carrier, but the most common are:
Dialing an automated number.
Text messaging.
Access your account on the carrier's website.
Find out how to activate your SIM card by contacting your carrier.
Try Using the SIM on a Different Phone
If the " SIM Not Provisioned " issue persists, try using a different phone with the SIM card if the "SIM Not Provisioned" issue persists.
Moreover, if your Phone was the issue all along, this would ensure that it wasn't the SIM card or carrier.
Turn off both phones and remove the SIM card from your current phone.
Insert the SIM card into the other Phone and turn it on.
In addition, make sure the SIM card has been authorized and activated.
See if the "SIM Not Provisioned" error reappears.
Update Carrier Settings
If you change the SIM card on your new Phone, you might also need to update the carrier settings.
However, if the update doesn't happen automatically, you will need to search for it manually.
How to update carrier settings on Android:
Navigate to Settings > About Phone.

Select Update profile. Look under System updates if it's not there.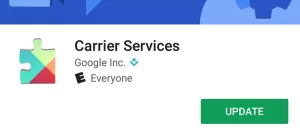 If you cannot find these settings, try this:
Select Settings > More.

Go to Cellular networks > Carrier settings.

Select Update Device Configuration.

When it's finished, click OK.
How to update carrier settings on iOS:
Join a WiFi network.

Dial ##873283# from the dialer app.

Press Call.

Choose OK when "Starting Service Update" appears.

Click OK once the update is complete.
Replace the SIM Card
If none of these troubleshooting tips and methods fix the "SIM Not Provisioned" error, you will have to replace your SIM card.
You could try contacting your carrier, but I suggest visiting your carrier's nearest store or outlet.
If they need to replace your SIM card or fix your "SIM Not Provisioned" provisioning issue on the spot, they can run checks on it.
Don't worry if they say you need a replacement.
Indeed, the store can handle swaps like this and get you back on your network as soon as possible.
Contact Your Service Provider
The "SIM Not Provisioned" error did not go away after replacing your SIM card?
Get in touch with your carrier to resolve the "SIM Not Provisioned" issue.
Make sure they know what troubleshooting you did, including getting the SIM replaced.
You may even walk out with free stuff if they escalate the "SIM Not Provisioned" issue.
Is The Error Gone?
If the error is fixed, run an internet speed test on your Phone to ensure the connection is working properly.
Run an internet connection speed test at fast.com or speedtest.net.
You can also use the WiFi hotspot.
Fixes for your personal hotspot on iOS exist that will allow you to have it up and running in seconds.
Even if you can't use your SIM card, you can still use WiFi on a deactivated phone.
Read More Articles: