Many households around the world use Samsung TVs. Famous for their reliability and advanced technology, Samsung TVs are among the best. Samsung has set the bar high for the tech market.
There are a lot of options when purchasing a new technological device. It is always advisable to research the various products, the services they offer, price comparisons, and consumer reviews. However, it is equally important to know how reliable and well-made the devices are.
Samsung's headquarters are in South Korea. However, your TV could have been made in several countries around the world, including Thailand, Vietnam, China, Europe, South America, and even the USA. Samsung televisions are known for being extremely reliable and lasting, regardless of where they are made.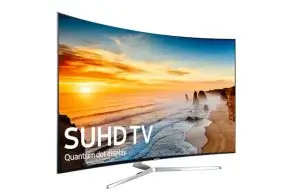 But how does Samsung supply TVs in so many countries? 
Manufacturer

countries of

Samsung TVs:
How and where are Samsung TVs made?
Continue reading to learn:
Where Samsung's largest TV factory is located.

Samsung TVs are manufactured in 15 countries around the world.

These are the countries that supply TV products to Europe.

There is so much more…
Where are Samsung TVs made?
The first TVs were made in Korea. Soon after they became popular, they were exported all over the world. This prompted Samsung to build several manufacturing plants in different countries. China, Russia, Mexico, Vietnam, India, Romania, Brazil, and others.
Where are Samsung TVs made?
#1: South Korea
Samsung is a manufacturer and brand of electronics that originates from South Korea.
The Samsung company's headquarters and very first factory are in their homeland.
Their TVs were first produced in South Korea. Suwon is where Samsung built its first large factory complex.
However, not until 2018…
Samsung discontinued the mass production of TVs in South Korea in June 2018.
The factory in Suwon was repurposed for the production of pilot test equipment.
If you bought your TV after 2018, it was most likely not manufactured in the country of origin.
Older models can still be purchased from South Korea. However, these are rare.
#2: China
Samsung has built a manufacturing plant in China, one of the first few countries to do so.
Their TVs have been produced in China since 1993.
"Does that mean that my Samsung TV is from China?"
One thing is inevitable if you live outside China and its neighboring countries. Your TV is not manufactured there.
This is because 90% of TVs manufactured in China are bought by local consumers. Moreover, China exports 10% of its goods to neighboring countries, such as Mongolia.
Samsung Electronics Inc. recently closed down its only TV factory in Tianjin, China.
According to their spokesperson, this action is necessary to boost production efficiency.
Samsung will cease local TV production in China at the end of 2020.
As a result, it is very less likely that Samsung TVs will come from China in the future.
#3: Mexico
Samsung's largest TV manufacturing facility is also located in Tijuana, Mexico.
Samsung manufactures about 18 million TVs each year.
In the American market, TV products are produced at this factory.
Therefore, your TV is probably made in Samsung's Mexico plant if you live in America.
Trivia: Many tech giant companies have manufacturing plants in Tijuana. This is because labor and production are cheap here.
Watch this amazing video to see what goes on inside a Samsung factory!
#4: Brazil
Samsung TVs sold in South American markets are made in Brazil.
Especially in Manaus.
TVs are only manufactured in Brazil for South America, unlike Mexico.
Since 1995, Samsung has been manufacturing various electronics in Brazil.
In 2019, the Samsung Brazil factory could produce more than 10 million TVs.
TVs are in high demand in South America.
Check out: GE Universal Remote Codes for all
#5: Vietnam
Vietnam is home to one of the largest Samsung manufacturing plants in Asia.
The Samsung factory complex in Thai Nguyen province employs about 60,000 Vietnamese.
Large enough to supply TVs in many parts of Asia, Australia, and Africa.
Trivia: Samsung's factory in Vietnam is the largest in the world.
Samsung moved production from China to Vietnam when it discontinued the TV factory there.
Increase the production rate of the factory. Create more jobs for the Vietnamese.
#6: Russia
Samsung TVs sold in Europe come from Russia in some cases.
Samsung became the top electronics brand among Russian households in 2008.
In the same year, Samsung Electronics Inc. built a TV manufacturing plant in the Kaluga Region.
It addressed the high demand for TVs and other home appliances among locals.
If you're Russian, you can be sure that your TV is made in Russia.
#7: Hungary
Hungary is also a country that manufactures Samsung TVs in Europe.
In 1989, Samsung established a manufacturing plant in Jászfényszaru, Hungary.
About 2500 local workers worked in the factory.
The Hungary TV factory continues to increase its production rate years later.
Samsung continues to sell more TVs in the local European market.
Samsung built a new plant in the same town in 2014 to mark its 25th anniversary.
#8: Slovenia
Slovenia is also home to a Samsung manufacturing plant not far from Hungary.
Some TVs in the European market come from Slovenia, like those in Russia and Hungary.
Locally manufactured all parts and types of machinery.
#9: Slovakia
Samsung has also built two manufacturing plants in Slovakia.
One of them was already closed.
Voderady City used to be the location of the closed factory. The factory made TV components and shipped them to the main factory.
In 2017, the closed factory merged with the Galanta plant.
Galanta City is the central factory. It is the only Samsung plant in Slovakia.
This plant also produced TVs for the European market.
#10: Romania
In the early 2010s, there was a high demand for newer television models in Romania.
Samsung has built a local manufacturing facility in the country.
Initially, small quantities of TV components were produced.
The company later began manufacturing monitors and assembling Samsung televisions.
#11: Malaysia
Malaysia is one of the Southeast Asian countries with a Samsung plant.
TVs sold in many Asian countries originated in Seremban, Malaysia. 
Samsung Electronics Inc. decided to cease operations in Malaysia in 2016.
The reason for this closure was the changing market conditions in the country. 
Samsung transferred its TV productions to Vietnam as a result.
#12: India
Samsung has been manufacturing TV sets in Chennai, India, for many years.
However, only until 2018.
The Indian government imposed taxes on imported TV components in 2018. The company discontinued local production in India as a result.  
Samsung TVs imported from Vietnam have been sold in Indian markets since then.
In the end, the Indian government abolished some duties on the said policy at the end of 2020.
Samsung Electronics Inc. could now set up a local TV manufacturing facility in India.
Samsung sells TVs made in this factory in India and other Asian countries.
#13: Egypt
Samsung Electronics Inc. built its first TV manufacturing plant in the Middle East and Africa (MEA) region in 2013.
Especially in Beni Suef, Egypt.
TVs made in this factory are cutting-edge QLED models. Middle Eastern and African markets sell them to local consumers.
Eight years later, Samsung Egypt is still producing high-quality television sets.
This is an outstanding achievement and milestone for the company.
#14: South Africa
In Egypt, Samsung now has its first manufacturing plant in MEA.
In 2018, Samsung decided to build its second African TV factory at the Dube TradePort.
South Africa's KwaZulu-Natal province it's a logistic hub.
This South African plant can produce 5,000 units a day after investing $20 million.
Its goal is to supply TVs to Africans.
Indeed, Samsung sells most TV sets made in this factory in South Africa. Moreover, SADC countries sell several other products.
#15: Pakistan
Samsung continues to meet the demands of consumers for Samsung TVs.
In Pakistan, a new manufacturing plant opened this year.
Moreover, Samsung Pakistan aims to produce 50,000 TV sets per year in collaboration with R&R Industries. 
TVs are available in many Asian countries.
The government of Pakistan believes that this action will improve the country's economy. 
It will also attract foreign investment and increase exports.
Read also: Samsung Universal Remote codes and setup Guide for TV
Are Samsung TVs reliable? Where are Samsung TVs made?
Samsung TVs are popular in many countries due to their durability and advanced features. Thus, the Samsung name comes under the most trust and reliable brand.
This is a display technology that produces more vivid and brighter colors. However, it is not available on other TV displays.
Other than that, most TVs offer a 4k or UHD resolution display. This allows users to experience more realistic and detailed images. 
You'll love a TV if you're a movie buff or a gamer. 
However, many of its models are smart. This means you can use your TV for many other purposes.
However, their TVs can last up to seven years. Only if you are a heavy user. Otherwise, expect it to last even longer. 
Ensuring that each user gets the best possible experience. Protecting and securing your device.
Read More: