Back then, only one computer could be connected to the internet at a time using a modem. If WIFI is available, multiple devices can be connected to the internet simultaneously, but in any case, the devices need to be close to the WIFI router to avoid unstable and slow connections. One solution is to use mesh networks. So that the devices can connect to the nearest mesh router, you have multiple WIFI mesh routers instead of one router. However, in this article, we provided a comparison of Eero vs Google WIFI.
The question is, how do you decide which WIFI mesh network is best for you based on your own criteria? Take into account the tri-band connection, parental controls, mobile app compatibility, and ease of installation? In the case of comparing Eero vs Google WIFI, what would be the best option?
Ero and Google WIFI appear to be the best competitors in the world of WIFI mesh networks. In this Eero vs Google WIFI comparison article, we will compare their respective performance.
Here's a quick Eero vs Google WiFi comparison table and how we rank them!
|   | | |
| --- | --- | --- |
| | | |
| | | |
| | 4 units for upto 5500 sq ft. | 4 units for upto 4450 sq ft. |
| | | |
| | NA | |
| | | |
| | | |
Eero vs Google WIFI : Similarities
Comparing Eero vs Google WIFI, one thing they have in common is that even though they cost different amounts, they are both reasonably priced for most people.
The installation process for Eero vs Google WIFI is similar, taking a few minutes to complete.
You will find that both devices come with Gigabit Ethernet ports as well. In order to support both networks, nodes are located throughout your home.
There are some people who would like to replace their whole router, while others are fine with just extending the range of their WIFI networks. When it comes to Eero vs Google WIFI, each of these products provides bridge mode, although their capabilities may differ. The bridge mode of Google WIFI, for example, will only work if you have just one Google WIFI point.
Eero Vs Google WIFI: Technology
Google WIFI vs Eero, both routers both feature BeamForming technology. It is useful because it sends signals to your devices instead of broadcasting them throughout the house, and the result will be a faster and more stable connection.
Both Eero and Google WIFI routers feature LED lights that indicate the status of the device and assist with setup.
Their smart-home compatibility makes them ideal. You can connect Eero and Google WIFI routers to a smart hub like SmartThings to connect all of your smart home devices together.
Additionally, your home's WIFI dead zones are reduced with these two WIFI routers. Using multiple points, they create a mesh around your home, providing WIFI access in every corner.
Now, let's look at Eero vs Google WIFI in more detail.
The Duel – Nominee For Best Mesh Router
Eero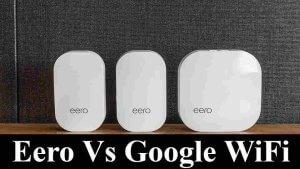 Cost
It costs $249.99 and comes with one Eero, which is the primary unit, and one Eero beacon, which extends the network and covers approximately 2100 square feet. 
Alternatively, Eero offers you a $550 bundle that includes these features:
A system with one Eero and two Eero beacons.
Modem from ARRIS Cable.
A two-year subscription to Eero plus that includes all security features.
It provides coverage for 5000 square feet.
Layout
A glossy white finish finishes the sleek design of the Eero WIFI router, which has soft round corners. As a result of the router's minimalistic design, it does not attract a lot of attention or cause any inconvenience.
There are two units in the package: the main unit and the beacon unit. Instead of plugging the beacon into a flat surface, you should plug it into an electrical outlet.
Key features include:
An Eero router would be a good choice for DIYers. Once you have installed the Eero app on your iOS or Android device, follow the simple instructions for setting up the router.
Internet security is something you need to be concerned with if you use the internet, and anyone using the internet wants their data to be protected. With the Eero secure subscription service or the Eero secure+ subscription service, you can receive services like content warning, ad blocking, threat scanning, etc., that enhance network security. Additionally, automatic software updates will make your computer safer and more secure.
Eero can also be downloaded and installed on Android and iOS devices. App features include checking device usage, monitoring your network, sharing your network, and pausing the internet when necessary.
You can also use Alexa to manage WIFI access for devices and individuals within your house with the WIFI mesh network router.
With the built-in WIFI mesh network in the Eero WIFI router, you can surf, stream, download, play games, and more using your fast and reliable WIFI connection. Furthermore, the fact that it covers around 5000 square feet means you have a stable internet connection throughout your entire home  
Furthermore, it supports IEEE 802.11a/b/g/n/ac tri-band WIFI and works with your existing internet provider
In addition to beamforming, Eero also enables you to direct your router's internet signal to your connected devices rather than broadcasting it throughout your home.
Moreover, the device features a RAM of 1024 MB and a flash memory of 1 GB.
Advantages
Improved internet security and safety
Integrated with Alexa voice assistant
Improved WIFI coverage
of 5000 square feet, which is quite impressive
Compatible with most internet providers
Quick and easy installation
App for controlling WIFI
Disadvantages
Slow router for big tasks
Google WIFI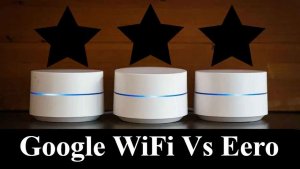 Read More: