You can use your Wave Broadband remote as a universal remote control for your TV. This means that instead of switching between remote controls, you can simply make use of your Wave Broadband remote for your electronic gadgets.  It saves you the stress of alternating between remote controls. This post outlines the Wave Broadband remote codes for you. You will need this code the first time you have to connect your broadband remote to your TV. The good thing is that you only do this process once. You save the code for subsequent use.
What is Wave broadband?
A Wave broadband is high-speed internet, digital TV, and smartphone provider. Wave provides universal remotes, which are easy to operate and program. It offers cable TV channels and local channels, and paid subscriptions. It has a streaming app and other various benefits.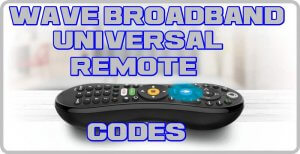 Wave Broadband Cable Universal Remote Codes (4 digits)
4079
4132
1376
2187
3560
0476
0897
2479
Wave Broadband Cable Remote Codes (5 digits)
52479
52345
51376
52187
52343
53569
54079
How to Program A Wave Broadband Remote To TV
Step 1. Copy any of the codes listed above and keep it handy. Remember that, in some cases, you may need to try more than one codes until you get the correct one.
Step 2. Ensure the TV you want to program is turned on.
Step 3. Hold the Wave Broadband remote close to your TV.
Step 4. Press and hold down the OK/SELL button on your remote. You will have to hold down this button for a couple of seconds to enable it enter the programming mode. You will know the remote is in programming mode if the Tiny LED light turns on.
Step 5. Key in the codes you got from earlier using the number buttons on your Wave broadband remote button.
Step 6. Press the On/OFF button on the remote. If your TV turns on, Viola. It means you got the right code. If not, return to step 4 and try out another code.
Step 7. To save the code, press the TV button on your remote and hold down for 30 seconds. The code will be stored in the remote's database.
What are the benefits of Wave Broadband Universal Remote Codes?
Wave Broadband Universal remote has various benefits some of them are listed below:
The device is simple to use and is pocket friendly. 
It reduces your stress and saves your time as you can find the remotes of all the appliances in one place.
It is relatively easy to program and operate.
You can save the codes for next time so that you don't have to follow this entire procedure again.
This article might have made your work easier and reduced stress in your life. Feel free to comment if you have something in your mind, or you need any further help related to Universal remote codes.