Whether you're shopping around for a new Internet Service Provider (ISP) and considering Spectrum Internet, or you've already made your choice, the next step is ordering and installing your service. However, you can follow the guide mentioned below to learn how to configure internet setup of Spectrum self installation using self-install kit.
We will guide you through both self install and professional installation of Spectrum service. When it's time to get to work, you'll have a clear picture of what to expect.
We'll also discuss equipment and whether you should rent from Spectrum or buy it yourself.
Use the quick links below if you already know what information you need.
Are you looking to sign up for Spectrum? Before you read up on installation, see if it's available in your area.
Self-install Spectrum Internet
Installing your Internet service yourself is simple, and Spectrum setup guide includes simple instructions in the self install kit. We've outlined the process below.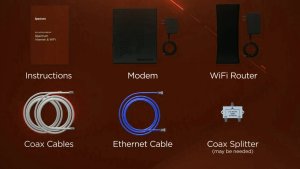 How to order your Spectrum Self Install Kit
If you decide to do the installation and setup yourself, you'll need a Spectrum self install kit to setup your internet. The kit is free. You can request a self-installation kit when you order Spectrum Internet over the phone or online.
Moreover, you can still order Spectrum Internet even if you didn't request a self install kit when you ordered it. You can request one from Spectrum customer service.
When your kit arrives, the first thing you should do is check that nothing is missing. Give Spectrum's customer service a call if you notice an item is missing.
What's in your Spectrum self installation kit?
Spectrum Self Install Kit includes everything you need to get up and running with setup quickly with your new Internet service:
Instructions and a welcome guide

the modem

WiFi router

Ethernet cable

Coaxial cable

Power cables (2)
Ensure that everything is accounted for before you begin the Spectrum self installation and setup. When you realize there's a missing piece before you begin, it's better than when you're in the middle of it.
Self-installing your Spectrum Internet service
It's time to start the party once you've verified the contents of the Spectrum self install kit and ready to setup your internet! Here are the steps to hook up your Spectrum modem and router:
Connect one end of the coaxial cable to the modem and the other to a cable outlet.

Connect one of the power cables to the modem, and wait for it to connect. The online indicator will turn solid once it's connected. It may take up to five minutes.

Plug the Ethernet cable into the modem and wireless router.

When the WiFi status light is solid green, you're ready to connect your devices. Turn on the router with the other power cable. It can take up to ten minutes for it to get going the first time. You're

Connect your computer to the Spectrum WiFi network. The network name and password are located on the back of the router, or the stickers are included with your installation kit.
You're done! Go online and activate your service.
Activating your Spectrum Internet service
Spectrum service activation shouldn't take long. As soon as you have the router connected, simply open a web browser and connect to your new WiFi network. This will automatically take you to the Spectrum activation page.
Don't worry if activation doesn't begin automatically! 
Simply visit spectrum.net/selfinstall to get started.
Pro installation vs self-installation
Pro install
Pros
You don't need any technical experience.

Technician on-site to troubleshoot issues.
Cons
If you don't get the Triple Play, there is an extra fee.

At-home time commitment is required for an appointment window.
Self-install
Pros
Customized installation timeline.

At no extra charge.
Cons
Troubleshooting issues cannot be done in person.

Requires some technical knowledge.
Is Spectrum self-installation right for you?
Are the convenience and cost savings worth the possibility of troubleshooting equipment on my own? Would you rather pay for it to be done professionally? A Spectrum self-install is an excellent option if you're comfortable troubleshooting. Otherwise, a professional installation can save you some headaches. Additionally, Spectrum's installation fee is lower than its competitors.
Pro install Spectrum Internet.
Pro installation breakdown
| | |
| --- | --- |
| Cost | Appointment window |
| $49.95 | Up to 3 hrs. |
Why it's good
There are several advantages to having a professional do all the work. You don't need any technical experience to get things running. Your service technician will take care of everything. The most significant advantage is that someone is already on-site to fix it if something goes wrong.
What to expect
When ordering your service, you can choose between self-installation and professional installation. With the professional option, you can schedule an appointment and choose how you want to receive reminders (by email, text, or phone). You'll receive a notification the day before your appointment to confirm the time.
How to prepare
There are a few things you can do to prepare for your installation:
Clear the area where the technician will work.

Consider where you want new outlets installed.

Make sure all computers and TVs (for Spectrum TV service) are in the house at the time of the appointment.
Heads up!
The installation fee is waived if you order one of Spectrum's Triple Play bundle options.
Equipment: renting vs buying
Renting
Pros
Compatibility guaranteed.

At no additional charge.
Cons
Some advanced features may be lacking in standard equipment.
Buying
Pros
A greater degree of customization.

Enables you to keep the equipment.
Cons
Depending on the features you need, a higher price.

Usually, less technical support.
Renting
As Spectrum includes a modem and router at no extra charge, it makes a lot of sense to use the provided equipment. In addition to being included in your service, it is guaranteed to work. Tech support and troubleshooting will also be much easier.
Buying
Spectrum provides a list of recommended modems if you want to use your equipment. You won't have to guess if a piece of gear will work with your service by doing this. Large or active homes may benefit from a more advanced third-party router.
Our verdict
We recommend sticking with your ISP's modem and router unless you know you need something specific. Exceptions to this rule are larger homes that may benefit from a mesh network, which would need to be purchased separately.
Enjoy your Spectrum service.
Setting up Spectrum is just the beginning, whether you hire a pro or do it yourself. Kick back, fire up your computer, and enjoy!
Read More Interesting Topics Here: