What is Microwave Internet?
Microwave Internet is an internet connection delivered over 'the last mile' by a high-capacity microwave radio link, also known as radio shot, WiMax, WiFi link, wireless internet, or our own IVM (internet via microwave). The benefit is that it does not require any infrastructure (other than power) at the client end, with no cables, ducts, or phone lines. Moreover, is microwave internet speed faster? To find out answers to such questions, please keep reading below.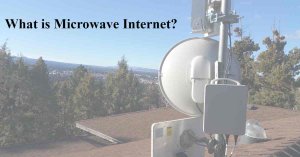 How does Microwave Internet work?
Microwave Internet always starts with a fiber connection at a point of presence (PoP) connected to the national fibre network and, therefore, the internet. The interface of the radio transmits the internet access over the air and is converted back into a cable at the customer's end via a router. A microwave internet connection uses high-frequency radio waves (invisible to WiFi devices) to transmit an encrypted signal that is decrypted and converted back into a copper or fibre connection at either end of the radio link.
How fast is Microwave Internet?
Microwave Internet provides the same upload & download speeds as conventional fibre leased lines – from 10Mbps to 10Gbps, depending on your business's needs.
Is Microwave Internet safe?
The Microwave internet links are configured to comply with EU and UK standards, and all hardware will be CE-marked. It depends on the hardware manufacturer how close you should get to the antenna, but if you don't put yourself directly in the path of the radio (the direction it faces), then you are fine to get within a meter or so of the antenna. You are safe as long as you are on the other side of a brick or clad wall from the radio because the wall acts as an attenuator.
Is Microwave Internet speed affected by weather?
The impact of adverse weather on radio signals can almost always be mitigated by deploying a backup link using frequencies not impacted by bad weather, e.g., a 70GHz 1Gbps link with a 5GHz 300Mbps backup. In addition to adaptive modulation, a microwave internet radio link can automatically reduce its speed when bad weather strikes to ensure reliability and then increase again once the weather improves. As a result, we may deploy a link with a capacity of 300Mbps to ensure a service speed of 100Mbps 99.99% of the time, regardless of weather conditions; in fair weather, the spare capacity is not utilized, but in case of bad weather, the link would not drop below the service the client is paying for, which is 100Mbps.
What is latency like on Microwave Internet services?
This solution works with VoIP, video conferencing, web browsing, Office 365, and any other specialist software. In fact, it is often faster than a fibre cable since it does not pass through an exchange but rather enters the national fibre network directly. It is important not to confuse this solution with satellite broadband, which can suffer from high latency and adverse weather conditions.
Is Microwave Internet a cheap wireless internet service?
APC's Microwave Internet or IVM is always a dedicated link just for one client; it is not shared with anyone else and comes with a service level agreement, much like a fibre leased line. Uncontended internet access is, by its nature, more expensive than shared broadband services. Microwave Internet solutions are competitively priced with fibre leased lines and other Ethernet circuits but more expensive than home or shared business FTTC broadband services.
Why would you use this solution if you can get cost-effective fibre?
Microwave Internet is a great backup solution for fibre because if a fault occurs with fibre, whether it be an ISP signal drop or a fibre break in a duct, or a problem back at the exchange, the microwave internet solution will likely not suffer the same failure, allowing continuity and resilience planning not to be reliant on just one technology. In the event of a business-grade fibre failure, 4G alternatives are not reliable enough to guarantee service and speeds. Two fibre cables installed in different parts of a building in one have been found to be inadequate. Because they have met or crossed either in a duct or over a bridge much further back in the operator's network.
How far can microwave internet go?
The microwave internet can be used to provide ultrafast connections over distances of several tens of kilometers. To date, our longest connection spans 70 kilometers, ensuring 99.99% uptime with high-speed connectivity.
Is microwave faster than fiber optics?
Both connections are ultra-low latency, but microwave internet is faster than fiber optics. With an end-to-end latency of under 1ms, whereas fiber optics has a latency of about 1.6ms.
Key Benefits
More Reliable Than Leased Lines

 

This is due to the fact that the connection is wireless via microwaves. Unlike physical cables, it does not depend on hazards such as floods, fires, road works, or other factors beyond your control.
Easy Installation
Microwave wireless internet can often be installed and fully functional within two weeks since no major construction is required.
99.99% Uptime Guarantee
It is greater than what you get with most leased lines.
100% Dedicated Line
This means you are the only one using the connection. There are no other users accessing it during peak hours and slowing it down. Instead, it works consistently fast regardless of the time of day.
It has ultra-low latency.
Video conferencing, VoIP calls, web browsing, CCTV, pro gaming, Office 365, and more.
Faster speeds than ever before
Depending on the needs of the business, symmetrical upload and download speeds of 100Mbps to 10Gbps.
Other Benefits Include:
1 – 100+ users
Public static IP
SLA
Short contract lengths
Diversity as standard
Unlimited data allowance
Fully managed options
Weather-resistant
MPLS option
Limitations
Line of sight is required

.
Since the connection is over the air, direct line of sight is necessary between both points. In some cases, this can complicate installation.
There is a limited availability.
In the same vein as the previous point. Microwave wireless internet is not available in all locations throughout the UK. Click here and enter your business's postcode to find out if it's available for your business.
Read Next: