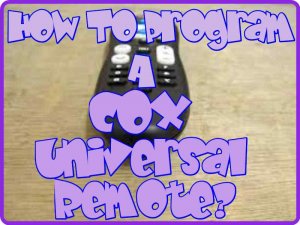 If you just bought a Cox Universal remote control and searching for how to sync it with the device, you have come to the right place. With the Cox universal remote, you can program it and use it to control different gadgets at once. So instead of switching between multiple remotes when you want to switch the volume on your TV and DVD player, you can use your universal remote to do so. Thankfully, like most universal remotes out there, the Cox remote comes with the 'Code Search' option. Also, the process of how to program a Cox universal remote is easy. A newbie can get it done in minutes by following the steps listed below.
How to program a Cox Universal Remote with SETUP button
Step 1. Ensure you turn on the device you want to sync with the universal remote.
Step 2. Hold your Cox universal remote to face the device you want to program.
Step 3. Find the power-up button on the remote and press to suit the device you want to sync. For instance, if you want to sync a TV, Press the 'TV' key. For a DVD, press the 'DVD' option.
Step 4. You will find the 'Setup' button at the top of the remote control. Hold down the button for several seconds until the tiny LED light on the remote blinks three times. After that, you release the 'SETUP' button.
Step 5. Find the 4 digits cox universal remote codes for your TV brand and key in the numbers. If you get this right, the tiny LED light on top of the remote control will blink twice.
Step 6. Find and press the 'Power' button on top of the remote. Press the 'Power' button again, if your TV turns on, Voila. You have successfully programmed your Cox universal remote.
4 digits Cox Universal Remote codes for Popular TV Brands
Admiral 0093, 0463
Advent 0761, 0783, 0815, 0817
Akai 0812, 1675, 0702, 0765, 0030
Apex Digital 0748, 0879, 0765, 0767, 0890
Citizen 0060, 0030, 0092, 0039, 1671
Coby 1538, 1634, 2306, 2314, 2315
Daewoo 0154, 0451, 0092, 1661, 0039
Dell 1264, 1080, 1178, 1403, 1863
Durabrand 0463, 0180, 0178, 0171, 1034
Dynex 1463, 1785, 1810, 2049, 2184
Element 1687, 1886, 2183
Emerson 1864, 0154, 0451, 0236, 0463
Envision 0030, 0813, 1365, 1589, 2014
Fujitsu 0809, 0683, 0853
Funai 0000, 0180, 0171, 1271, 1904
General Electric 1547, 1447, 0047, 0051, 0451, 0765, 0178, 1347, 1907, 1922
Gold Star 0178, 0030, 0039, 1926
Haier 1034, 0768, 1748, 1749, 1753
Hisense 0748, 1314, 1660, 2098, 2355
Hitachi 1643, 1145, 0145, 0679, 0724
iLo 1286, 1394, 1603, 1665, 1684
InFocus 0781, 1164, 1430, 2199
Insignia 1423, 1564, 0463, 0171, 2432
Jensen 0761, 0815, 0817, 1299, 1326
JVC 0463, 0053, 0650, 0731, 1253
LG 1423, 1447, 0017, 1265, 0178
Magnavox 1454, 1866, 1755, 0054, 0051
Mitsubishi 1250, 0093, 0150, 0178, 0836
NEC 0030, 0704, 0882, 1398, 1704
Optimus 0250, 0154, 0166, 0650, 1924
Orion 0236, 0463, 1463, 1905, 1911
Panasonic 1480, 0250, 1457, 0051, 0650
Philips 1454, 1866, 0054, 0690, 1154
Proscan 1447, 0047, 0030, 0466, 1347
RCA 1547, 1447, 0047, 0051, 0093
Samsung 0812, 0060, 0702, 0178, 0030, 0039, 0587, 0650, 0766, 0814, 1060, 1575, 1632
Sanyo 0054, 0154, 0088, 0799, 1142
Sceptre 0878, 1217, 1360, 1599, 2337
Sharp 0818, 0093, 0039, 0688, 0851
Sony 0810, 0000, 0834, 1685, 1786, 1904, 1925
Toshiba 1524, 0154, 0156, 1256, 1265, 0060, 2724, 2006, 1959, 1945, 1936, 1935
Viewsonic 1755, 0724, 0797, 0857, 0864
Vizio 1758, 0864, 0885, 1756, 2512
Westinghouse 1712, 0451, 0885, 0889, 0890
White Westinghouse 0463, 1661, 0623
Yamaha 0030, 0769, 0797, 0833, 0839
Zenith 0000, 1423, 0047, 0017, 0463