You can program your RCA universal remote control to work on your Digital Stream Converter box. To do this, you will need the Digital Stream Converter Box Codes For RCA Universal Remote. The Digital Stream Converter box enables you to access digital contents on your analogue TV. So instead of spending more on getting a digital or smart TV, the Converter Box saves you money and gives you access to the same contents available on a digital TV. On the later part of the article, you will find a short guide on how to program your Converter box with your universal remote control.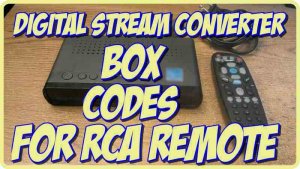 Digital Stream Converter Box codes for RCA Universal Remote
1256
1273
4674
4673
4739
4837
1123
1165
1123
1129
1127
4657
1253
1234
1263
1762
1623
1272
How to program Digital Stream Converter Box with RCA Universal Remote
Step 1. Ensure that you turn on your Digital Stream Converter Box you want to program.
Step 2. Hold your RCA remote close to the Converter box.
Step 3. Press and hold the 'SAT-CBL-DTC'button on your remote. Your remote enters the programming mode when you press the button.
Step 4. Enter any of the codes listed earlier on this post using the number button on your remote.
Step 5. Press the 'OK; button to save the code you entered.
Step 6. Try any of the function buttons on your remote. If it works, then you got the process correctly. If not, repeat from step 3 and 4 and try another code until you get the right code.
Frequently Asked Questions
Do I need a digital converter box for my tv?
Yes, You will need a digital converter if you use an analogue TV and want to get access to digital contents.
Can I Use Any Remote Control On My Digital Stream Converter Box?
Yes, As long as it is a universal remote control.