Toshiba TV Universal Remote Codes and Programming Guide
Toshiba is one of the famous Television brands in the market. Usually, a Toshiba TV comes with remote control. But if, for whatever reason, you lost your Toshiba TV remote, or it got ruined, you can access a universal remote to program the TV. You need to know how to program your universal remote control to work with your Toshiba TV before you can use the Toshiba TV Universal remote codes. There are numerous forms of Toshiba TV universal remotes codes; each one of them can be accessed via hit and trial method to operate the device you wish to. Try the codes which are listed below and have your Toshiba TV Programmed with the Universal remote control. However, this post states universal remote control codes for Toshiba.
The guide will help you program a Toshiba TV with a universal remote control outlined below. In the below list, you can get 5 digits Toshiba TV universal remote codes, 4 digits Toshiba TV universal remote codes, 3 digits Toshiba TV universal remote codes, and 2 digits Toshiba TV universal remote codes.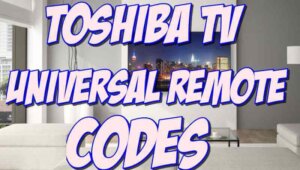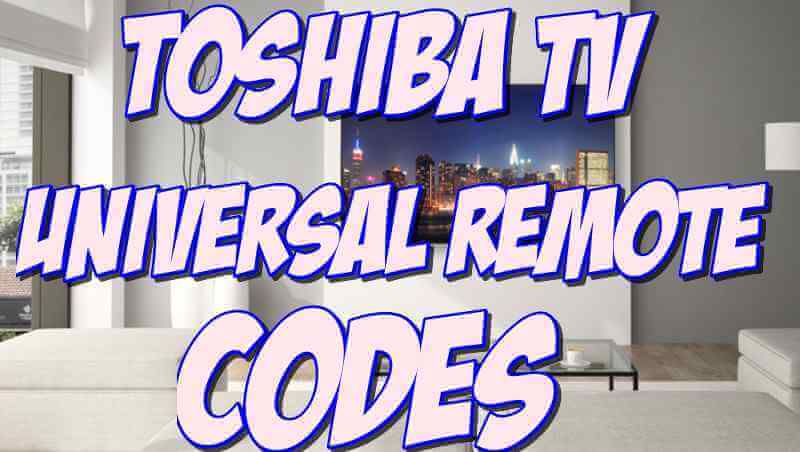 Toshiba TV Universal Remote Codes
List of Toshiba TV Universal Remote Codes
| | |
| --- | --- |
| Toshiba TV Universal Remote Codes | Remote Control Codes |
| 5 Digits Toshiba TV universal remote codes | 15716, 10149, 11916, 1073611524, 11356, 12724, 10856, 11256, 11343, 11936, 15532, 18016, 11325, 11935, 10845, 11210, 19114, 18418, 12305, 11959, 19443, 11265, 11918, 10822, 15355, 10650, 10003, 15412, 10093, 12109, 10060, 10154, 13403, 18206, 12615, 10036, 11743, 13504 |
| 4 Digits Toshiba TV universal remote codes | 0983, 0260, 0398, 0394, 0924, 1121, 0156, 1191, 0120, 1196, 1343, 1294, 1118, 3675, 0508, 2598, 5137, 0715, 1160, 1667, 0037, 1916, 0009, 1063, 0111, 1340, 0095, 1704, 1265, 0924, 0419, 0613, 1050, 1356, 5035, 5096 |
| 3 Digits Toshiba TV universal remote codes | 120, 117, 014, 170, 018, 260, 013, 049, 159, 178, 109, 105, 089, 044, 785, 108, 394, 071, 117, 118, 000, 012, 077, 090, 044, 866, 902, 688, 757, 243, 909, 394, 137, 149, 851, 909 |
| 2 Digits Toshiba TV universal remote codes | 19, 20, 16, 14, 13 |
Toshiba TV Universal Remote Codes
You must know that the Toshiba America electronic components include universal remote controls that correspond to all Toshiba television, VCR, and DVD player models. These remotes come with a program code but can be used even if that code is lost or misplaced. Moreover, you can easily use the Toshiba TV remote codes to program your devices.
Also Read  Remote Control Codes for Panasonic Tv
How to Program a Toshiba TV Universal Remote
Before you start programming your remote using Toshiba universal remote codes, make sure the batteries are correctly inserted and, if possible, new. When you hit a button, the remote should light up somehow, but it may be dim. That is why it is advisable to replace the existing batteries, and you may permanently save the old ones as a backup if the remote LED(s) or buttons light up. Weak batteries can interfere with the remote's transmission and waste your valuable time without you even realizing it. However, the Toshiba universal remote codes can even assist you in programming your TV, DVD, VCR, and other devices.
Second, ensure that you can connect your universal remote control to the device you want to program. Closer is preferable. If something gets in the way (your pet, child, or even an object) and the process is halted, you will most likely have to start over.
How Exactly Toshiba Universal Remote Works
To better comprehend the programming procedure, you must first understand how your Toshiba universal remote communicates with the device with which it is communicating. However, you will need Toshiba universal remote codes to program it to any of your devices.
When you press a button on your remote, a signal is sent to the other device from the remote's circuit board. Essentially, it is delivering a command code that instructs your TV on what to do. Because this is an infrared transmission, you must be within thirty meters of the other device and within line of sight.
Unlike ordinary remote controls, Toshiba universal remotes have a more excellent compatibility range and can be used with various devices. To program these remotes, you must press a series of buttons to sync the remote with your television (or another device).
These Toshiba TV universal remote codes are usually numeric, but they can also be a series of other buttons. Your Toshiba remote will send commands to the other device, indicating that it wishes to pair, after the necessary procedure has been initiated. Each receiving device accepts a specific sequence of commands, which can make pairing your remote challenging. But don't worry, we'll show you how to do it in the following sections.
How to Program Toshiba Universal Remote with Manual Method
We can quickly program a universal remote using Toshiba remote codes, and the keycode specifies the model of your device.
You must first switch on the device.

On your Toshiba universal remote, press the "TV" button. 

Now press and hold the universal remote's "Setup button" until the light flashes (indicating that it is in "Learning mode"). 

Finally, enter the 

Toshiba TV universal remote code

 which you collected from the programming guide. 

Once you've done this procedure, point your remote at the TV and then press and hold the Power button.

When the screen turns off, you can release the Power button.

That's it; your TV should now function flawlessly with the universal remote control. If it doesn't, try repeating the operation with a different code from the same section of the reference table.
How to Program Toshiba TV Remote without Codes
If you don't have any codes, you'll have to program your Toshiba remote using the auto code search method. All Toshiba TV universal remote codes are scanned in the remote in this technique. It reads each code one at a time to get the correct remote code for programming the control with your remote. Follow the steps outlined below to program Toshiba TV universal remote codes:
Turn on the smart device you want the universal remote to control, such as the "TV."

Turn on the TV, DVD, CBL, and OK/SEL buttons on the remote for 3 seconds. The LED light on the device shows that it is ready to program.

Point the remote at the device and press the "CH+" and "CH-" buttons. On/Off signals will be displayed on the remote. Continue pressing the "up" or "down" keys until the device turns off.

Double-check the code by pressing the Power key. The device must be turned on. If it starts, switch the channel to make sure the remote is appropriately programmed.

To save the code, hit the Device button. The device's LED light will flicker twice to confirm the code has been stored.
How to Program Toshiba TV Universal Remote with Code Search
If you can't discover a key code that works for the device right now, you can put your Toshiba universal remote to a search mode to find it. It's a manual code that sets the remote into search mode.
First and foremost, turn on the gadget.

Now, hold down the "Setup" button for a few seconds.

Type in the three-digit code "9-9-1."

Now press and hold the Power and Channel buttons on the remote until the device, the TV, goes off in this example.
Although the above procedure may take a little longer, it is critical to locate your key code. After you've completed the steps above, your remote should operate for all of the in-built functionalities. However, you can also program Toshiba TV remote without using any codes; check it here.
Key Factors Needed to Consider Before Using Toshiba Remote
The following essential points will help you comprehend the Toshiba universal remote and its importance in controlling your television or other devices.
Types
Toshiba's universal remotes are designed to be an all-in-one, device-based replacement. At the stroke of a button, they can control various components that are all labeled and easy to identify.
Significance
A "Recall" or "Setup" button is included on all Toshiba universal remotes and can be used instead of a remote code. After manually turning on the gadget you want to operate, simply hold it down. Press the device's appropriate button, then continually press the power button on the remote until the gadget turns off. Finally, on the remote, press "Enter."
Cost
As of 2021, a universal remote can cost anywhere from a few dollars to a few hundred dollars. The interface and design, as well as the amount of devices it can control, make a difference.
Additional Considerations
Instead of doing a complete remote reset, codes can be obtained directly from Toshiba or a variety of third-party websites such as TV Remote Codes. Remember to have the model number of the gadget you would like to program ready when contacting the company.
Prevention/Solution
If you lose the code to your remote, it may be inscribed on a sticker inside the battery cover. If not, a little piece of tape and a permanent marker can easily be used to make your own.
The Bottom Line
Hundreds of codes for various manufacturers are included in the instructions for programming a universal remote control, making syncing devices with the remote much easier. However, you should not be worried about if you misplaced or never received any instructions.
Universal remotes can search their databases for Toshiba TV remote codes, which they can then sync with other devices like DVD players and VCRs. Of course, depending on the device's type and brand, you may always look up the codes online.
Read More: