If you are searching for a Time Warner Cable universal remote codes, this post is for you. You may need to try more than one code to get the correct code. Also, a mini-guide on how to program your remote to your Time Warner cable box has been included in the latter part of this post. The good thing is that you only need to do the programming once.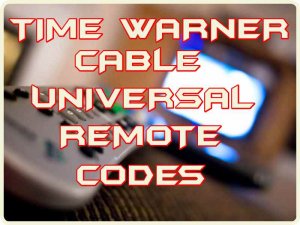 Time Warner Cable Universal Remote Codes UR5u-8780l
Amino: 219
Arris: 216, 172
Cincinnati Bell: 220
Digital Multimedia Technology: 222
Duoson: 218
Entone: 221
Evolution: 215, 189
Motorola: 206, 002, 148
Pace: 217, 005, 001, 002, 206
Pioneer: 105, 063, 076, 001, 034, 103, 051
Samsung: 030, 001
Scientific Atlanta / Cisco: 042, 046, 001, 002, 041, 045
Sky: 241, 240
Technicolor: 365
Windstream: 212
How to program Time Warner Remote To Cable Box
Follow the step below to program your Cable box.
Step 1. Ensure you turn on the Cable box you want to program.
Step 2. Hold your Time warner remote close to your Cable box.
Step 3. Press and hold the 'CBL' button on your remote for a couple of seconds. The CBL button is the Component button for programming a Cable Box on your remote. Release the button when the tiny LED light on your Component button turns on.
Step 4. Enter the correct code for your Cable box brand. The remote codes have been listed earlier on this article.
Step 5. Press the Power button. If your device goes off, it means you got the correct code. If not, try the next code. You can also try with the Volume buttons.
Step 6. Finally save the codes by pressing the Component button again. That is, press the 'CBL' button again until the tiny LED button blinks twice to show that your codes has been saved.
What are the benefits of having Time Warner cable Remote codes UR5u-8780I
Time warner cable remote codes UR5u-8780I have various benefits. Some of them are listed below:
The device is simple to use and is pocket friendly. 
It reduces your stress and saves your time as you can find the remotes of all the appliances in one place.
It is relatively easy to program and operate.
You can save the codes for next time so that you don't have to follow this entire procedure again.
This article might have helped you out in learning more about Time Warner cable universal remote codes. This universal remote is quite easy to use and the programming process is challenging but simple. So, buy your remote now.